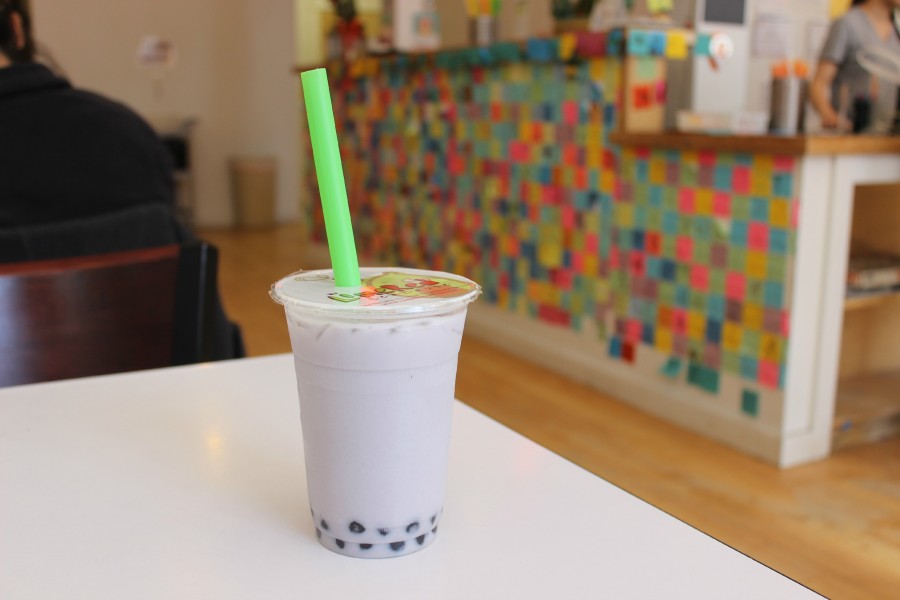 Hundreds of Post-Its in every color decorate the counter of LimeRed Teahouse with drawings and messages left behind by customers. The smell of the herbal tea brewing that hour wafts out the glass door every time it swings open. A worn leather couch sits in the corner for students and residents to try the tea house's delicacy, bubble tea.
LimeRed is so popular because it arguably serves the best bubble tea in the Pioneer Valley. Most people think this trendy drink got its name from the chewy tapioca bubbles at the bottom of the cup, but that's not it. Before being served, bubble tea must be shaken to mix together all the ingredients and flavors, and the tiny bubbles that are formed is what gives the Taiwanese beverage its name.
Daniel Dinh, one of the supervisors and a 2014 University of Massachusetts Amherst graduate, explains the steps to making the perfect, customized cup. A customer starts by picking a base, either bubble tea or milk tea, and deciding if he wants it hot or cold.
Bubble tea is generally fruitier than milk tea is and LimeRed uses fruit juices with either green tea or black tea, based on preference. Its milk teas are made with green tea or Assam black tea, a dairy-free creamer, and a powder flavoring. All of the teas are brewed fresh, and as often as needed. The fruit juices and powder flavoring gives the drinks their taste, and picking a flavor is the second step. The flavor the customer picks is what the drink will ultimately taste like. Some of the flavors can be enjoyed in either teas, such as Jasmine green, mango, and Assam black. But other flavors go better with either bubble or milk tea. For example, since taro, mocha, and almond are not fruity flavors, they are only available in milk teas.
"We figure out what's popular, what people like and we try our best to attend to those flavors," said Dinh. The most popular bubble tea flavor is passion fruit, among others like grapefruit, peach, and lychee. The most popular milk teas are Assam black and coconut.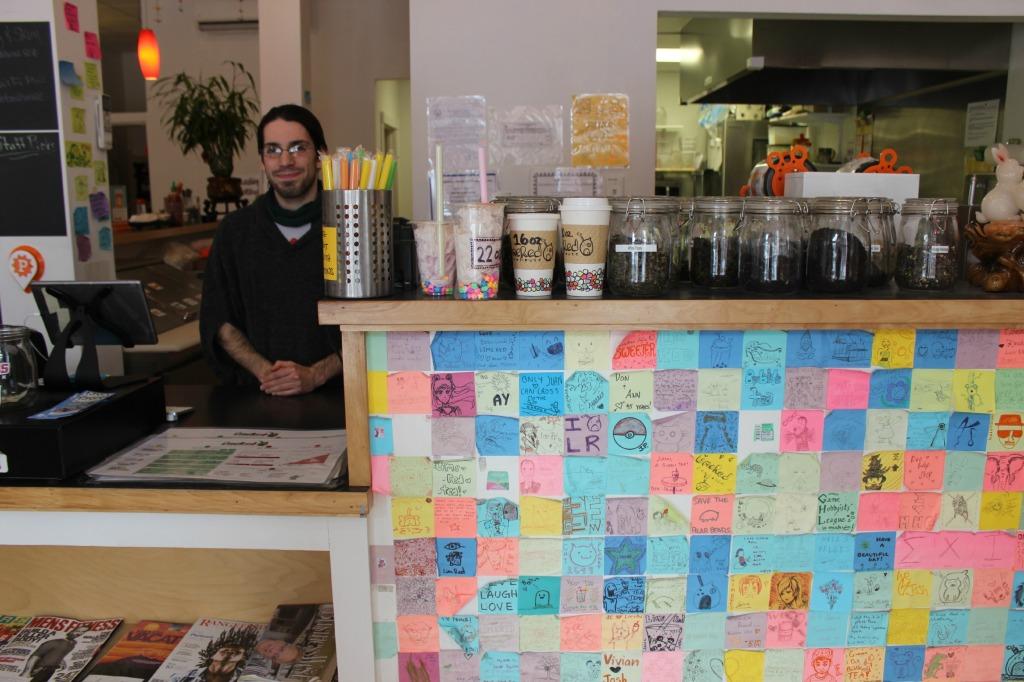 The third step is arguably the most fun part in this process: adding the boba bubbles — these squishy balls of fun are the trademark of milk teas. But what is boba? They are the black, cooked tapioca pearls at the bottom of the cup that give bubble teas their distinctive look, and the reason why a thicker than average straw is needed to slurp them up. So, what is tapioca?
"It's kind of like a very soft, gelatinous flour. We cook and steep it for a certain amount of time so that it gets the right texture and flavor," said Dinh.
Besides boba, the teahouse offers four kinds of jellies, lychee, fruit, grass, and matcha. These are best described as small, juicy cubes of fruit gummies. Under a heading in their menu called "Premium toppings," are the popping bobas, and tiny pearls of fruit juice that really do pop in your mouth when you bite them. They come in flavors like mango, lychee, yogurt, and strawberry in bright shades of pink, yellow, and orange.
"It's premium! It's ten times better than regular boba," Dinh said.
The tea in the drink is healthy, but the flavors, sugar and toppings can turn it into a 300-calorie beverage best enjoyed every once in a while.
On a typical Sunday afternoon, the bell on the door rings every few minutes while customers line up for their fix. LimeRed in Amherst opened Feb. 2011, when the owners, Joe Deng and Raymond Lee, noticed there was nowhere for their friend at Smith College to get bubble tea. After much success, the team decided to open a second LimeRed in Northampton in March 2012. They even deliver now.
"We saw an opportunity to spread a bit of modern Asian culture to people, and we took it," said Deng. "Modern Asian culture is basically not the old stuff, like the Kung Fu movies and the bad Chinese food lunch boxes. Modern Asian culture encompasses what Asian and Asian American culture looks like today."
Oh, and that low rumbling coming from behind the counter? That's the noise "the shaker" makes when it takes a cup of bubble tea and aggressively mixes the ingredients before it's handed to a customer. But the sound is like elevator music; it is  so common that the regulars and students studying there hardly even notice it as it blends into the pop music playing through the speakers.
Hae Young Yoo can be reached at [email protected] or on Twitter at @drinkyoohoo.