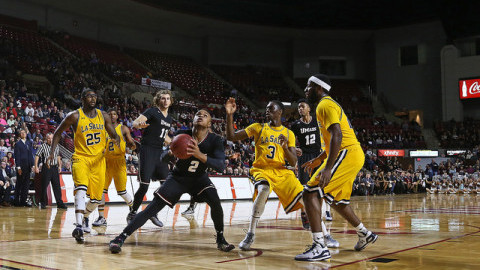 The University of Massachusetts Amherst men's basketball 2014-15 season can be described in one word: disappointing.
Coming off its first NCAA Tournament appearance in 16 years, the Minutemen (17-15; 10-8 A-10) finished this season tied for sixth place in the Atlantic 10 Conference, including an early exit loss in the conference tournament.
Expectations are always high for head coach Derek Kellogg's team, and after three straight seasons of playing postseason basketball, a winning culture has been created.
"We're in a position where we want to be an NCAA Tournament team every year," said Kellogg during preseason workouts. "We want to at least be in the conversation coming down the stretch and have that opportunity."
Unfortunately, there was no such conversation this season for a few reasons.
Changing faces and a new identity
In the past three seasons, there was no doubt in any fan or spectator's mind that Chaz Williams was the face of UMass basketball. The 5-foot-7 guard led the Minutemen to back-to-back National Invitation Tournament (NIT) appearances and of course, a NCAA Tournament six-seed.
With Williams graduating and currently playing for the Delaware 87ers of the NBA Development League, UMass adopted a new identity this season.
Returning veterans included seniors Cady Lalanne and Maxie Esho, redshirt junior Derrick Gordon, and junior Trey Davis. The 'Big Four,' Kellogg's nickname for the team's top four players, adopted a group mentality without one true superstar.
"This year's team, everybody's together," said Gordon. "We all work out together; we eat together at the dining halls and just do everything together. It's going to show on the court how close we are."
UMass added junior Jabarie Hinds, a transfer from West Virginia, as well as freshman Donte Clark, an academic non-qualifier. Both players sat out last season, but joined the Minutemen as impact players.
After peaking as high as 13 in last season's Associated Press top 25 poll, the Minutemen did not receive any votes to begin this season.
The Atlantic 10 coaches picked UMass to finish fourth in an ESPN preseason poll, and many wondered which five players would start, and what the team will look like without Williams.
Tough schedule but fast start
The schedule for the upcoming season included several out-of-conference match-ups proposing significant threats to a still-developing team.
UMass won its first three games of the 2014-15 season over Siena College, Boston College, and an overtime victory against Manhattan College at the Mullins Center in Amherst.
Lalanne, center and team co-captain recorded three-straight double-doubles to begin the season. Expectations were high for Lalanne because he was named Atlantic 10 all-conference second team before the season began.
Following a 3-0 start, the Minutemen hit the road to play Notre Dame and Florida State, two NCAA caliber opponents.
Coach Kellogg's team split those two games, winning one and dropping the other, and started the season at an impressive 5-1. "If you had told me coming into the season that we'd be in this position, I'd be ecstatic, which I am," said Kellogg after the winning streak.
Forward and co-captain Esho earned Atlantic 10 Player of the Week honors on Nov. 17.
Midseason struggles followed by impressive winning streak
UMass held a 7-7 record to begin the 2015 calendar year.
At roughly the halfway point in the season, the Minutemen were looking for answers, but continued to play their game. With strictly Atlantic 10 conference matchups left on the schedule, the team knew what needed to be accomplished to win as many games as possible.
"We know what we've got to do in league play. That's going to determine if we go to the NCAA tournament or not. We've got to do well in league play and in our conference tournament," said Gordon.
With this goal in mind, the Minutemen lost to conference foe Saint Joseph's on Jan. 21, and the team's starting guard expressed what he saw as a reason.
"There's a little bit of separation right now, to be honest," said Gordon after the loss. "We're just bumping heads. Different people bumping heads with different people, whether it's coaches or teammates. We're just not quite on the same page for the most part."
While the divide in the locker-room was made public, the Minutemen needed to come together more than ever. A six-game winning streak from Jan. 29 to Feb. 14 changed the  team dynamic and how the conference viewed their chemistry.
During the win streak, guard Davis hit 33 consecutive free-throw attempts. This record pace tied him with Williams for the longest streak in UMass history against Atlantic 10 opponents.
UMass was tied for first-place with Rhode Island, Virginia Commonwealth, and Dayton, as the bubble watch for the NCAA Tournament was on.
Poor finish and early exit
The Minutemen won only one game in the final month of the season as a result of poor shooting and lack of execution.
A six-game winning streak was followed by crucial losses to University of Rhode Island and Virginia Commonwealth University, as well as a third straight loss to Saint Joseph's at home. UMass' final win of the season came on Feb. 28 against Fordham, and lost five of its last six games heading into the Atlantic 10 tournament.
UMass fell to La Salle Univeristy 76-69 on Mar. 12 at the Barclays Center in Brooklyn, N.Y., promptly ending the season.
A look ahead
The season brought many different emotions to fans, as flashes of brilliance were displayed by young stars including Clark, as well as from veterans of the 'Big Four.'
Lalanne was named to the Atlantic 10 All-Conference and USBWA All-District I teams to end his college career. Without the team's second-leading scorer, Kellogg and his team now look to 2015-16. After a 5-year contract extension, Kellogg is set to earn a guaranteed $994,500 per year, making him the highest paid state employee.
While Kellogg will be a mainstay in Amherst for several years to come, more changes are being made to the basketball program. Seniors and team-leading scorers Esho (11.6 ppg) and Lalanne (11.3 ppg) are departing, as is Gordon.
For his final year of eligibility, Gordon plans to transfer to a school that is a better fit and can get him closer to his NBA aspirations.
Additionally, the university has hired Ryan Bamford as the new athletic director. Looking to take UMass to the next level athletically, Chancellor Kumble Subbaswamy is excited for change.
"Everyone we spoke to referred to Ryan as a 'rising star' in the athletics administration world," Subbaswamy said.
Next season
With a plethora of changes, UMass needs several players and positions to step up and contribute big-time minutes if they are to make it back to postseason play. Gordon's departure leaves an opening on the Minutemen's starting roster, but there are several replacements set to take control.
Clark, a freshman who started 18 games and averaged 9.6 points per game, will surely be the team's leading scorer next season. He showed his skill this past season by shooting well from beyond-the-arc. UMass also has a 4-star recruit, Luwane Pipkins, coming to the team as a point guard next season, and Gordon's departure makes the path easier for the rookie to contribute.
For college basketball to be relevant in Mass. on a regional and national scale, UMass must be the leader. To relive the glory days of the late 1990s with Calipari, Kellogg knows that significant changes are necessary.
"I'll spend a lot of time reflecting, like I do every year. But when it ends and you haven't played quite as well over the last couple weeks, then I'll probably double reflect and really sit and look at myself, the staff, the program, and how we do just about everything," Kellogg said at the end of the season.
Alex Porell can be reached at [email protected]