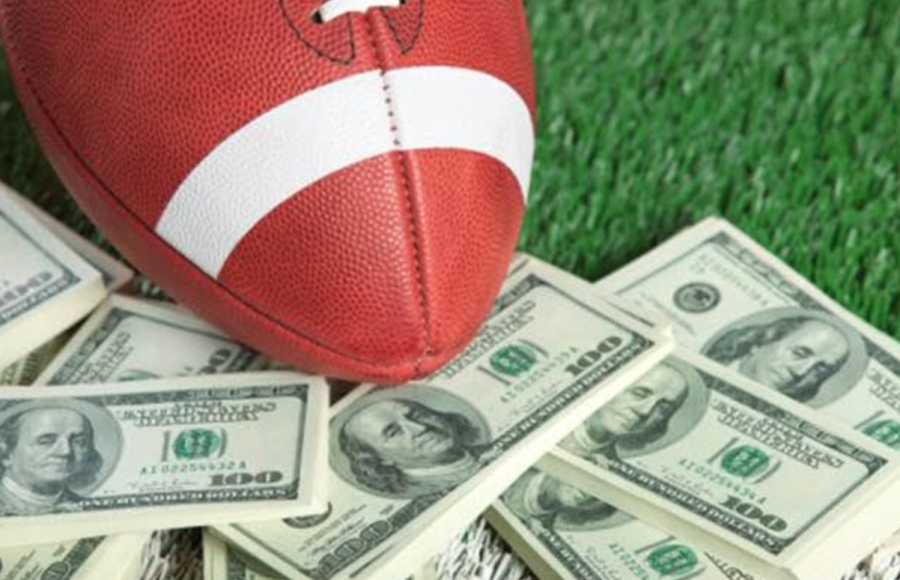 It's that time of the week. Time to analyze (and, unfortunately, criticize) my picks for the DraftKings week five cash game lineup: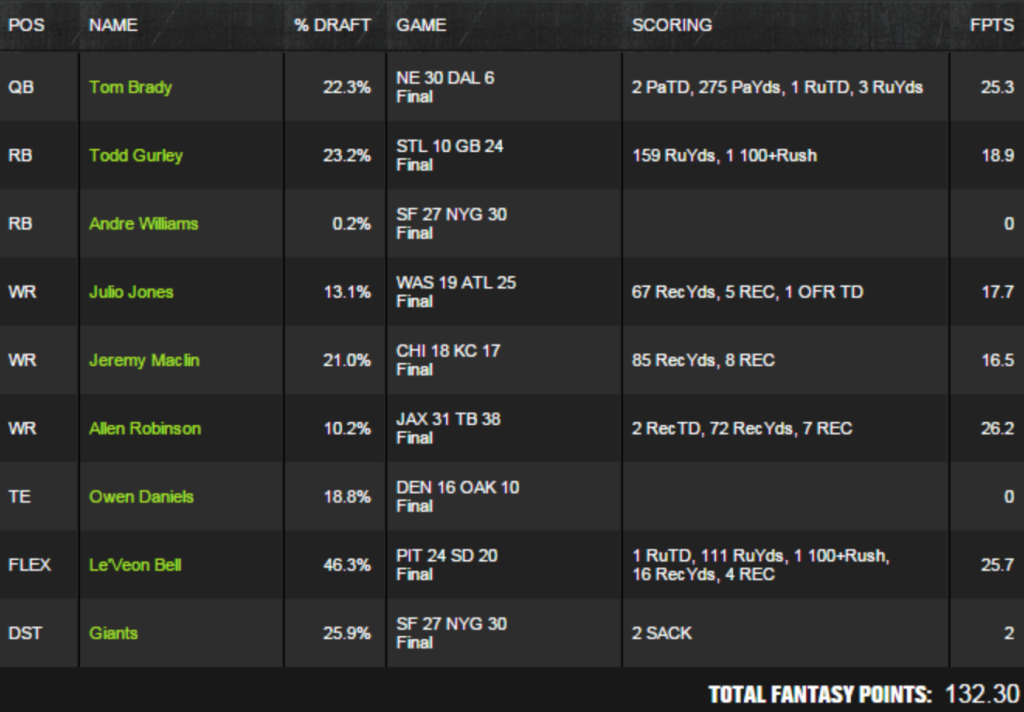 Take a look at those numbers. You see generally good performances across the board. Then… what? Andre Williams and Owen Daniels with zero points?!
Yes, I somehow selected two players with zero points, a DST with only two points, and I lost around 70 percent of my head-to-head match-ups. With a grand total of 132.30 points, I lost a lot of money and ended up with a net loss for the day.
Where did I go wrong?
First off, our core players ended up doing just fine. Le'Veon Bell, Todd Gurley and Julio Jones did not all provide value individually, but together they provided 62.3 points on $22,000 salary. Normally, we want to use our $50,000 budget to hit a target of 150 points, with every $1,000 spent equal to around three points acquired. Though these three did not 'hit our value,' they did well enough to keep the lineup afloat. In hindsight, the shoulder and foot injuries to Jones should have been an indicator to stay off him, but a fourth-quarter touchdown salvaged his day and, to some degree, my wallet.
Our secondary players, Tom Brady, Allen Robinson and Jeremy Maclin all hit, or came close to hitting, value. Maclin only caught eight passes for 85 yards in a game where the Chiefs' number one offensive target went down, which made it seem like Maclin would get the majority of the rest of the targets. However, he ended up with 16.7 points compared to his $6,000 salary, without scoring a touchdown. No matter, though, because Allen Robinson caught two TD's and led all players in the lineup with 26.2 points. Brady, being the consistent performer that he is, threw for two touchdowns and QB sneaked in another in a blowout win. Nothing new here, just good choices providing good value.
Unfortunately, the last three players scored a grand total of two points. I still stand by my pick of Owen Daniels; Oakland is, even after this game, the worst in the league against tight ends, and Daniels had six targets thrown his way, including three in the red zone. He was given the opportunity, but just didn't succeed. He didn't even catch one pass.
However, I can confidently say that my correlation play of Andre Williams and the Giants Defense was a mistake. In some lineups, I replaced Mr. Williams with Willie Snead, who went off for 23 points for a minimum $3,000 salary. In turn, Andre Williams had three carries at the one-yard line and could not convert a touchdown. The issue is, even if he did score once, he would have only ended up with six points – not the value we want from a $3,100 player. And if he did score those touchdowns, maybe the Giants Defense, up by more points, would have forced the opposing quarterback, Colin Kaepernick, to throw more risky passes from behind, causing more turnovers.
Yeah, we can play the what-if game all we want. The fact of the matter is, those picks sucked.
That's okay though, many of our players did well, but three of them just didn't perform (or around 26 players didn't perform, because the Defense is to blame here). Overall, it was a disappointing week for our cash game lineup, but that's okay. Because there are 11 more weeks left in the season, and I'll bounce back next week with a great lineup and a great win. 
Haven't tried DraftKings yet? Try it for free here. You'll get hooked in no time.
Questions? Comments? Concerns? Email Kevin Kim at [email protected], or follow him on Twitter @StatisticalLens.