"The (Unsatisfying) Life of Pablo"
West's seventh full-length album falls desperately short of saving his reputation with longtime fans and newcomers alike.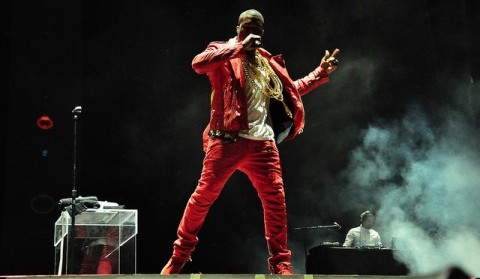 After waiting nearly three years to release a new record, Chicago native Kanye West drops the ball on his latest full-length, in what was a much-needed attempt to get back the support of his fans and followers.
Since the debut of his last full-length, "Yeezus" in 2013, Mr. West has stayed relatively quiet musically, releasing a few tracks and collaborations here and there, including "All Day," "Only One," "FourFiveSeconds" and "Facts." Fans were blessed with these sporadic moments of what could have been.
Well, what could have been has finally arrived, after being renamed three times (twice in the last month.) "The Life of Pablo," introduces the listener to new levels of West's blend of egotism and artistry, in what could possibly be the worst album of his career.
What West had always managed to achieve in his previous releases was a coherent sense of where he was in his life. Whether it was the beginnings of his career on "The College Dropout" or his heart-wrenching acclamations on "808s & Heartbreak," West had always provided the listener with a coherent body of music from start to finish.
This is really disheartening because West fails to provide this on "The Life of Pablo." Instead of something thought-out and comprehensive, he gives us something that sounds rushed, as if it was thrown together in two weeks. The album artwork looks like it was created on an early version of Paint, and many of the album's featured artists feel out of place on their respective tracks. The production is all over the place stylistically, and West's submissiveness to the use of autotune is more of a burden than it is a saving grace, compared to how well it worked on "808s & Heartbreak" or "My Beautiful Dark Twisted Fantasy."
After its live debut at Madison Square Garden on Feb. 11 at a West-hosted fashion show, the album was released the following day exclusively on Tidal, a streaming service that finds itself losing to Apple Music and Spotify in almost every notable category: cost, accessibility and catalog of music.
The opening track, "Ultralight Beam," pleasantly begins with a gospel-preaching little girl screaming, "We don't want no devils in this house, God." From there, the song takes one of the softest turns of the entire album. Over minimalistic, organ-like sounds and a steady bass drum, West tells a tale of peace, prosperity and prayer. When Chance The Rapper joins the mix, he too, counts his blessings and delivers a verse with his own spin on "This Little Light of Mine," which could get any fan excited for a new Chance project. West speaks about his life changing choices and experiences whereas Chance weaves in references of biblical figures like St. Michael and gospel songs into his verse.
The album continues down this religious path with "Father Stretch My Hands Pt. 1." The track starts with gospel-backing vocals, an upbeat snare drum and a groovy bassline instrumental that keeps everything in rhythm for when Kid Cudi comes in. Cudi impressively sings a very catchy hook, something that is truly missed in his recent works.
After this track, the record takes quite a turn. The gospel influence that was once the forefront of the album all but disappears to make room for West's ego.
"Famous," "Freestyle 4," "Highlights," and "Facts," feature lyrics brimming with misogyny, and West makes ridiculous claims about himself, his family and his life, really. From assertions that Nike would be nothing without Drizzy (Drake) on "Facts," ("If Nike ain't have Drizzy, man they wouldn't have nothing") to a comparison between West's celebrity family and the Jacksons on "Highlights," ("21 Grammys, superstar family, we the new Jacksons"), the lyrical content West spews is almost unbearable. West has always been known for his outrageous declarations, but he has truly reached a new level with these.
He even felt the need, midway through the album, to include a short song titled "I Love Kanye." A third person, spoken word narrative about none other than Kanye West himself, offers a satirical look at how West thinks people view him.
After this point, the record turns into, essentially, more of the same. We hear the same production progressions, something that has never been more apparent and unappealling than on this record. The featured artists continue to be non-existent, aside from Kendrick Lamar who adds the most substantial feature on the latter half. On his previous albums, West had access to the best artists in their prime, like Lil Wayne on "Graduation." It feels as if there are slim pickings in this current era, at least for West, that is. Young Thug can't hold a feature, let alone a song, like Bon Iver, Mos Def and Brandy could and did before him on other albums.
Nonetheless, this record does have some redeeming qualities. At points scattered throughout, West makes a conscious effort to be reflective and transparent, like on "Real Friends" or "No More Parties in L.A." Yet, these moments often find themselves buried under his huge ego, along with the majority of the other tracks. While a good portion of this album featured many potential party songs, the album somewhat relies on these tracks to push itself forward. The few introspective moments on the record, like the aforementioned "Real Friends" and "No More Parties," quickly come and go, leaving listeners with something that just doesn't feel satisfying enough.
But "No More Parties in L.A." is one of the most thought-provoking songs on the entire record. West finds himself reflecting on his journey to where he is today, a narrative that is not unfamiliar to his fans. West's aggressive flow and his ability to include double entendres throughout are the track's saving graces.
"I feel like Pablo when I'm working on my shoes/I feel like Pablo when I see me on the news/I feel like Pablo when I'm working on my house…"
"The Life of Pablo" is a body of music that aimed to embody West's thoughts, life and accomplishments — just like on every other record. West self-recognizes that he is an innovating artist; recognizes that he is an infamous figure in the media and that, despite all his wealth and accomplishments, he is still a work horse. However, his inability to take these understandings and apply them to his full body of work was ultimately this album's undoing. West dropped the ball at a time when hip-hop is emerging with artists that push the boundaries. It's disheartening to see an artist who, once at the forefront of those boundaries, is now standing in the shadows.
Email Andrew at [email protected] or follow him on Twitter @AMKratochwil.