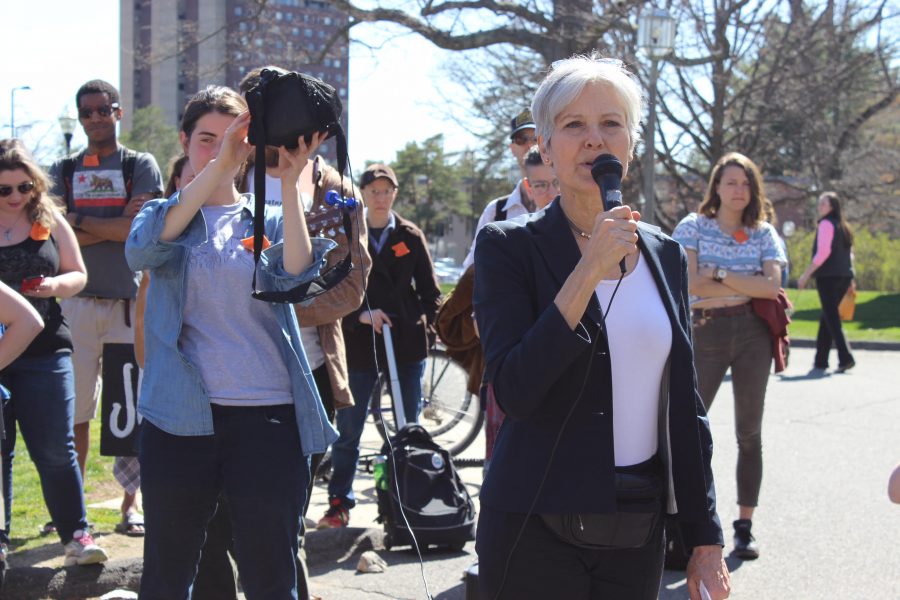 A presidential candidate is coming to town.
Green Party presidential candidate Jill Stein will speak at First Churches of Northampton Sunday to push her campaign platform in advance of the November election. The two-hour talk will begin at 7 p.m. and address students from the area's colleges and the general public.
Stein's platform is centered around environmental, social and economic justice that "puts people, planet, and peace over profit," according to her website. Stein speak about her plans to abolish student debt and raise the minimum wage to $15 an hour.
Stein is polling at 4 percent nationally, according to a poll done by CBS News in conjunction with the New York Times last week. Stein will appear on the ballot in 45 states— including Massachusetts — and qualifies for write-in status in three states.
Stein has proposed a "Green New Deal" that would transition the country's energy dependence to 100 percent clean, renewable sources by 2030. According to her campaign, the plan would create millions of jobs by investing in public transit, sustainable agriculture and conservation.
The event is co-sponsored by the Green-Rainbow Party, the UMass Amherst International Socialist Organization and Jill Stein for President.
Stein is reaching out to supporters of former presidential candidate Bernie Sanders, urging them to support her rather than Donald Trump, the Republican Party's presidential nominee, or Hillary Clinton, the presidential nominee of the Democratic party.
When Clinton ousted Sanders to clinch the nomination at the Democratic National Convention in July, Stein took to Twitter.
"Whatever happens, you know my campaign is here. We are going to continue this movement," Stein wrote in the Tweet.
No stranger to the region, Stein visited the Pioneer Valley in April to speak in support of a protest by student group Divest UMass. The group held a sit-in urging the university to pull its investments from leading fossil fuel companies that drew some 250 participants at its height.
The university in May announced a five-year plan to pull its direct investments in fossil fuels — a victory for the group.
Last week, Stein joined the Standing Rock Sioux Tribe at a large-scale protest opposing the construction of the Dakota Access Pipeline. Stein faces charges of vandalism for spray painting construction equipment and trespassing on the construction site.
If completed, the pipeline would span 1,170 miles from North Dakota to Illinois and carry 4,700 barrels of crude oil a day. Protesters believe the pipeline will be detrimental to the community's water supply and disturb Native American burial grounds in that region.
Stein has taken to Twitter to criticize fellow candidates Clinton, Trump and Gary Johnson, the Libertarian presidential nominee, for their silence on the Dakota Access Pipeline protest.
Email Carson McGrath at [email protected], or follow her on Twitter @McGrathCarson.