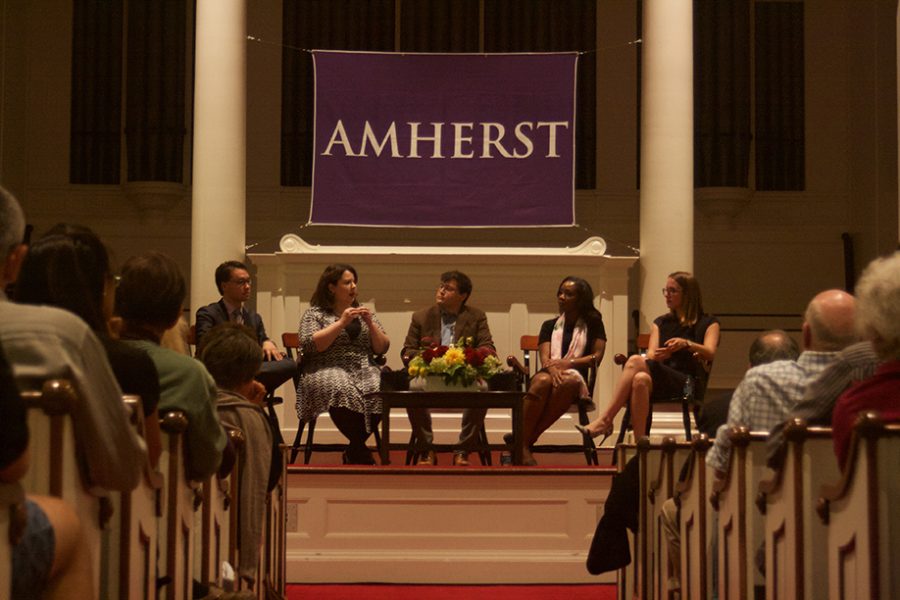 AMHERST — Journalists from some of the largest news organizations in the country came together on one stage to share their thoughts on the presidential election Thursday night at Amherst College.
The panel of journalists, moderated by Mother Jones Senior Reporter Tim Murphy, included Julia Ioffe, Abby Phillip, Byron Tau and Jessica Taylor.
With only 32 days remaining until Americans cast their votes for the next president, the panelists reflected on where America stands and the implications the election has for the future.
Murphy opened the event with a question.
"Is this the end?" Murphy asked. "Will this be the craziest election we've ever seen in our lifetimes? Or is this just the beginning of the end?"
Taylor, the lead digital reporter for NPR, said she believes most Americans would like to simply move on from the current election cycle.
"I think all of us would love to, you know, wake up on November 9th or more realistically, November 10th after we've gotten a few more hours of sleep to think that okay, this is all over, we can move on," Taylor said. 
But according to Taylor, moving on will not be so easy. There will be consequences for issues that have come to light as a result of the campaigns, Taylor said, especially due to the new divisions in the Republican Party. 
"It is not going to be a simple … win or lose after the election," Taylor said.
Despite the uncertain outcome of the election, the panelists said they do know how the presidential nominees came to be.
Tau, a Wall Street Journal reporter based in Washington, D.C., said the media has essentially facilitated Republican nominee Donald Trump's rise.
"He's sort of hacked the political media in a lot of ways. I mean, cable news would broadcast his early rallies non-stop, giving him a ton of oxygen, a ton of attention," Tau said.
When it comes to Clinton, her main concerns about popularity and favorability can be attributed to external factors like sexism and her email scandal, according to Politico contributing writer Ioffe.
In an election where seemingly anything goes, the media will continue to exert its influence, the panelists agreed. After discussing the impact that traditional media has in portraying the candidates, the panelists concurred that the role of social media grows as we inch closer to voting day.
"I think that Facebook has incredible power in the news presence right now," said Phillip, a national political reporter for The Washington Post.
"Through their trending algorithms and their use of human curators they hadn't really thought through why their sort of philosophy was going to be about how they were going to decide what things people saw and what things people didn't see," Phillip added.
In concluding their forum, the panelists confirmed the uncertainty that America is met with in this presidential election.
The only guarantee?
A new president will be chosen Nov. 8.
Email Wei at [email protected] or follow him on Twitter @weicaiumass.