UMass Amherst ROTC honors veterans in emotional ceremony
More stories from Jon Decker
AMHERST — The University of Massachusetts Amherst Army Reserve Officers' Training Corps (ROTC) and Air Force ROTC held a joint ceremony for Veteran's Day on Friday, packed with emotion and remembrance.
The ceremony was conducted in front of Memorial Hall at 4 p.m. Cadets from both groups lined up in full uniform as Lieutenant Colonel Mark Guerber, head of the Air Force ROTC cadre, and Lieutenant Colonel Steven Magner, head of the Army ROTC cadre, addressed their cadets and non-military attendees on the value of remembering veterans, both past, present and future.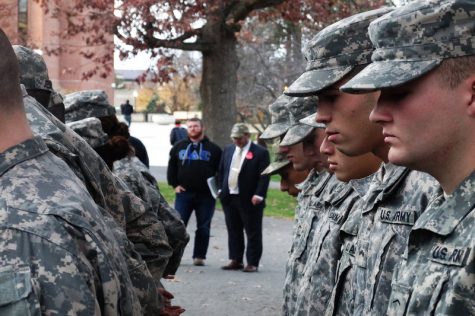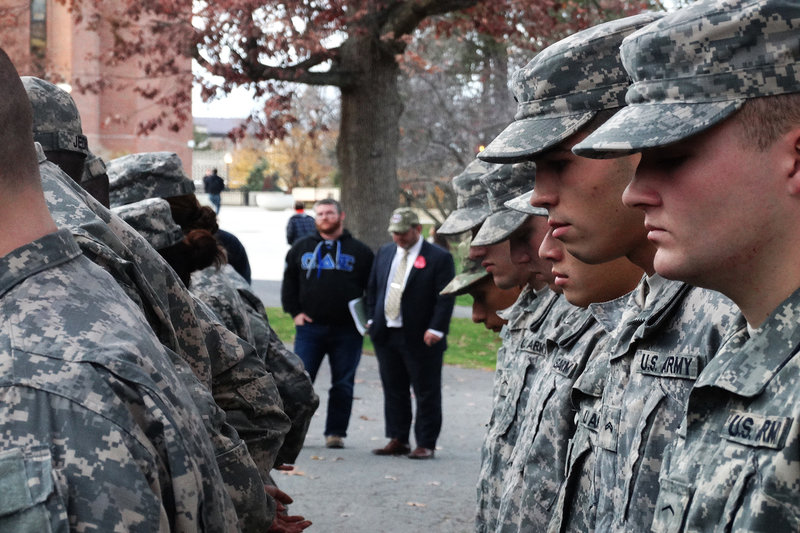 After the speeches, a pair of cadets, one Army and one Air Force, escorted a ceremonial wreath of flowers and began the 24-hour vigil standing guard in front of the flag. The ceremony ended with a firing salute conducted by Army ROTC cadets, and some final words from the cadre.
Magner highlighted the fact that less than 1 percent of America's population serves in the military. He added that over 7,000 American troops have been killed to date in Iraq and Afghanistan alone.
He then encouraged attendees to think about why veterans serve and to contemplate the concept of service.
"Until it is selfless, until it costs you, until there is something behind it, I would ask if it's still service," Manger said.
Email Jon at [email protected], or follow him on Twitter @Jon_H_Decker.