Breitbart chief Bannon tapped for top White House position
Hang on for a minute...we're trying to find some more stories you might like.
President-elect Donald Trump accepted his bid for the White House after winning the presidential contest on Tuesday, Nov. 8.
Trump's victory, the largest upset in U.S. history, was made even more surprising when announcing his transition team and speculating his cabinet choices.
Trump's transition team and potential cabinet members contain old Washington insiders such as Reince Priebus, the chair of the Republican National Committee, former Speaker of the House Newt Gingrich, former Mayor of New York City Rudy Giuliani and retired surgeon Dr. Ben Carson.
Trump also brought in a ton of new faces — some are not new to politics, or his campaign, such as Kellyanne Conway. The President-elect himself, however, is new to the political process. One of those faces seeking to stir up the status quo is Stephen K. Bannon, chief executive to Trump's campaign and executive chairman of Breitbart News — a right-wing news and opinion site.
"
Breitbart is known to publish opinion pieces containing themes of misogyny, homophobia, transphobia, white nationalism and anti-Semitism."
— Amy Russes, opinion writer
Like the Trump campaign, Breitbart is prone to scandals and controversy.
Bannon's appointment is particularly controversial because of the scuttlebutt and occasional outright lies that the news outlet generates. The outlet gains traction from generating outrageous headlines — like spreading falsehoods about Hillary Clinton's health to providing a platform for anti semitism.
Breitbart is known to publish opinion pieces containing themes of misogyny, homophobia, transphobia, white nationalism and anti-Semitism.
Some might question how that would affect the day to day operations of the White House. The New York Times cited Trump's decision to appoint Bannon as "a voice for racism" and reinforces a "white, nationalist attitude" that allowed Trump to gain traction in the primaries, and in turn, the general election.
Many people in the American public are already fearful of Trump's past remarks in regards to immigrants, minorities, women, the disabled and others. His public support from the Ku Klux Klan (KKK) certainly does not help prove that they have anything to fear. Trump's decision to appoint Bannon as an adviser might reinforce the notion that Trump finds those beliefs acceptable.
While some might find Bannon's infiltration of the White House disturbing, his appointment highlights a problem that plagued this election — the spread of misinformation, failure to fact-check and confirmation bias.
Breitbart, and what some would call other "alternative media" sources gained traction in this election by providing confirmation bias to its readers.
The mainstream media failed by not calling out these alternative sources for the absurdities and rhetoric they spread.
The social media sphere, particularly Twitter, is condoning Trump's choice for his senior White House official.
Users tweeting with the hashtag #StopBannon are calling on various members of government to urge Trump to reconsider his appointment. Some are even reaching out to Speaker of the House Paul Ryan and their representatives and senators to help sway Trump's choice.
Email Amy at [email protected] or follow her on Twitter @AmyFRusses.
About the Writer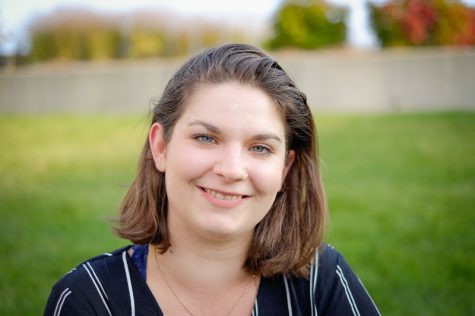 Amy Russes, Politics/Voices/Op-Ed Editor
"The greater our knowledge increases the more our ignorance unfolds."