Podcast: UMass students tell first-hand stories of Standing Rock protests
In this podcast, two senior University of Massachusetts Amherst students, Victoria Carrier and James Frank, describe their experiences at Standing Rock in North Dakota this November.
Carrier traveled with her older sister, who had to quit her nursing job in order to drive from Massachusetts to the Oceti Sakowin Camp in North Dakota. Frank and his two friends left the week of the presidential election. They left the liberal bubble of Amherst and entered the country where they saw confederate flags and pro-Donald Trump signs along the way.
Carrier and Frank are among many individuals across the country who made their way to North Dakota for this historic action. Indigenous communities have come from all over to join the Standing Rock Sioux tribe's resistance of Energy Transfer Partners' (ETP) 1,172-mile oil pipeline that could have disastrous effects on the environment.
They describe the militarized police at Standing Rock and a diverse community within the camp. They also discuss their motives for joining the resistance almost 2,000 miles away from home.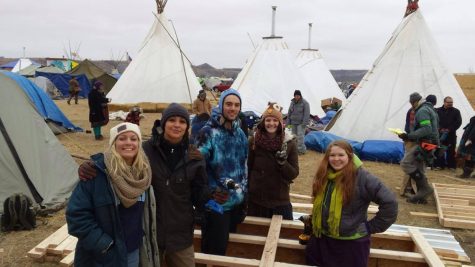 After months of protesting, the Army Corps of Engineers on Dec. 4 said they will not grant the permit needed to build the section of the pipeline that travels under the Missouri River near the Standing Rock Sioux Reservation. The announcement caused a celebration at the Oceti Sakowin camp with cheers and fireworks.

However, protesters are skeptical of the announcement because of the statement from ETP released soon after the celebration. The corporation stated they are, "fully committed to ensuring that this vital project is brought to completion and fully expect to complete construction of the pipeline without any additional rerouting in and around Lake Oahe."
Email Carson McGrath at [email protected] or follow her on Twitter @McGrathCarson.