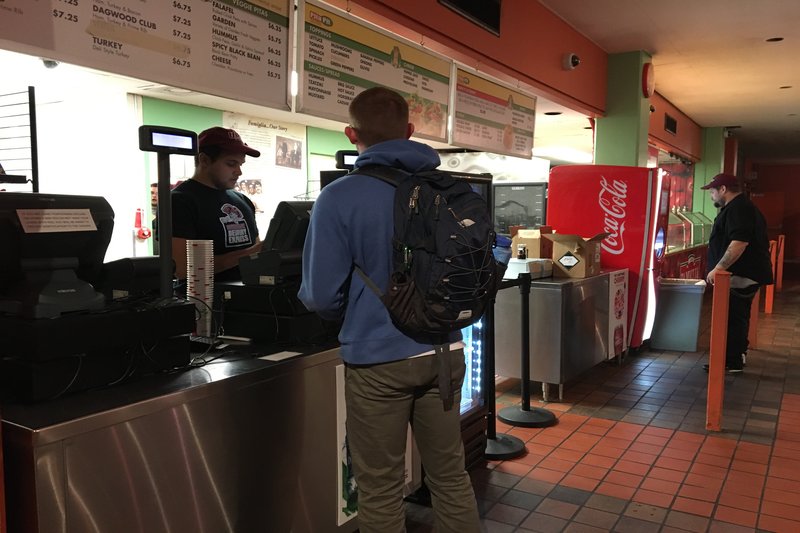 AMHERST — In a sudden move, Southwest Café's delivery service Southwest Express has been discontinued, leaving some students unhappy at the University of Massachusetts Amherst.
Starting this semester, the late night food spot in Hampden Market in the Southwest Residential Area will no longer deliver to the Southwest dorms, though they are still taking orders for pickup at the Southwest Café.
Interim Director of Retail Dining Van Sullivan made the decision. He said he did so in an attempt to reallocate funds, improve the quality of food and service and limit wait times for customers.
The news came as a surprise to UMass students due to the popularity of Southwest Express, namely among Southwest residents.
Southwest Express rose in popularity when it began accepting dining dollars in 2014. Having the option to use a meal plan made it a more favorable spot for students than other delivery places in the area.
"It was definitely a lifesaver. It was convenient and I didn't have to use actual money, I could use dining dollars," said Precious Edebiri, a sophomore student who lives in Southwest.
As the Southwest Express customer base grew, issues cropped up. Sullivan said delivery was becoming too inefficient, the wait times were getting out of hand, and they were forced to pump too many resources into the delivery side of the business.
"As [the delivery service] got bigger and bigger, it got more and more expensive, and it was impacting our ability to stick to our mission to provide excellent goods and services to the community," Sullivan said.
The decision marks the end of the Southwest Express delivery service. The service stopped delivering outside of the Southwest Residential Area in fall 2016, and now will not be delivering anywhere at all.
According to Sullivan, this is not permanent, but it is something that gives him and his staff a chance to come up with a more cost-effective and efficient way to deliver food in the near future.
He hopes to implement an online delivery service by next year — something faster and more streamlined than just ordering by phone. It is uncertain when a service like this will be put in place, but UMass Dining Services plans to revisit the topic in the summer.
The decision has left UMass students, especially residents of Southwest Residential Area, frustrated.
"I am very upset," said Jessica Guerrier, a Coolidge hall resident and former Southwest Express employee. "That's why people were ordering Southwest Express, because they delivered."
Guerrier was a frequent customer, but she says that has changed.
"I go to Baby Berk now, it's closer to me," she said.
Marisa Walsh, a junior living in John Adams Tower, shared similar feelings.
"I'm kind of disappointed. We would get it on weekends or for football games. If I wanted to leave my room to get food I could have gone to the dining halls," she said.
Sullivan said he understands the frustration and added the decision was not made lightly. In fact, along with Executive Director Ken Toong and former Director of Retail Dining David Eichstaedt, he was responsible for creating Southwest Express and getting it off the ground in 2011.
"I worked a full shift at Blue Wall and then until 4 a.m. at Southwest Express every day for two months to get [Southwest Express] launched. This thing means a lot to me, I'm really passionate about it," Sullivan said.
Business has gone down by 15 percent since Southwest Express stopped delivery service, but Sullivan says the decrease in expenses was still the right move to make.
Sullivan hopes that new additions in the Hampden Building, where Southwest Café is located, will bring back students who used to get delivery. One of these additions is Argo Tea, a high-end tea shop with an assortment of drinks, sandwiches and pastries located next to Southwest Café.
Additions have been made to Southwest Café as well. Along with Pita Pit and Famous Famiglia Pizza, which have been in the building for years, all of the the menu items that were on the Southwest Express delivery menu are available at the café. Brand new items are also available, like macaroni and cheese and grinders.
A freestyle Coca Cola machine has also been installed, which lets guests mix together dozens of soda flavors to make a unique creation.
But for students like Harold A. Healy, bringing back the delivery service is key.
"No, I won't go to them. I would only get delivery," he said.
The Southwest Café is open from 5 p.m. to 2 a.m., Wednesday through Sunday.
Email Michael at [email protected]
Email Elena at [email protected]