Food science seniors prepare for ice cream competition
More stories from Matthew Hachisu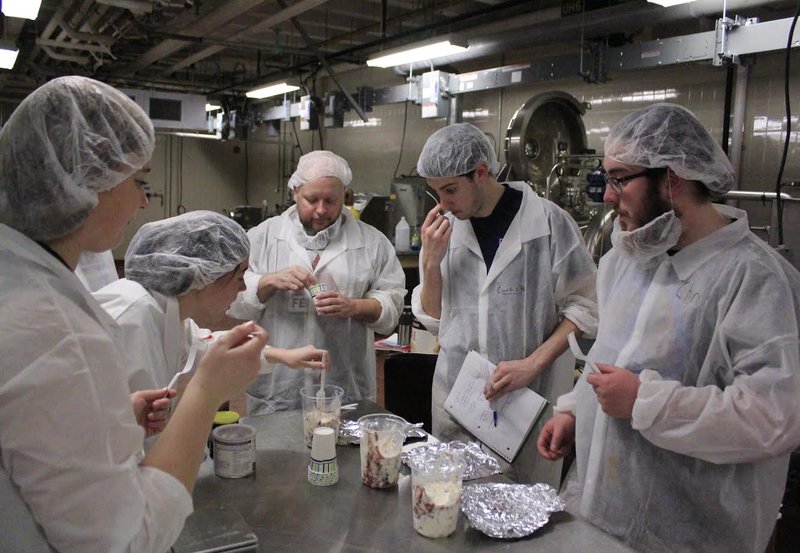 AMHERST — The basement of Chenoweth Laboratory has been filled with the sweet aroma of vanilla, cocoa and luscious fruits. Seniors students in the University of Massachusetts Amherst Department of Food Science are gearing up for the annual ice cream competition.
The students are divided into four groups of eight people to create a new ice cream flavor from scratch. The winning flavor will be sold by the Hadley-based Maple Valley Creamery for the next year.
The food science department began the project four years ago as a way to prepare students for the professional world. The department has partnered with Maple Valley Creamery since 2015.
Maria Corradini, one of the food science professors in charge of the project, has been working closely with senior students on the project.
"The idea is to provide them with a project that they have to move forward from the beginning to the end and they have a final product. Something similar of what happens now in the industry," said Corradini.
The students correspond with companies which donate materials to make the ice cream.
Each group has a prototype. By the end of the month, the groups will hold sensory tests to receive feedback on consumer preferences before the judging. A group might produce two different variations of a flavor and ask which one is better. In past years, sensory tests have been held at the Campus Center.
The winning flavors are later available for purchase at Harvest Market in the Campus Center. They are marked with a UMass logo on the lid of the container.
Previous winning flavors have included UMass "Cherry Bomb" and last year's Brown Butter Caramel Chip.
Professors and teaching assistants have been monitoring the process closely to help students trouble-shoot. The groups have also consulted Chef Simon Stevenson, a pastry chef at UMass.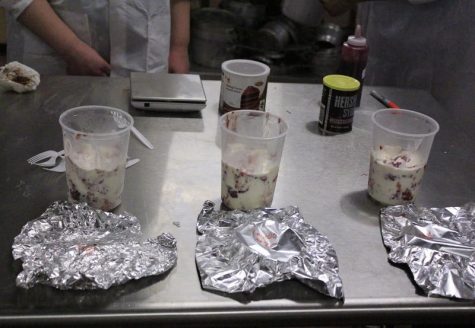 In addition, the groups have been in contact with Maple Valley Creamery to make sure the flavors will be feasible to produce.
"For our group, we were thinking of maybe doing something with nuts, like peanuts," said Marissa Debonee, one of the seniors in the competition.
"But then it was brought up that we might have allergy problems," Debonee added.  "That was one of our hurdles."
The students also said they have experienced challenges communicating with suppliers to provide the necessary materials.
When asked what flavors the groups have been testing, they firmly stated that the flavors are currently top secret.
The winner will be revealed at the end of the semester in early May. The judging panel will consist of Bruce Jenks and Laurie Cuevas from Maple Valley Creamery, food science professors at UMass and a few guest judges from the UMass community.
Anticipation is high in the food science department as the judging approaches. This year's winning flavor should be available for sale around the beginning of the summer.
Email Matthew at [email protected]