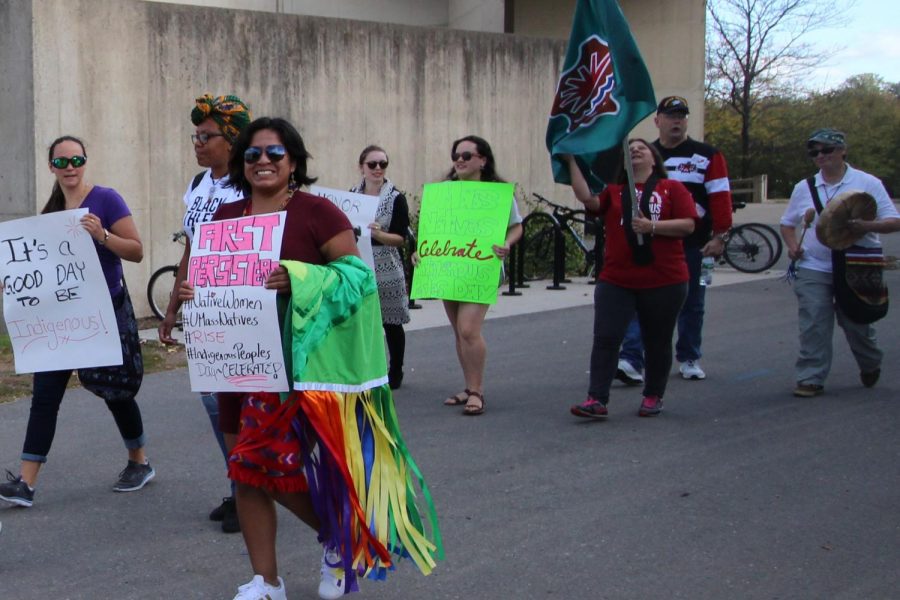 AMHERST — A small but enthusiastic group of about 15 people gathered on the lawn of the Haigis Mall on Oct. 14 to rally and celebrate Indigenous Peoples' Day, organized by the University of Massachusetts Amherst Native American Student Association (NASA)  as an alternative celebration to Columbus Day,  which falls on the second Monday of the month each October.
On the lawn, a Boston-based four-piece drum group played on their drum named "Urban Thunder" as participants danced and worked on posters. Flags of the Western Abenaki and Mohawk tribes flew overhead.
Indigenous groups have criticized the idea of Columbus Day since it became a federal holiday in 1934, for its celebration of an explorer whose actions led to European colonization and the "disease, destruction and catastrophic wars" to already-established Native American communities, according to The New York Times.
Berkeley, California, home to the University of California Berkeley, was the first community to recognize Indigenous Peoples' Day in 1992. Since then, 55 cities have either adopted the name change or celebrate the holiday under both names. In 2016, Amherst became the first town in Massachusetts to change the name of the holiday to Indigenous Peoples' Day after an overwhelming Town Meeting vote.
Despite pushes from student leaders like NASA, UMass Amherst has yet to recognize the name change, as the holiday is still considered Columbus Day under Massachusetts law.
But NASA's goal for the march was not just to challenge the lack of recognition of Indigenous Peoples' Day by the university. Participants said they were more interested in honoring both unity and community.
"This is not a protest, it's a celebration," said Lauren McInerney, co-organizer of the event and 2012 NASA alumna. "Although there is a long way still to go we want to celebrate the progress made with our local community and allies."
The idea for the celebration was last minute, said co-organizer and former president of NASA, Tiffany Joseph, in a speech to participants. She said Saturday's event was inspired by a particular anti-Columbus Day march that she participated in at UMass about ten years ago. During that protest, Joseph said, marchers were allegedly denied entry to a dining hall on campus and were attacked by objects thrown from the top of buildings in the Southwest Residential Area.
"Even though those experiences were really hard, I'm really happy we did it," said Joseph. "We ended up getting a lot of people who joined us in the march and ended up coming to workshops that we had afterwards. Even though we didn't affect a lot of people, we affected a few who are still coming and being really great allies."
The march had been scheduled earlier in the week on Indigenous Peoples' Day. However, the event was rained out and rescheduled. Joseph said the changed date was the main reason many interested people were not able to attend.
"We still wanted to get out and celebrate, because everyday is Indigenous Peoples' Day," she said.
After the Haigis Mall celebration, a smaller group of about 10 attendees began a march across campus, waving flags and holding signs that said "UMass Natives celebrate Indigenous Peoples' Day" and "We exist, we resist, we rise."
The march started at the Fine Arts Center and looped around the Campus Pond, past the Student Union and W.E.B. Du Bois Library and into Southwest Residential Area. With music blasting from a portable speaker, the marchers chanted "Native Pride, UMass Pride" through Southwest and up to Fearing Street, where the members paused chanting to walk through the neighborhood.
The march resumed on Pleasant Street in Amherst, as marchers cut through a crowded town center at about 3 p.m., while passing cars and pedestrians made gestures of solidarity.
The march ended at the Amherst Common, where participants were met by Urban Thunder once again. One group member set up a loudspeaker system with a microphone on which most marchers introduced themselves and told anecdotes about why they came to the celebration.
"Maybe we weren't able to get our point across to some people, but then again maybe we were able to raise awareness for our cause to a few people," said Angelina LaRotunda, a sophomore animal science major and vice president of NASA. "That means we made some kind of difference, and that's what we want."
One of the main goals of NASA is to educate UMass students on the topic of indigenous peoples' history in the United States, but leaders like Joseph argue that there needs to be more of this education nationwide.
"I think the climate has changed since I was in NASA but there is much more education that needs to be done," said Joseph. "Especially with what's going on in the whole country, we need to become more aware as a society of some of the political injustices that are really misleading, misrepresenting and disheartening to indigenous peoples."
Participants of the march ate pizza and danced on the common before moving to the Josephine White Eagle Cultural Center in UMass' Chadbourne Hall to finish off the celebration with more food and socializing.
Email Michael at [email protected]