'Idea Driven:' UMass artist Haley McDevitt's thesis exhibition uses her mother's sketches to encourage political thought
McDevitt's exhibition will be displayed from April 17-20 at the Student Union Gallery
Haley McDevitt is a senior studio arts major with a concentration in painting and a minor in art history. Like other seniors at the University of Massachusetts Amherst, McDevitt is spending her last semester finishing up her thesis exhibition, which will be displayed from April 17-20 at the Student Union Gallery. Her project is a series of paintings inspired by her mother's political sketches. The series is called "Idea Driven."
For the project, the young artist took small sketches from her mother and projected them on to large canvases. She added color where she saw fit, using gouache as a first base and then following up with oil paint. Of the six paintings, half were done on brand new canvases while the other half were done on found or donated canvases. The juxtaposition of the two canvases, old and new, challenged McDevitt as an artist by forcing her to use different methods of painting to discover what worked.
"A difficulty in using brand new canvases was just how much stark white was there; it just seemed very artificial and very empty. I experimented painting white over white canvases to combat this stark, manufactured look," said McDevitt.
Some difficulties in using reused canvases included trying to take off old glitter or glue, which McDevitt labored over for hours at times. Sometimes the canvases wouldn't turn white after painting them over with white house paint, and sometimes, the old canvases would warp from too much paint and fall off the wall. When this happened McDevitt learned she should paint the other side of the canvas, balancing it.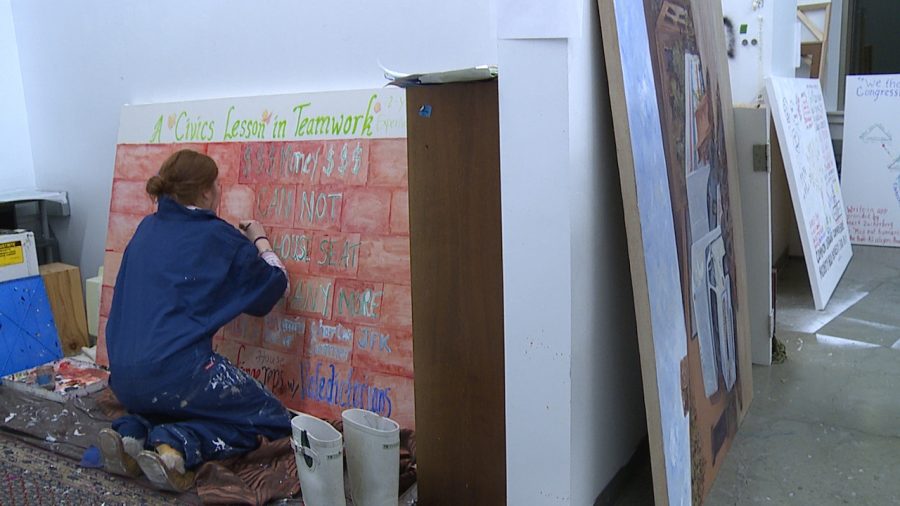 McDevitt said she learned more than just painting techniques. She said this project also brought her closer to her mom. She described her self as a receiver for a lot of her mother's ideas, which she was able to engage and immerse with in a way she never could have before.
"
"One of the most important things I learned throughout this process was how to become more familiar with the things that your close ones are trying to show you and how to interact with that.""
— Haley McDevitt
 This whole project, including the processing part, has been going on for a few semesters, said McDevitt. It showed up in the background of one of her etchings about a year ago, then in the following semesters it moved into two different performance pieces. This is when McDevitt realized that it was something she had to pursue.
"It was pressing and personal, but also an opportunity to really open up to different people and have their viewpoint shared with me in the studio and exhibition place. Through the process of painting the sketches, I have become more familiar with them and more willing to really engage with them and then to start to engage other people with them. It was a project I had to do," said McDevitt.
McDevitt said that her mother made these sketches to be starting points for conversations on values and how to better society.
McDevitt and her mother have seemingly similar goals; McDevitt wants her gallery viewers to leave thinking more about their surroundings and what their community, large or small, could benefit from. An essential question McDevitt wants people to ask themselves is how they can offer themselves to society. More often than not, it's by collaborating, understanding each others' values, and working toward a common goal, said McDevitt.
"No one is coming from a completely malicious viewpoint, everyone is simply defending a value that they think is important, and a lot of times there are similarities. The only way to make any progress is to work together and find the similarities and find where the differences stem from," said McDevitt.
To fulfill this aspect of the project, McDevitt is going to be quilting a quilt called the Fabric of Humanity. McDevitt will ask people what they value in humanity, and each square is going to represent a value that someone holds or offers in society. It is a part she is very excited about and a part that she knows will make her mom proud.
Email Brian at [email protected], or follow him on Twitter @brianshowket.
Email Courtney at [email protected], or follow her on Twitter @courtneymurtag3.