Avengers: Infinity War review (spoiler-free)
For fans of the Marvel Cinematic Universe, this is it. "Avengers: Infinity War" is the culmination of a decade-long march, starting with the introduction of Robert Downey Jr. as Tony Stark in "Iron Man" (2008). "Infinity War" marks the end of Phase Three of Marvel's cinematic blueprint, and it is by far the largest and most ambitious addition to the franchise yet. It's nearly impossible for a movie with a decade of hype to live up to expectations, but "Avengers: Infinity War" delivers in every way the fans could have hoped.
Infinity War's ensemble cast delivers a typically excellent performance, as audiences have come to expect. Downey Jr. (Tony Stark/Iron Man), Tom Holland (Peter Parker/Spider-Man), Benedict Cumberbatch (Doctor Strange), Chris Hemsworth (Thor) and Elizabeth Olsen (Wanda Maximoff/Scarlet Witch) stand out above the rest as the film's primary heroes. Directors Joe and Anthony Russo do an excellent job of making sure each character gets their due, but fan favorites Chris Evans (Steve Rogers/Captain America) and Chadwick Boseman (T'Challa/Black Panther) feel slightly underutilized.
All that for a drop of blood
But the star of the show is Josh Brolin's Thanos. Brolin's portrayal of The Mad Titan preserves the cruelty and raw strength of the menacing comic book villain while adding a layer of depth and humanity that makes the audience almost want to root for Thanos.
While critics have often accused Marvel of churning out generic, cookie-cutter villains, it seems producer Kevin Feige and the rest of Marvel Studios have found the solution. After Michael B. Jordan's performance in February's "Black Panther" as Erik Killmonger was a smash hit with fans, Thanos is similarly an ideologue with a harsh and brutal plan for bringing "balance" to the universe. Still, the underlying message of his agenda resonates with the audience, because he isn't entirely wrong.
The filmmakers take their biggest liberty from the comic book storyline in altering Thanos's motivations, but the risk pays off. Thanos is Marvel's strongest villain, and perhaps the best comic book villain since Heath Ledger's Joker in "The Dark Knight" (2008).
Thanos is compelling not just because of his bloody agenda, but also because he is so overwhelmingly powerful. The Russo brothers do a fantastic job of conveying his unmatched strength, as our normally triumphant heroes stand no chance against Thanos. In a prolonged hand-to-hand combat sequence between Iron Man and Thanos, Iron Man exhausts every tool in his nanotech suit's arsenal, landing a single blow to Thanos' head. Thanos wipes his temple, smiles, and says, "All that for a drop of blood."
Sacrifice
"Avengers: Infinity War" is a film about sacrifice. Throughout the complicated, multi-layered plot, characters are repeatedly faced with impossibly difficult decisions. The Russos effectively craft plausible scenarios in which characters are forced to consider sacrificing what they love most. This not only deepens and intensifies the relationships in the film, but it effectively raises the stakes. In a film teeming with massive action sequences, visual effects and infinity stone jargon, it would have been easy to lose sight of character relationships. Instead, the interactions between characters are the beating heart of the film, engulfed in a 160-minute showcase of chaos and action.
"Infinity War" doesn't just rely on established relationships, but instead puts characters into new groups to create fresh dynamics. Thor teams up with Rocket Raccoon, and Doctor Strange teams up with Iron Man, Spiderman, and later the rest of the Guardians of the Galaxy. Fans get to see Wakandan warriors M'Baku (Winston Duke) and Okoye (Danai Gurira) fight alongside King T'Challa and Avengers stalwarts such as Captain America, Scarlet Witch, Black Widow (Scarlett Johansson), and Bruce Banner (Mark Ruffalo). These unique character groupings add to the film's sense of adventure and provide some levity. In spite of being perhaps the darkest MCU film, "Infinity War" never forgets to be fun. The Russos pick their comedic spots brilliantly, avoiding any awkward or untimely levity.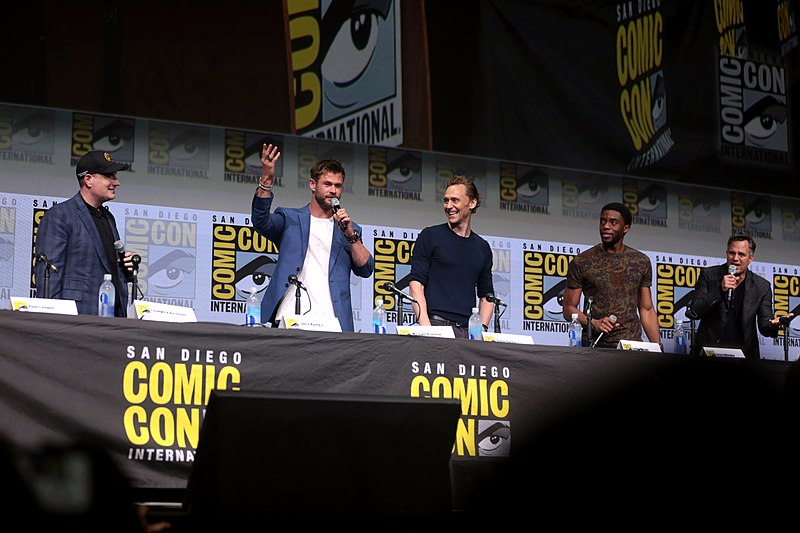 Space, reality, power, mind, soul, time
As the name suggests, the primary storyline of "Infinity War" is Thanos' quest to acquire all six Infinity Stones. This story fans out into as many as five concurrent plotlines. This makes the story a bit unwieldy at times, but the Russos do an excellent job of tying each story back together in the third act. For a film of its scale, "Infinity War" is surprisingly well-constructed and devoid of significant plot holes. The only storyline that ever feels tiresome is Thor and Rocket's mission. Still, these scenes provide some of the funniest moments in the film, and the conclusion of this storyline is worth the wait.
Marvel fans will be thrilled at the film's willingness to dive headfirst into the comic book lore, but casual fans may feel slightly left out. Longtime fans will see Infinity Stones as the linchpin to one of Marvel's most beloved comic book storylines, but the uninitiated will see them as a plot device. The film isn't bogged down, however, as it only dedicates one brief scene to Infinity Stone exposition.
It goes without saying that the hardcore fan will derive more enjoyment out of this film, yet it stands on its own. Anyone can appreciate the emotional stakes, sprawling action, and well-timed comedy of "Infinity War."
Conclusion
"Infinity War" delivers a fun summer blockbuster for casual fans and a decade-long payoff for hardcore fans. Marvel's ability to remain faithful to the comics while making key alterations results in the best possible film version of "Infinity War." In spite of a few minor issues, the film delivers on all the hype. As the 19th entry in the MCU, "Infinity War" is truly an unprecedented achievement in filmmaking, and it will leave fans satisfied, stunned, breathless, and yearning for part two.
SCORE: 96/100
Acting: 30/30
Story/Writing: 37/40
Cinematography/Visuals: 20/20
Music: 9/10
Email John at [email protected], or follow him on Twitter @JohnDCoakley.