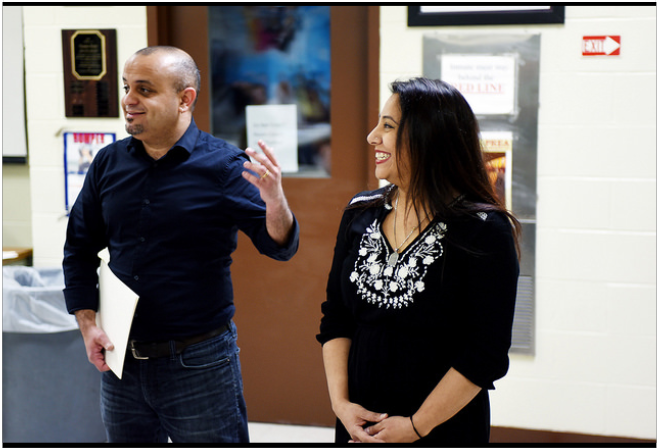 For Shaheen Pasha, the desire to bring education to inmates at Hampshire County jail sparked from a personal story. A friend of hers was sentenced to life in prison. The man was college educated yet stripped of all ability to use the skills he'd acquired. Pasha felt for him and understood she wanted to help. She was inspired to create an outlet for prisoners to get their trapped thoughts out and communicate with others.
"There was nothing for him," Pasha said. "There was nothing to do, you're literally sitting there in your own head all the time."
Shaheen Pasha and Razvan Sibii teach journalism at the University of Massachusetts Amherst and have partnered up in an endeavor to educate prison inmates through journalism courses. With their help, inmates are benefiting from the valuable skills journalism provides.
The inmates are learning aspects of journalism that Sibii and Pasha think will translate into anything they want to do when they get out of jail. Some of these aspects include being able to get out of their comfort zones, writing, research, reporting, interviewing, and social and communication skills.
"I want to provide people with the opportunity to learn to write for themselves, and be able to get an outlet to be able to get their own thoughts out and talk to people," Pasha said.
The inmates weren't the only beneficiaries of the course. The students participating also gleaned precious knowledge and valuable moments from their experience.
One student, Joshua Murray, feels the course was geared towards the realization of the humanity of the incarcerated — known to him as the "Hampshire County students" — both in the minds of the students and inmates alike. He reflected on how easy it is to dehumanize those who don't have a voice, while also pointing out the voice that's now emerging for the inmates in the class.
He was struck by the inmates' thirst for knowledge and interest in taking a college class.
"They really are just as smart as any other UMass student," Murray spoke of the inmates.
Witnessing how eager the inmates were to learn caused Murray to look at his own attitudes towards education. He believes education "shouldn't be a privilege," but should be necessary for everyone in the country, regardless of their situation. Seeing the power and skill journalism provided to men who would otherwise not have them opened up a platform for a conversation to flow.   
In one class session, the two professors conducted a conversation about masculinity. The answers they received were startling. Listening to the men speak about their own ideas of manhood shed a bright light on the worrisome effects of hypermasculinity in prison and home life alike. Pasha and Sibii cited that moment as one that drew them back with amazement.
"The depth of reflection that they brought to the table about hypermasculinity, given the environment that they are in and most of them had come from was mind-blowing," Sibii said.
"They were immensely reflective of what went into their idea of what a real man is like and very critical of themselves and of the environment that created that kind of masculinity was very often synonymous with violence," he added.
Having genuine conversations, learning with individuals from the outside world, and gaining useful knowledge uncovered an often buried picture of inmates that Pasha and Sibii want to uncover and showcase.
When speaking about a message the two desire to spread from their experiences, Pasha pointed out that there are around 2 million people incarcerated in America. Those people, after rejoining society, tend to be outcasted and forced into silence about the trials they've endured. She said this can cause a cycle where the now freed individual returns to the lifestyle that landed them in prison initially.
Considering these words, Sibii acknowledged the complexity of the situation saying that the solution is widespread and complex, just as the issue is. Wide-spread is now what Pasha and Sibii are thinking as they move forward with their work.
In progress is a textbook teaching all the basic facets of journalism. With Pasha as the book's creator, the goal is to distribute the materials to other jails willing to create their own prison journalism classes. Moving forward, the two want to see this project as a well-oiled machine, managed and executed by anyone wanting to teach prisoners life-changing skills for when they transition back into civilian life. The Social Justice Journalism course is usually offered during the fall semester at Umass.
Email Desire' Crosby at [email protected]