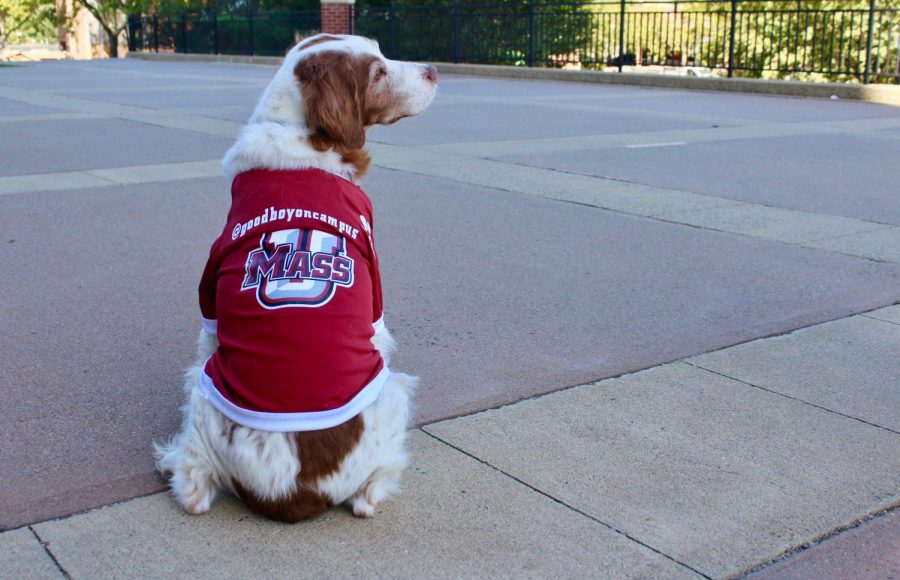 Caeli Chesin
AMHERST – I heard the clanging of metal. I immediately recognized it as a dog tag swinging against the metal hoop on its collar. I looked up with excitement. 
"Hi, it's so nice to meet you," I said as I introduced myself to Mike Jamrog, a third-year plant and soil sciences major at the University of Massachusetts and the proud owner of the goodboyoncampus Instagram account. 
However, I couldn't neglect the 11-year-old Brittany spaniel wagging its tail below me. AJ is the ever so popular dog here at UMass. You may have seen his fluffy, white and brown face and Instagram handle on posters spread throughout campus. Possibly, you may have been lucky enough to run into him. Somehow, he is even more adorable in person!
Jamrog and AJ's relationship began with his uncle, an alumnus of UMass. AJ had been his dog for nine years but as Jamrog was moving in for his sophomore year, his uncle passed away.
The two were very close and to help him cope, he wanted to keep AJ as a registered emotional support dog. Despite his grandmother's reluctance, Jamrog and AJ moved into Sylvan Residential together for his sophomore year. 
Since he would visit his uncle frequently, Jamrog and AJ had already established a bond.
"He was always there to lift my spirits," Jamrog said. 
During our interview, AJ wore a red vest. Jamrog said it was made custom by the campus store. The vest included his Instagram tag, as well as the number seven which was his uncle's favorite number. This vest gives AJ the proper recognition and attention he deserves.
"People are always coming up to say hi. It makes me late sometimes; it made me late to this interview." Jamrog said.
They don't mind the attention, especially not AJ. What else could a dog want besides constant pets? Treats? According to Jamrog, he's fed plenty of those.
It makes Jamrog happy knowing that AJ brings joy to others. "I want to provide the same service the dog does for me to the rest of the community," he said. 
When school becomes extremely stressful with heavy homework loads, exams worth 100 points and the overhanging anxiety that comes with being broke, it's nice to have a pet. 
"No matter what kind of day I'm having; if I have a lot of homework to do, or if I'm kind of stressed out, I can come back to the room and he's there smiling all happy wagging his tail, so he's a good stress reliever," Jamrog said.
Jamrog said AJ is a good ice breaker, which has allowed him to make some great friends. However, with the abundance of advantages to having a dog on campus, there comes plenty of disadvantages too. 
"Sometimes I'll roll over in the middle of the night onto a tennis ball or a bone," he said. 
He mentioned finding fur all over his black shirts, an aspect many dog owners can relate to. Jamrog also brought up that the costs of food, waste bags and toys add up. It's worth it in the end though because it's all for AJ. 
The beginnings of Goodboy
During the beginning of his sophomore year, Jamrog would occasionally post pictures of AJ on Snapchat for his friends to see. After a short time, his friends begged for daily dog pics. Jamrog thought about it and decided to make an Instagram for AJ where he could post pictures every day for his friends. 
He began exploring other dog pages on Instagram and noticed that the popular ones would post captions from the dog's point of view. This idea sparked interest in Jamrog. He started posting captions that were clever and witty while making it sound like AJ typed them. 
"It makes the account more personable," he explained.  
As his follower count rose, he thought about other ways to reach more students at UMass. When he hit what he described as the "magic 1K number," Jamrog started putting posters up around campus. 
Soon after, his following reached 2,000. Now, when AJ and Jamrog walk around campus, they are often recognized.
In March of 2019, Mike had posted a photo of AJ in UMass gear and was soon contacted by a fan that said he should get AJ to be a model for the campus store. Jamrog liked the idea and decided to reach out. After an agreement was settled, AJ became a brand ambassador and clothing model for the store. 
Jamrog loves the Instagram page and wants to continue with it after college, but he's worried that without campus life, the public recognition won't be the same. However, he knows AJ would be upset if he stopped the page entirely. Jamrog is hoping to eventually get some other sponsorships with AJ after graduation to continue providing him with all the attention he deserves. 
The Community's Dog
Jamrog is very organized with the account and plans the posts in advance to ensure content is regularly being shared with the UMass community.
"I can take about 20 pictures in one weekend and be set for a while," he said.
He keeps a list of engaging captions so he's not struggling to brainstorm one on the spot. Through managing the account, he has learned better management such as how to create a more appealing site, staying consistent and curating creative shots at popular spots on campus. 
Jamrog said you can usually find AJ at Orchard Hill playing frisbee, fetch or just laying down and soaking up the sun. They both embrace the attention and encourage people to come up and play. 
"I want to provide the community with a dog they can pet," Jamrog said.