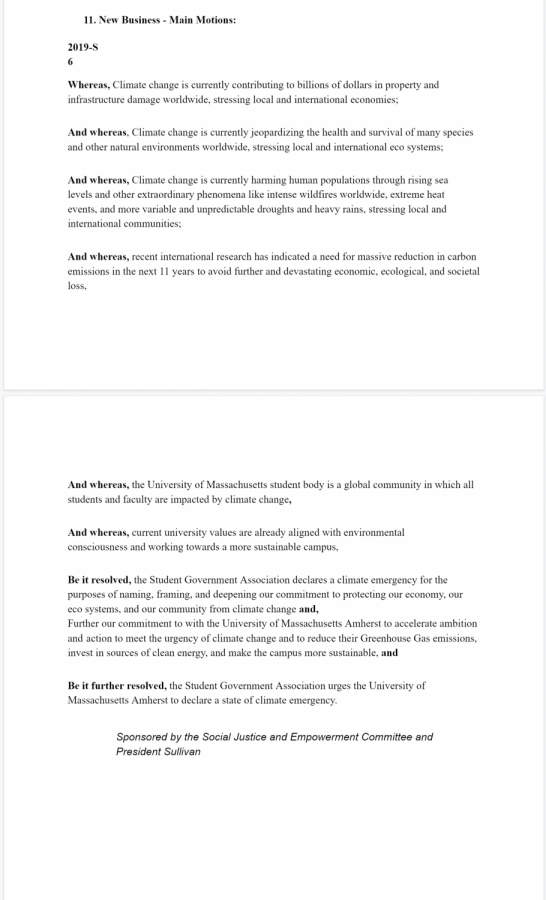 AMHERST — The Student Government Association at UMass Amherst declared a climate emergency in its general body meeting on Oct. 16, 2019.
The latest SGA meeting saw unanimous support for declaring a climate emergency in response to the UMass climate strike on Sept. 20, which coincided with the worldwide strike. Of the five demands the organizers of the event proclaimed, the first one is to "tell the truth," and "declare a state of climate emergency."
Nearly one month since the climate strike, SGA found it necessary to respond to these demands by taking the first step. The motion (2019-S6) is sponsored by the Social Justice and Empowerment Committee and President Sullivan. 
When asked about the impact of this declaration, President Sullivan said, "it is a framework or orientation" for future campus policies on climate change. 
The end of the motion states "the Student Government Association urges the University of Massachusetts Amherst to declare a state of climate emergency." According to the Social Justice and Empowerment Committee, doing so would encourage other UMass schools to do the same.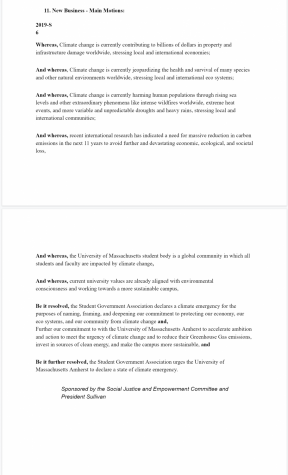 The next step is to bring this student declaration to Chancellor Subbaswamy's attention and encourage him to have UMass declare a climate emergency as well.
"I am really hopeful UMass will declare [a climate emergency]," said Sullivan following the meeting. 
While this motion is significant in recognizing the significance of climate change, it is more of a statement rather than an action. Subbaswamy has already agreed to the new goal of having UMass be 100% renewable by 2025, though there are still four more demands to be fulfilled. However, President Sullivan and members of the Social Justice and Empowerment Committee are confident that this declaration of climate emergency will be a better starting position that will help orient future climate policies.