How to stay stylish and warm this season
The time of year has arrived when UMass Amherst students kiss goodbye the days they could stroll to class in a light T-shirt, Birkenstocks or sundress, trading in these summer staples for fall and winter essentials. 
The low morale students feel as mid-semester hits and the cold creeps in makes it hard to fight the urge to roll to class in sweatpants and a hoodie. But, the impulse to dress basically in your pajamas for class during the colder months is easier to avoid than many think. Some students spotted on campus are keeping style in mind as they combat the cold, layering up in oversized sweaters, slouchy beanies and fuzzy coats.
Here are five fall and winter clothing trends, inspired by UMass students, to protect you from the chilly climate while you make a stylish statement heading to class. Available at affordable prices on popular online apparel sites, these pieces are worth rocking all season long. 
'90s inspired sweaters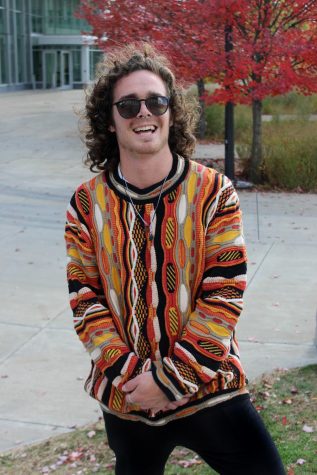 '90s fashion prioritized comfort embracing baggy jeans, loose-fit activewear and casual graphic tees. College students crave comfort when it comes to clothing. With hectic schedules, wearing pieces that are easy to throw on has become a fashion ritual for UMass students. Many are resorting back to trends from the '90s to achieve a relaxed but polished look. Popular pieces are resurfacing such as pull-over knit sweaters marked with vibrant vertical squiggles and distinct geometric designs. To score on one-of-a-kind vintage sweaters visit local thrift stores like Salvation Army or Goodwill both located under 10 minutes from campus. Or, check out this Aztec printed wool sweater available at ASOS for just $24!
  Corduroy jacket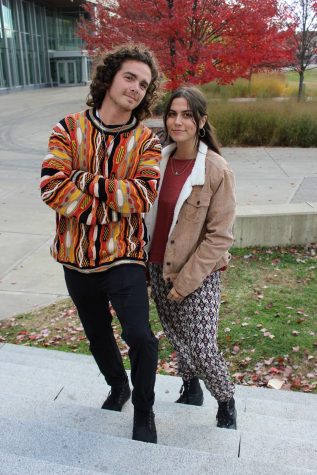 Another trend reoccurring from the '90s: corduroy is making its way into the closets of current college students for the fall season. The fabric, constructed in a particular pattern, certifies lasting warmth.
A corduroy jacket, especially a fur-lined one, is a prime choice when searching for a coat that will keep you toasty throughout the day. Opt for a rustic orange shade or forest green to create an ideal fall/winter ensemble. Forever 21 offers an array of corduroy jacket styles including this woman's olive button-up detailed with frayed-trim.  
  Combat Boots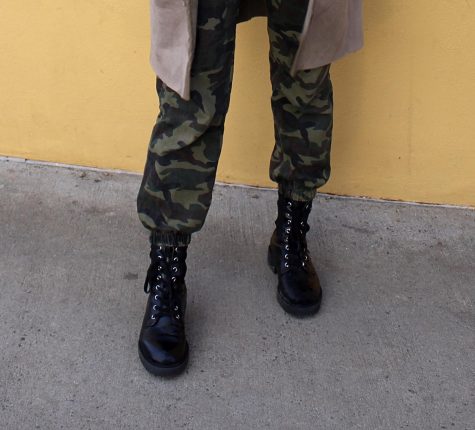 Looking for a stylish shoe to clunk around the snow in? Leather combat boots are resourceful, durable and ultramodern. Pairing easily with various bottoms including skinny jeans, plaid trousers or black tights, these boots are a winter shoe must-have.
Both men and women can rock these grungy kicks, available in infinite styles such as knee-high lace-ups or ones detailed with studded diamonds. DSW has a wide collection to select from comprising of different patterns like snake-skin boots by Sam Edelman, also available in white and black. 
  Puffer Coats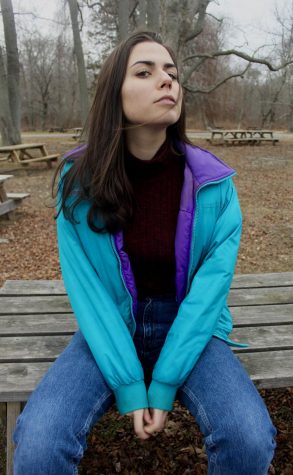 Dominating the fall/winter runway shows of Balenciaga and Moncler, students on campus are beginning to adopt this cozy trend. Puffer coats make a bold statement no matter what size, shape, color or crop you decide on.
For optimal warmth go for a floor-sweeping jacket, protecting your body head to toe; or show off your outfit with a cropped style. Experiment with bright neon colors, like yellow or red, to incorporate some enthusiasm into a colorless winter wardrobe.
This sky blue puffer from Urban Outfitters has an adjustable drawcord at the waist transforming the bulky coat into a flattering silhouette. Puffer coats are a winter necessity that effortlessly combines guaranteed warmth with chic style. 
  Distressed Denim Jacket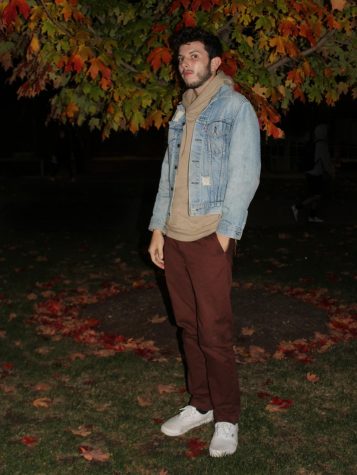 Spruce up your go-to hoodie, by layering a jean jacket over it. Distressed denim establishes a laid back look while giving your outfit a slight edge. Thrift store racks are always overflowing with denim jackets and this simple video tutorial will show you how to distress one on your own. Add patches and pins to your jacket for an extra personal touch.
Make sure you pair light-washed denim with a darker under layer and vice versa. Fashion Nova has countless styles to browse through from pinstriped denim to black cropped jackets. If you don't want to take the time distressing your own, check out this faded ripped denim jacket. Denim remains a timeless fabric that naturally spruces up a minimal look. 
With the temperatures slowly dropping as the season goes on, these five fashion trends will keep you warm, yet stylish.
Email Samantha at [email protected]