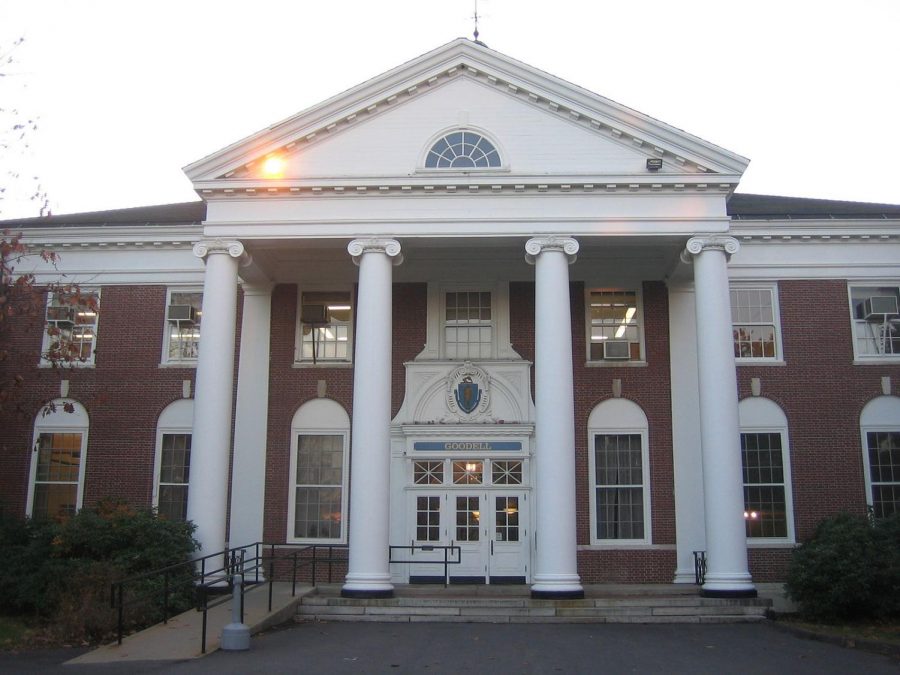 Editors Note: Evan Chakrin has left UMass for job opportunities and although he has not yet graduated from UMass Amherst, he has only five classes to take to earn his degree and is currently working in his field of expertise.
In the sea of over 30,000 undergraduate students at the University of Massachusetts Amherst lies a few non-traditional aged students. Some of them have said they are in college now because they hold a better economic standing, their family has grown older or they are looking to change careers. 
 The experience of being a non-traditional undergraduate does not follow that of a student directly out of high school. In a recent interview, Evan Chakrin, a 33-year old Horticulture major, described what it is like to be a non-traditional aged student.
Chakrin resides in Wendell, Mass. with his wife who is currently completing her post-doctoral research at UMass Amherst. Living in Wendell means Chakrin commutes about 30 minutes up route 63 both ways, every day.
Chakrin attended Deland High School in Deland, Fla. but graduated high school at Daytona Beach Community College, now known as Daytona State College, in 2000. Following high school, Chakrin went to Seminole Community College for Computer Science and Networking Engineering. In the mid-2000s Chakrin realized he was not utilizing his education for quite some time and did not want to work in the corporate IT field. That was when he decided to step away from school to explore trades and contract work.  
It was not until 2010 that Chakrin found his niche, environmental agriculture and horticulture. After five years of toying with the idea of going back to school, Chakrin selected UMass Amherst because of its convenience of being close to home, compared to other colleges, and the opportunity to study his specific field of interests.
Now a junior and associate's degree holder, Chakrin maintains a 3.4 GPA. He believes that attending school now, with more mature life experiences, allows him to navigate school with more ease.  Chakrin went on to explain that the most valuable part of his experience at UMass has been "[the] formalized education where you are surrounded by expert professors in the field." 
 Another benefit that he sees as a non-traditional aged student is being able to build on his previous knowledge.  For example, during Chakrin's second year at UMass, along with another non-traditional aged student, he was awarded a grant used to fund greenhouses on campus to start a hydro-phonic organization.  
 "…I think that my experience in horticulture and in life helped me put together the grant proposal and helped the faculty sign off on it," Chakrin said. 
Though Chakrin has found that his maturity has made some aspects of attending college later in life easier, he also sees that it can come with some challenges.  
Having a mortgage, a job and a family, along with managing a full-time student schedule, can prove to be difficult to balance. Despite this overwhelming and chaotic time, Chakrin has learned to balance life, school and work rather well. 
Over the years Chakrin has really enjoyed many of the faculty and staff at UMass. He finds their extra time spent with him to be extraordinarily helpful.  
Despite the challenges of being a non-traditional aged student, he still finds time to complete his course work and continue to work towards graduation. He acknowledges that "life [for non-traditional aged students] is more complicated than an 18-year-olds."
Lyndsey Anne Ware is another adult student at the University of Massachusetts taking the journey to higher education.
Ware was born in Port Arthur Texas, but Ware and her family moved to Austin, Tx when she was five years old.  
Ware left home at the age of 16 because of her estranged relationship with her father, while still attending Leander Texas High School.  To complete her high school education, Ware stayed with friends until she graduated in 1997. She then got a job at Texas Instruments, a company that reimbursed her for college tuition as long as her major had to do with their company's vision.  
However, Ware chose a major which the company did not believe was closely enough connected to their vision, leading them to not pay for her undergraduate degree. When Ware was told that the tuition would become her responsibility, she was forced to quit. However, she remained in Austin and was surrounded by her musician friends and lived in a warehouse with some of them.
Ware eventually got her pilot's license and then had her son in 2005. Unfortunately, when her son was only four months old, she had to make the decision to leave her son's father, due to an unhealthy relationship. However, she " stuck around [in] Texas" surrounded by her ex's family, who "didn't have to work because they were related to others who were successful, so what you get is a generation of entitlements and different realities."
Ware, then 26, wanted to pursue higher education to make a better life for her and her son. She realized that with no financial support from her biological son's father this would be an unachievable goal while her son was an infant. However, when her son finally reached kindergarten she enrolled in some classes at Austin Community College in Austin.
Now at 38, Ware is majoring in Journalism and Horticulture and maintaining a 3.7 GPA at UMass. Inspired by her own emotional and financial challenges, along with her awareness of unhealthy relationships, Ware wants to eventually earn a master's in botany
.After struggling as a single mother and undergraduate student, Ware looks back at her experience and reminisces, saying, "life changed it is a beautiful thing if I hadn't learned to adapt before than I sure learned to adapt after that." Ware said.
Chakrin and Ware are not alone: Older adult learners are pushed to pursue higher education to conform to the ever-growing change in the workforce. The vast majority of students at community colleges are adult learners and may be interested in eventually completing a bachelor's degree.  
Four-year institutions mainly serve students in the 18-to-24-year-old range. But, many adult learners take courses in the evenings when campus services are closed. This means that many of the school financial, support services and office hours are not available during the student's free time, after work. 
Sara Moggio, who works in the financial Aid office said that "the Whitmore Building at UMass Amherst, that has these necessary offices, are open 9 to 5 Monday through Friday." Furthermore when the adult learner is balancing so much getting to the offices during these times can be challenging.
In addition, according to the UMass Amherst website, Financial Aid has drop-in hours at the Library Learning Commons on Monday and Thursday from 5-8 p.m. Also, the writing center does offer extended hours and Sunday appointments.  When Ware became aware of these services she commented and suggested that "this is a start but weekend hours might be helpful". 
Lisa Modenos, Senior Lecturer for University Without Walls, a department of Umass Amherst which provides degree completion coursework, primarily for non-traditional students, has been with the program for six years. 
"Balancing life, work and school, majority are parents, they work. Having to balance all of this is a little different than the traditional aged students," Modernos said. " [A] majority of the traditional-aged students don't work, have bills to pay for, or have the same kind of responsibilities."
All UWW students are online and Modernos said that " (therefore) when papers or assignments are due the 9-5, this doesn't cut it  so these students need more flexibility."  In addition, a lot of UWW  come with other challenges, "they have tried college four and five times before. So, they come back trying again, not sure if they can do it." 
Medomos understands that the stakes are higher for non-traditional students because the majority of the UWW students are older, they have a better understanding of student loans and most likely carry some kind of debt. All of this, paired with the fear of not graduating can be incredibly intimidating, That is why UWW provides an online and flexible space for its students to learn at their own pace. 
The hurdles for older students are often greater, as seen in the cases with Chakrin and Ware. Many are juggling school while working full time and taking care of their family's needs.
Chakrin said that adult learners have more pressures, along with fewer hours to work, as they have other commitments that they must attend to.
More colleges need to become better equipped to address the needs of older students, as the older adult learner population grows ever larger.