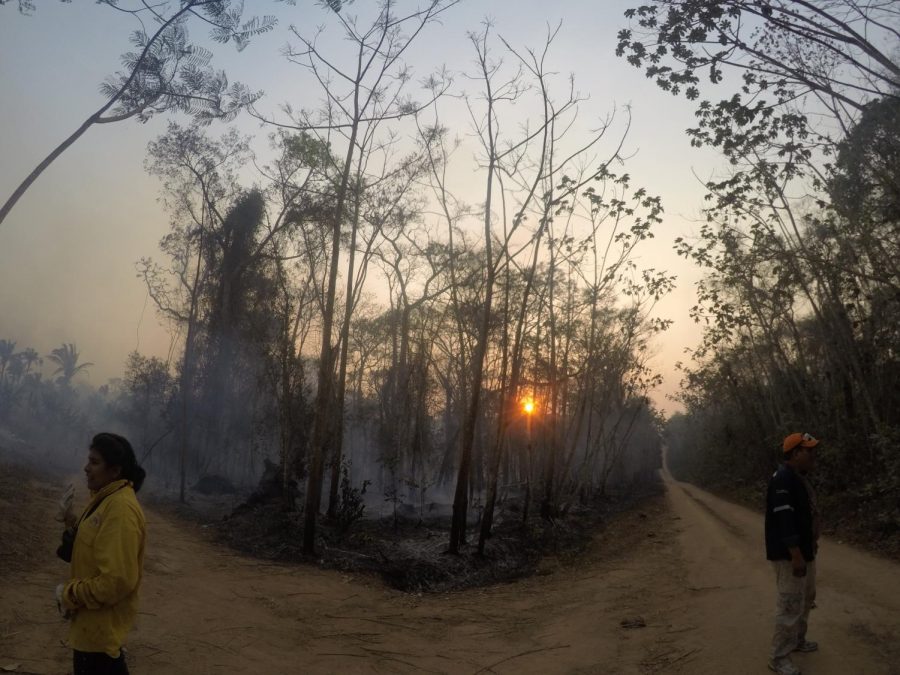 PhotoFox
A bright orange sky illuminated the camp called La Conquista (the conquest), set up in the Chiquitania dry forest in Santa Cruz, Bolivia, near the Brazilian border in early September.
The forest had been burning for weeks by the time documentarist André Manjón and his team arrived in the Chiquitano town of Concepción, one of the most critical points of heat in the fire. The fire, the result of a combination of an unusually hot and dry season and deforestation laws approved by the Bolivian government, engulfed the forest on the north, west and east sides of La Conquista.
"It looked like daytime, but it was the fire, which at night was so strong and so close that the sky was orange. It looked like sunrise," Manjón said in a recent Skype interview.
Manjón is part of a documentary filmmaker group called Photofox, who made a documentary called Un Pulmón en Llamas (A Lung on Fire), available free of cost on YouTube. The documentary aims to kill the misinformation surrounding the fires in the Bolivian Chiquitania.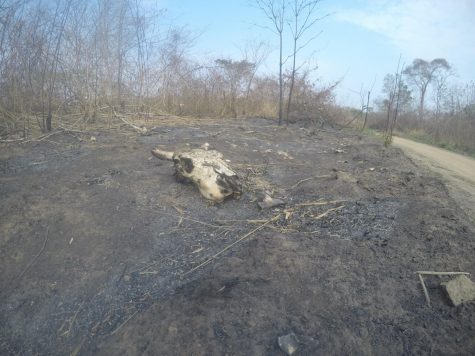 In early July, rumors circulated that a civic strike protesting President Evo Morales' illegal presidential campaign in Santa Cruz would be suspended because of a fire. Weeks later people began realizing that the fire was much bigger than they originally thought and that Bolivia wasn't the only country on fire. The Brazilian Amazon was burning too. Although not technically in the same areas, both Brazilian and Bolivian fires started at the same time, and for the same reason: agribusiness (agriculture for commercial purposes). 
Under Evo Morales—who publicly resigned on Nov. 10—Bolivia has developed a policy that allows the controlled burning (called chaqueos) and deforestation to create land for cattle raising to increase the number of beef exports to China. On July 10, Morales publicized the supreme decree (shortened as DS; similar to a bill) 3973, which expanded the allowed burning area.
"These fires were done by human hands," Pablo Solón, president of the Bolivian Fundación Solón, said in a phone interview. The foundation analyzes social and political issues through a systemic lens. 
Morales rose to power in 2006, following a tumultuous period in Bolivia's government. He has been in office ever since. Morales was Bolivia's first indigenous president. To outsiders, Morales is simply a humble knit-sweater-wearing socialist president who ushered in a new era of racial and economic equality.
He's managed to stay in office so long because he drafted a new constitution while in office. Since technically the new constitution meant the foundation of a new country, his second term could be considered his first.
Then, three years ago, he held a referendum asking the people whether they wanted him to run once again. The majority voted no. The results were annulled citing that Morales had a human right to be reelected, and Morales launched a campaign seeking a fourth term.
Bolivian presidential elections were held on Oct. 20, whose highly controversial outcome resulted in widespread nonviolent protests and strikes, with the people calling for the annulment of the elections due to electoral fraud.
Morales resigned on Nov. 10, prompting violent riots from his supporters and a period of uncertainty for the Bolivian people. 
Morales built his image on the promise that he would end the capitalism and inequality that had made Bolivia one of the poorest countries in South America. He promised to help the poor and punish the rich. In recent years, however, Morales' government has been tainted by money laundering, secret children, extreme nepotism, and, recently, an ecological disaster.
According to a timeline by Noticias Fides, reports of a wildfire reaching the Chiquitano region of Roboré started coming on July 11. A month later, the region declared a state of emergency and asked for help from the state government. About a week later, 3,000 fires across the region were registered. Shortly after, the president arrived at the disaster zone and held a press conference. He said that while the fire was a tragedy, "many small families" depended on land-burning-based agriculture.
Solón, whose foundation analyzed how climate factors in political parties' agendas, said that an ethanol and biodiesel law approved in September of last year provided an additional 200.000 hectares of land for deforestation and that a combination of bylaws deregulating illegal deforestation was to blame.
The government lowered the penalty for illegal deforestation to $6 for individuals and $46 for businesses. They also approved bylaws that essentially made regulations surrounding deforestation zoning less strict and issued multiple pardons for illegal deforesters.
Climate change has also played a role. This year has been exceptionally hot and dry; a perfect combination to fuel the fire that ravaged the Chiquitania and Amazon regions of Bolivia, Brazil, and Paraguay. However, according to Solón, this wasn't unknown to the Bolivian government, who approved a number of DSs and bylaws, regardless of environmental factors.
"What should've been done was approve a much stricter policy law that disincentivizes burning, but the opposite was done," Solón said.
The fires destroyed just over five million hectares, but Morales never declared a national state of emergency. Furthermore, all the efforts to put out the fires have been largely done by the Santa Cruz, Chiquitania state and local governments. Information about how much the federal-state helped in putting out the fires has been murky at best.
According to Noticias Fides, Morales created a committee dedicated to fighting the fires. The committee's first action was to rent three firefighting airplanes, followed by a bylaw putting a pause to the controlled burning policy, chaqueos. There have also been military presence at the scene, allegedly sent there to help and organize fire-relief efforts.
Filmmaker Manjón, who visited multiple Chiquitano towns affected by the fires, recalls conflicts between military, state and volunteer firefighters.
On their way back from picking up food, clothes and other supplies for volunteers and town residents, Manjón's team and the chief state firefighter on the scene encountered a military convoy that was leaving the camp. 
The firefighter, José María, asked the convoy if everything was okay, to which a member of the military convoy replied that everything was but that a firefighting technique had gotten out of control.  Everyone at the campsite was safe and being evacuated. José María returned to the camp only to find a room full of people suffering from carbon dioxide poisoning and two volunteers attempting to rescue them all. Five people were already unconscious. Thanks to the efforts of José María, Manjón's team, and other volunteers, everyone made it out alive.
"Why did the military take away their tools, take away all their supplies from the camp and leave knowing about the situation, but left everyone there?" Manjón said echoing the group's sentiment that night. "The military don't know how to put out a fire or how to handle it. They were there as security for the people, but they proved to be inefficient," he added.
The fires also came amid a high level of civil dissatisfaction for former-President Morales. Multiple protests and cabildos (public citizen gatherings to discuss current issues) have taken place over the last 70 days, such as the X March of Indigenous Nations. 
Leonardo Piñero, a leader of the student-led Pro Pacha eco-activism group, has been heavily involved in raising awareness about climate change through social media and protesting the Bolivian government's actions.
Piñero recalls a specific protest he helped organize, where a large crowd gathered and marched to the presidential residence. They used non-violent methods, such as forming a cordon–joining hands and forming a sort of human chain–and sitting down peacefully.
"For any type of march, that's very difficult because they [the police] form a cordon, but there were so many of us that we were able to go over the cordon," Piñero said about the protest in a phone interview.
He recognized the need for a non-violent civil action, stating that ecology is something that "needs to have an influence on economy and politics," and that although risky, it's a necessary evil.
"It's a risk we need to take," Piñero said.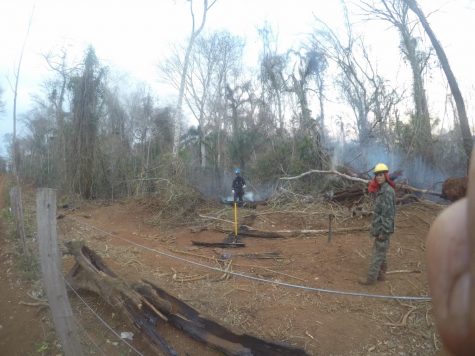 There have also been complaints to the United Nations about the disastrous impact the fires have had on indigenous populations and even the question of whether Morales should undergo a so-called Responsibilities Trial. The issue was raised by Alex Villca Limaco, an indigenous leader and was later joined by the Catholic Church.
"We've been asking that these laws and bylaws be overthrown, and in addition that a Responsibilities Trial be undergone by the authorities that made these bylaws flexible and that are attacking our patrimony," Villca Limaco said in an interview with CNN. 
The fires were finally put out on Oct. 8 through a combination of relentless efforts by firefighters and heavy rain in the area.
The long-term impact of the fires remains unknown, but the immediate concern today is the shortage of resources upon which the population depends. 
According to Manjón, woodworkers in the region have lost at least 30 years of work because that's how long it takes for trees to grow tall enough to be cut down without further damaging the forest.
There are also concerns about air and water toxicity because of smoke, and a shortage of other natural resources for food and sustenance.
The Chiquitania fires were the result of a government putting profit and power over the welfare of the people and their land. 
There is no denying that Morales' government helped improve Bolivia, but Morales' bid to remain in power indefinitely has hurt, and continues to hurt, the people of the country he so claims to love. 
The political picture is extremely uncertain in Bolivia. Morales' resignation prompted a wave of violent riots and the future of the country is up in the air until the interim president, Jeanine Añez, finds a way to pacify the country and calls for new elections. 
Only then can we begin to heal.