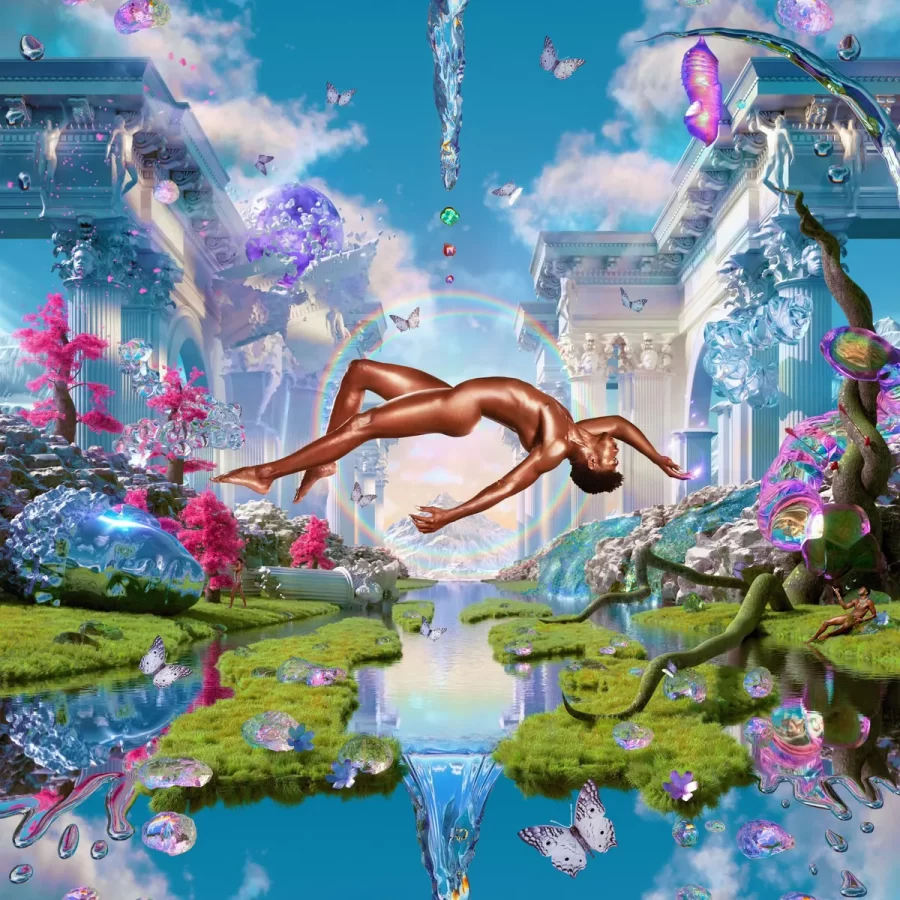 Since September 17th, Lil Nas X's debut album  "MONTERO" has been at the top of the charts, shortly after he released his two hit singles, "MONTERO" (call me by your name), and "Industry baby," featuring Jack Harlow. They debuted at number 1 and 2 respectively.
The album was a major event, it was very well received by many, getting many 7/10s or above, and moving a whopping 125,000 units its first week. This marks one of the first times that a gay rapper/pop star has released a mainstream project of this scale, marking an important shift in the culture of music, specifically in the hip-pop and pop spheres.
This shift in mainstream music has lead more gay artists (and artists with highly gay fanbases) to become more prominent. Other than Lil Nas X, queer artists like Tyler the Creator, Lady Gaga, Dorian Electra, Lizzo, and Sam Smith have also dropped in this past year, marking a resurgence in queer music and a new birth for the queer scene in the mainstream.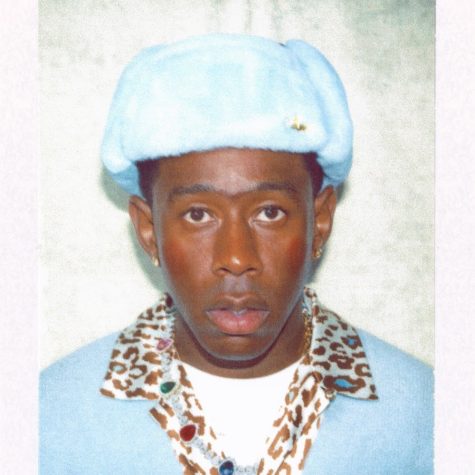 This is the case because the music made by these figures has been some of the most impactful music dropped in recent memory. For example, all of Lil Nas X''s songs this year have not only been extremely radio friendly, but have spread messages that have not only left many divided, but inspired many as well. (This applies to most of the songs released by the artists above.) Many of which have topped the charts and had virality in the Tik Tok sphere.
However, these songs are not just radio hits but they are also super impactful and meaningful to many. Most notably, this is due to the gay positivity spread by the messages of these songs, which has inspired many (who were not always supportive to the LGBTQ+ community) to also drop similar music to Lil Nas X. 
For example, Tyler the Creator's new album, "call me if you get lost," discusses Tylers bisexuality and his many relationships with men and women. This is similar to lil Nas X's album where he openly discusses his sexuality as well, only that it is much more gay leaning, not bi leaning.
This is surprising because Tyler used to say homophobic remarks in his songs, "went six flags six f— walked up and said heyo," is now one of the primary artists spreading the bisexual/gay message to the masses, recently becoming one of the most interesting queer figures occurring in the mainstream. Thus, these songs have opened a dialogue about the gay community and has lead to many standing with the community, but also against it. As a result there have been many controversial takes stated by many prominent members of the hip-pop sphere.
Rappers like Boosie, TI, and DaBaby have spoken publicly about their distaste for the LGBTQ+ community and its members. For example at the Rolling Loud Music Festival, DaBaby stated, "Ladies, if your p—- smell like water, put your cell phone lighter up. Fellas, if you ain't sucking d— in the parking lot, put your cell phone lighter up." After he said this statement many took to twitter and "canceled him," and shortly his monthly listeners on Spotify dropped by 12 million.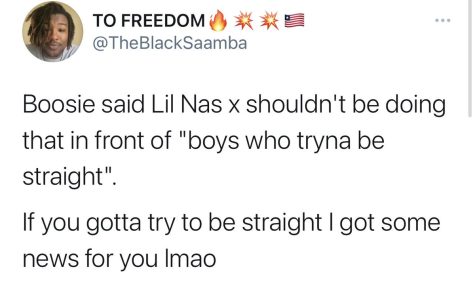 In response to these comments Boosie defended DaBaby saying, "If Lil Nas X can be gay than DaBaby can say what he wants." This shows that this backlash is real and should be taken very seriously by many. This backlash towards the LBGTQ community still exists and is very prominent in the mainstream today. Despite this backlash LGBTQ+ artists are still releasing and creating brand new music and art every day. Many of it inspired by the comments (said by popular rappers) meant to dissolve and put down the community. These comments are now spun into lyrics that uplift the community and shed new light on queerness.
For example, many of Lil Nas X's new songs in his new project are all about this very subject. "That's what I want," tackles his want for a gay relationship/marriage and plays off many stereotypical ideas presented in heteronormative songs. "Need a boy who can cuddle with me all night," states Nas in this song. Lyrics like this have been very prominent in songs as of late. "I've been kissing white boys since like 2004," states Tyler the Creator on his new album "Call me if you get lost".
This shows that people can now be way more open about their sexuality in their art, and this has all been helped by artists like Lil Nas X and Tyler the Creator. Their new albums have marked an important and vital shift in the culture. We are now one step closer to queer acceptance and representation in media.
Email Ethan at [email protected]