Ukraine war is 'droning on'; what UMass students are saying
Ukraine is putting up a fight against Russia over a month after Russia's initial invasion. UMass students share their thoughts on the current situation, the refugee crisis, misinformation in Russia, and the politics of it all.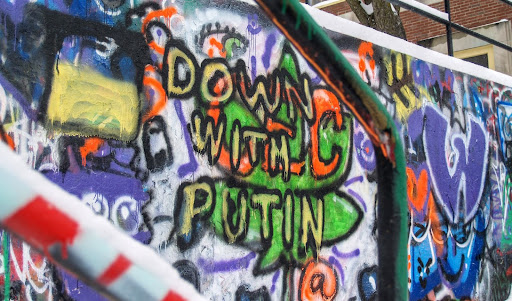 Russia has reached a stalemate against Ukraine and "largely stalled" in many places, according to the UK government. 
The war has been "droning on," said Bret Silverman, a political science major and sophomore. "Over the past week, I've stopped kind of looking [at the news] as much," he said. 
There will be a "drastic reduction in military activity in the Kyiv and Chernihiv directions" by Moscow, a "major" strategy shift, two senior US officials said. CNN reported that US officials said Russia could always go back on this plan. 
The mayor of Mariupol is calling for everyone to evacuate after Russia gained control of the area, with there being innumerable civilian deaths, and the people that remain do not have electricity, heat, or water, according to CNN. 
According to the United Nations, since the war started over 4 million people have fled Ukraine, half being children. Biden said that the United States will accept 100,000 Ukrainian refugees. 
"I don't really care about Putin's plan. I care more about the actual people that are suffering in Ukraine," Tanyikeh Muanya said, a sophomore studying Journalism and Political Science at UMass. He mentioned the racist biases in accepting certain refugees like black Ukrainians not being able to leave. 
The New York Times reports, European countries that resisted refugees from wars in Syria, Iraq, and Afghanistan are now welcoming Ukrainian refugees with open arms. German companies offered jobs to refugees, with Lithuania offering childcare.
Putin may be trying to cause a refugee crisis with all the Ukrainian refugees. Muanya said, "I don't think it's gonna be a crisis. I really don't," mentioning the support that many Western countries are offering to refugees. 
Muanya goes on to say the misinformation the Russian public is receiving from the media, calling it a "special operation" rather than a war. He said a Russian protestor with a sign that read "No War" went behind a Russian newscaster on live state-owned television, trying to inform the public of Russia "propaganda." 
On Monday, Biden expressed his opinion on Putin, saying he "cannot remain in power" and that his "outrage" is him "talking to the Russian people."
A military group, the Azov Battalion, has joined the Ukrainian military but has been known for leaning towards neo-Nazi ideas. CNN said that "the battalion still operates as a relatively autonomous entity." To justify the war, Russian media has repeatedly been calling Ukrainian troops and the Ukrainian government "Nazis" despite the country's leader being Jewish. 
"There's a lot of misinformation on both [Ukraine and Russia's] sides," Silverman said. He noted that the viral photos of "The Ghost of Kyiv" were a myth and photos are in fact, from a video game. 
Both students put their trust in the U.S. government to protect them from the war. Silverman reasoned that the politicians need to gain support to be re-elected, although he does not necessarily trust politicians as people. "At this point, it would be politically foolish to start a war after ending the war that we had," referring to U.S. involvement in Afghanistan. 
Muanya does not think that re-election has a role in politicians' actions right now but nonetheless trusts the U.S. government as an institution to protect the people. He mentioned the U.S. accepting Ukrainian refugees. "I'm happy because, you know, we got to help each other out," he said. 
It is dangerous to "glorify" politicians, like Putin and Zelensky, Silverman said. "Empowering him [Zelensky] as a leader is good but it's a slippery slope," he said. He explained that giving politicians too much power makes it easier for them to become dictators in the future. 
As U.S. citizens, there is not much to do to stop the war in Ukraine. However, there are initiatives to help refugees. 
Check out this relief fund through CNN to donate directly to multiple charities that help Ukrainian refugees.
This gofundme is raising funds for Ukrainian media to fight against misinformation from Russia. 
The Voices of Children Foundation is providing psychological support for children affected by the war in Ukraine, assisting families in evacuating, and providing psychological assistance.  
This Ukraine Crisis Relief Fund organization helps vulnerable refugees and citizens, including children, by providing shelter, necessities, health and psychological support, and more. 
World Central Kitchen is providing fresh meals to communities in need, donations are used for emergency food relief and more. 
With the Red Cross Ukraine Emergency Appeal, you can donate monthly to support blood collection, get volunteers and resources, and emergency aid. 
Email Selene at [email protected]