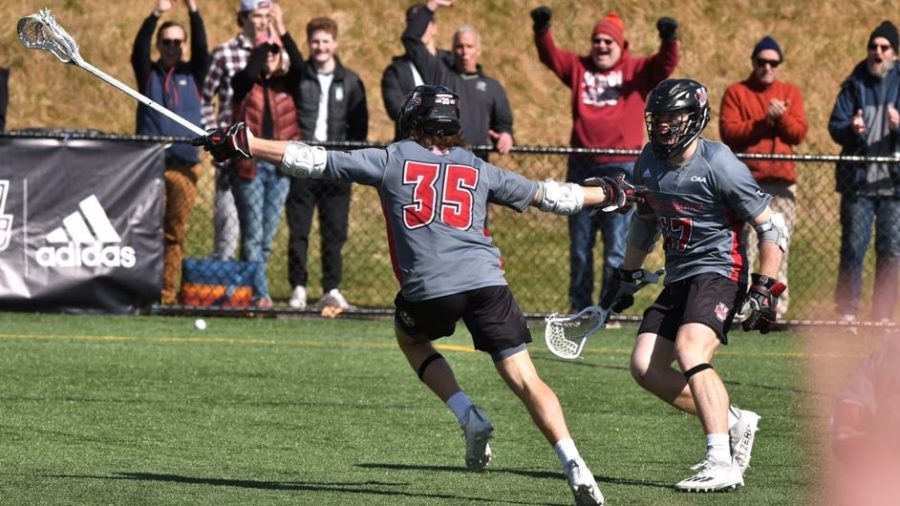 UMass Athletics Website
The UMass Gorillas came into a highly anticipated matchup against the Delaware Blue Hens with hopes of putting the rest of the CAA on notice. After an overtime period that saw attackman Tim Hoynes score from 15 yards out and send UMass atop the conference standings, the team accomplished just that. Although both Towson and Fairfield also won their initial interconference games, UMass' 6-3 overall record makes them the current favorite to capture their third CAA title.
UMass opened the game struggling to generate offense and quickly went down 4-1 in the opening quarter. Midfielder Kevin Tobin kept the Gorillas in it by notching a goal with 2:30 left in the quarter, and UMass entered the second quarter down 5-3.
After securing a little momentum to end the quarter, the Gorillas got outscored 4-1 in the second quarter. Fans began exiting Garber Field, assuming the Gorillas did not have the resiliency needed to comeback in the second half. 
The second half embodied what head coach Greg Canella has been preaching all season – toughness. Down by five goals, the Gorillas' offense began peppering Delaware with shots, led by Tobin, who scored three goals and had four ground balls. Following a Tobin goal four minutes into the third quarter, UMass scored six straight goals to take the lead early in the fourth quarter. Both teams scored another goal in the final minutes to tie the game at 10 goals apiece. With a second to go, it appeared that the Gorillas won at the last-second when Tobin was able to put one behind Delaware goalkeeper Paul Reidy, but he was ruled to be in the crease, erasing the goal. 
With the conference's number one spot on the line, UMass goalkeeper Matt Knote stepped up in a big way. Knote had multiple saves in overtime allowing for Hoynes' game-winning goal. Knote, a member of the preseason all-CAA team, has played well for the Gorillas all season, and was recognized as CAA player of the week after the match against Delaware.
Since a rocky start to the season that saw the Minutemen fall to 1-3 after a close loss to Yale, the team has responded with five consecutive wins. The impressive wins have come against quality teams such as Delaware, Vermont and Brown. Not considered a contender to start the season, the Gorillas recent play has helped them enter Inside Lacrosses' list of the top 20 teams in the nation.
If the team can continue to win games at this pace, a CAA title is within reach. By winning a conference title they would also receive a tournament berth. UMass has four upcoming interconference games over the next three weeks which will decide whether they will have the chance to compete for a national championship. They play Towson this upcoming Saturday at noon.