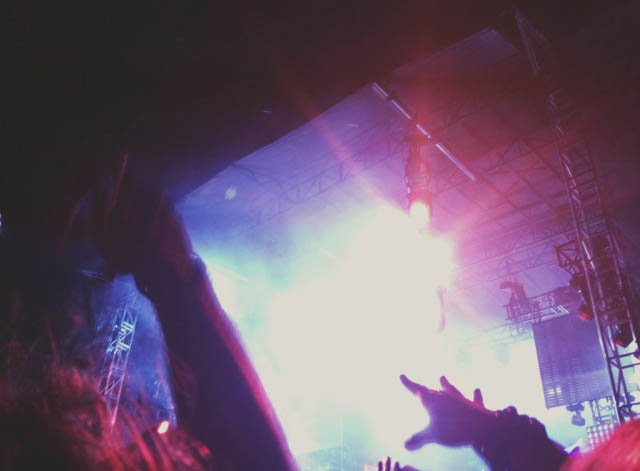 By Brian Bevilacqua
When reports of young adults dying at electronic dance music (EDM) concerts began to surface along the east coast in September, a narcotic known as "molly" began receiving headlines in national newspapers, revealing a lack of knowledge around the drug and sparking a wave of concert cancellations. As the number of deaths approached nearly a dozen, shows were subsequently cancelled across the nation while the discussion moved from concern to pure fear at this seemingly new, supposedly pure drug.
When UMass Amherst followed suit and cancelled their first EDM show of the year at the Mullins Center on campus, the student body initially expressed disappointment. After the remaining EDM events were cancelled, this disappointment quickly morphed into anger and protest. Other events at the Mullins Center, including rapper, Trinidad James, who's most famous lyric is about molly, are continuing as planned. While not everyone has issue with the EDM show cancellations, it has re-sparked a debate throughout the campus in regards to the voice students have in major campus decisions.
Administrators at any school should prioritize student safety, but in the wake of these cancellations, many students are frustrated at their lack of a voice in the decision making process. Many feel they are being punished like children instead of being treated like adults.
"I think it's unfair to rule out any genre because people do drugs at any show, like Trinidad James," said UMass sophomore and EDM supporter Kathryn Doherty. "It's unfair to the students who like EDM. Instead of just trying to shut down that genre here, the school should be talking to students and educating instead of ignoring them, or else people are just going to act reckless at the next show."
The attitude between students and administration has become charged as students grow frustrated by the lack of progress or acknowledgment by their leaders. The primary complaint relayed to SGA has been the feeling that students cannot make their voice heard because the media has already demonized EDM.
On the administration side, the school maintains that given apparent dangers of strains and trends of drug use, UMass is taking the only course of action to keep the public safe.
Criticism has surrounded the issue from all angles as  it has jumped to the forefront of many media outlets. Molly is being depicted as a brand new drug that is quickly gripping the youth and killing them. The drug is said to be a pure version of ecstasy. Despite marketing around it, molly is not always pure. As it is cited in this New York Times article, Molly is a series of chemicals labeled as pure ecstasy. Ingesting it can result in many possible outcomes, which means caution must be taken. However, just like any other drug, students are arguing that molly cannot and should not be strictly linked with EDM culture, just as we understand not every rap fan smokes weed or every country fan drinks beer. The drugs used to create molly have been around for decades and can be found by young and old, inside and outside a club setting.
While it is important that the decision-makers adjust their attitudes in response to student concerns, the student body must take a more serious approach to this dangerous drug if the complaints are to be taken seriously. According to UMass Chief of Police, John Horvath, 21 ambulances were called to the Mullins Center to respond to emergencies at DJ Tiesto's February 2013 concert. So many ambulances were called that it was burdening the emergency response of neighboring towns. Not all of these emergencies were related to molly, but that number indicates that students could have a better understanding of the substances they are ingesting, whether that be alcoholic beverages or other drugs.
The response to the initial cancellation was tame; many students understood the want for a lull in EDM shows after recent headlines. Dean of Students, Enku Gelaye, said in an email to the student body that the cancellation was "to better understand and respond to these current instances," and that "UMass Amherst is joining with a number of venues in the area and universities in the region to cancel these events and proactively educate our communities about the dangers of Molly."
When the school moved to cancel all scheduled EDM concert at the Mullins Center, the scope of their apparent goals changed, indicating a movement away from EDM all together and the demonization of the culture surrounding it. Some students see the cancellations of these events as a futile to attempt to ban drug culture in a drug abusing society. The university is still promoting and profiting off other events that encourage poor choices, all while limiting the rights and voice of the students. 
Student Government Association President, Zac Broughton, agrees with these students concerns.
"We should not be telling students what to do with themselves, the school should educate students," said Broughton.
"There are lethal strains of this drug, but if a student wants to take it they will and you cannot prevent that. Also, I am against punishing many because of a few. I don't think everyone takes molly, so why should we punish the whole culture?" he adds.
Broughton says that he was only consulted on the matter by UMass Chancellor Kumble Subbaswamy who encouraged students to respectfully make their voices heard to administration if they want a larger voice in school decisions.
Despite student complaints, UMass' EDM cancellations remain. Dean Gelaye stressed it was not a total ban of the music and that the school "will continue to assess the situation and regroup." Whether or not the student body's call for a larger input in these choices will be heralded remains to be seen.