Northampton for wine and cheese lovers
Hang on for a minute...we're trying to find some more stories you might like.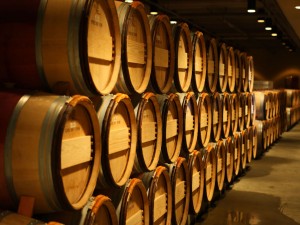 by Emily Abrams
For wine and cheese lovers, Northampton offers something around every corner. Also known as Paradise City, Northampton can give you just what you're looking for on a relaxing fall weekend, from gourmet Brie and Chèvre, to your finest southern French Wines. Try sample itinerary if you love wine and cheese and only have a day to spend in this hip arts community.
12:30 p.m.
1. Juice fix at Haymarket Café
Start off your wine and cheese adventure with an energizing and healthy non-alcoholic beverage at the Haymarket Café, diagonally across from Northampton Town Hall. Inside this charming two-story café there is a juice bar upstairs and a full service restaurant downstairs, serving breakfast, lunch and dinner. For a light snack at the juice bar try a freshly baked snicker doodle or Haymarket's most popular selling juice, "Lucky's Immune Boost" ($4.50), made with ginger, beat, carrot, apple, echinacea and vitamin C. The atmosphere of this café is cozy and friendly with displays of antique paintings and mirrors covering the walls. Sit down and relax among students, professors, artists, and townies on comfy carpet covered benches with a favorite book. Downstairs you will find a wide variety of reasonably priced vegetarian options such as a tofu-vegan scramble with Portobello mushrooms, roasted red peppers, soy sausage and shallots ($6.95) or for cheese lovers like yourselves, a grilled cheese with gruyere, avocado, tomato, Dijon mustard and basil mayonnaise ($6.75). Haymarket is a great place to unwind and is open until 11:00p.m. on weekends.

3 p.m.
2. The perfect plate of cheese
Are you in the mood for cheese? Walk down to The Foundry at 24 Main Street for lunch and be sure to ask them for the cheese plate menu. This quaint lunch spot has a relaxing atmosphere with dark wood walls and is covered with modern paintings. If you like to people watch, settle into a comfy bar stool or a regular table. There are a variety of interesting coffee drinks as well as a full wine and beer menu. Order off of the A La Carte menu and create your own cheese plate! Choose from four cheese choices including Brie ($2.50), Cave-Aged Blue ($3.50), Chèvre ($1.50) or Aged Vermont Cheddar ($3). You also have the option of adding slices of Soppressata ($4) or extras slices of French baguette, strawberry preserves, sliced pears, mixed olives and a few others for $2. The Chèvre and Brie on a slice of a French baguette pair very nicely together and the sliced Soppressata gives just the right amount of saltiness to the plate. The friendly staff and acoustic music in the background only add to the soothing vibe of this great lunch spot.

4:30 p.m.
4. Winery off the beaten path
Hop in your car and take a 15-minute picturesque drive to Mineral Hills Winery located where Northampton meets Florence. While many argue Florence, Italy, as the wine capital of the world, it is safe to say that this suburb is the wine capital of Northampton. As you start to feel like you are driving into the middle of the woods you will come across a sign that says "Godard's Red Hen Farm, Mineral Hills Winery." You have reached your destination. As the sole winery in Northampton, it is definitely worth checking out.
Walk inside the green tin roofed barn-like building and meet Susan Godard; wine maker, beekeeper, farmer, mother and schoolteacher. Susan will proudly tell you herself, "We make everything by hand!" This family-run farm and winery opened in October 2010 and Susan, along with her husband Larry, do it all. While Larry is out back picking grapes in the vineyard by hand, Susan is either beekeeping to make honey or working in the store. For $6 you can do a wine tasting with a choice of five of their homemade wines. Their wine list ranges from their signature blueberry wine to golden harvest apple wine with many other interesting choices in between. If you are curious about their farm, Susan will give you a tour of their wine-making room and take you outback to their 6o acres of land and vineyards where Larry is hard at work. They even hold parties for wine lovers on their property throughout the fall season. While a little off the beaten path, visiting Mineral Hills Winery will give you the chance to sample tasty wines in a tranquil environment and in the company of kind and hard-working farmers like Larry and Susan.

6 p.m.
5. Center for fine wine, craft beer and gourmet cheese
As the sky starts to darken, head back downtown to do some well-earned shopping at Provisions. Towards the bottom of the hill on Crafts Ave., it's one of the areas premiere locations for fine wines, craft beer and specialty cheeses. Provisions has wine tastings several times a week, which include wines such as Cabernet Sauvignon, Italian wines like Chianti Rufina, wines from Southern France such as Malbec, vegan wine and even maple wine. Provisions also hosts beer events and offers wine seminars a couple times a month. Stop by the cheese counter and sample from the wide variety of local and European cheese. Try a sharp and tangy hard goat cheese that goes by the name "Danby" or creamy blue cheese made with goat's milk known as "Shaker Blue." Right next to the specialty cheese counter is a meet counter with all different types of Prosciutto, salami and much more. There is a homey feel to the store as the owners attentively walk around asking customers if they need wine or beer recommendations or just want to ask questions in general. Provisions has almost every kind of wine your heart could desire from all over the world totaling 1,100 wines. They also sell many unique craft beers such as Mikkeller, gluten free beer and pumpkin beer. It is easy to spend hours browsing through this vast selection of beverages, wine accessories and wine books, making it a definite must-see for wine and cheese lovers.

7 p.m.
6. Continuing your wine education
Nestled right in the heart of Thornes Marketplace is the independent bookstore Booklink Booksellers. This store originated in Brooklyn and moved to its final Northampton destination in 1997. This two-story bookstore has a variety of fiction, non-fiction and travel books but also sells gifts and greeting cards and has a café in the midst of it all. Open till 9 p.m. on Fridays, Booklink is the perfect place to browse and find an interesting book on wine or brewing. Surrounding this bookstore are the legendary Herrell's Ice Cream shop, Heavenly Chocolate, and Paul & Elizabeth's Natural Food Restaurant. After you find your ideal wine book with the help of welcoming staff, settle into a cozy chair with a hot or cold coffee drink on the second floor at the Post Card Café.

8 p.m.
8. French dining in Noho
A wine and cheese filled day in Northampton would not be complete without a fine french dining experience. Nestled close to the Smith College Campus on West Street is Bistro Les Gras. On a Friday evening this small bistro has a romantic and soothing ambiance. Although it is usually filled it never feels overcrowded and older couples, graduate students and intellectuals fill the tables and bar area. The candles on each table give an intimate vibe and the bartender smiles as people walk in the door and are seated. The extensive wine selection is overwhelming with bottles ranging from across the county to all over the world. For white wine lovers you might choose the Gruet, a full bodied sparkling wine with an aroma of pears and spices ($7 a glass or $2 to taste) or a 2004 Kumeu River Chardonnay from Australia. After dinner try a light and bubbly Italian Prosecco di Conegliano to cleanse your palate. Those who prefer red wine might enjoy a Bourgogne Pinot Noir with a smooth flavor of ripe fresh black fruits. If you don't prefer red or white, try the Southern France Rosé made in Provence. Chef Daniel Martinez uses local and seasonal fresh farm ingredients to create elegant dishes and his menu is constantly changing. For an appetizer try the Artisan cheese plate ($15) with different cheese options every day. For a pasta course try the Gnocchi a la Parisienne, French dumplings, delicate squash puree and petit king oyster mushrooms ($9). This dish goes very nicely with a glass of Chardonnay. With the attentive staff and Chef Martinez's creative and flavorful menu, Bistro Les Gras is the perfect French Dining destination to end your wine and cheese adventures in Northampton.

10 p.m.
9. Spa time
After a satisfying meal at Bistro Les Gras and a few glasses of fine European wine, you might feel up to one more adventure. Before heading back home, walk less than a minute up West Street to the East Heaven Hot Tubs and Paradise Spa. It is open until 12 a.m. Monday-Friday and 1 a.m. Saturday and Sunday. If you are feeling tired come back well-rested in the morning when they open at 11 a.m. This little Asian-themed oasis has a variety of wooden spas and romantic hot tubs on the roof as well. To rent private hot tubs for an hour is $32.50 per person and while this is on the expensive side, it is definitely worth the money. Between the relaxing music, the crackling cozy fireplace and wooden tubs, East Heaven is the perfect end to a wine and cheese filled day..
Emily Abrams is currently taking Shaheen Pasha's Travel Writing course and can be reached at [email protected]