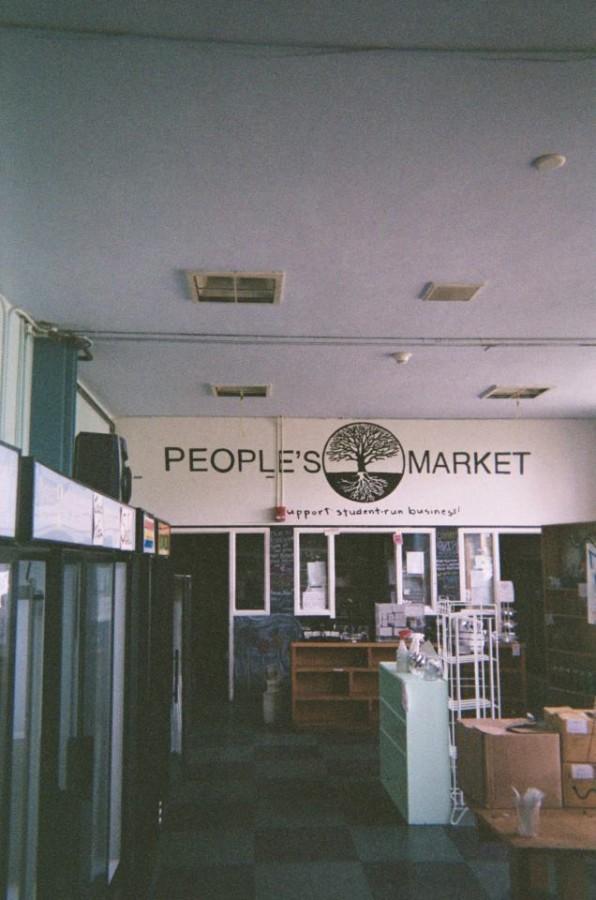 by Veronica Stracqualursi
The smell of freshly brewed coffee and the sounds of indie music often come from People's Market down the hallway of the Student Union. Despite its attractive vibe, the 40-year-old market, one of seven student businesses on campus, is going unnoticed and taking a financial hit from its lack of customers. A year ago, Peoples Market was usually packed with students stocking up on bagels, cream cheese, cheese, baked goods, coffee, and chocolates. But today, there are not as many people stopping in.
It wasn't always this way.
"When I started at People's Market, we would frequently have so many people in the market that it would almost be like you couldn't walk around," said Ashley Campo, who has worked there since 2011. "And now it's very slow."
And that's a problem for the student run business.
After celebrating its 40th anniversary this year, the "for people, not for profit" student-run collective business is in danger of going out of business.
"Unfortunately we are in a really rough financial situation. It is projected that if we were to keep going at the rate we went last semester, we would have to close in five years," said Molly Meehan, a co-manager at People's Market for one year.
Facing a loss of customers because of campus construction, high payroll costs and increased competition, the 19 People's Market co-managers are figuring out how to make the business profitable again.
"We are working on the long-term survival of the business," People's Market financial consultant Melissa Fiore said. "But I don't think they're going to shut down anytime soon."
The situation looks dire, but not completely hopeless. The financial statements from the UMass Center for Student Business (CSB) show that People's Market lost $18,170.76 last fiscal year, July 2012 to June 2013. This is the biggest loss to the business in at least five years, according to CSB's calculations. But from Fiore's calculations, People's Market has $80,000 in its contingency funds, which is enough to keep the business running.
Due to the loss in profits, People's Market has cut business and staff hours. Typically open, Monday through Friday 8:30 a.m. to 4 p.m., People's Market now closes Fridays at 2 p.m.
Co-managers like Meehan and Campo chalk it up to the construction. The New Academic Classroom Building construction prevents students from entering through the back of the Student Union. Only one entrance, the south side door, allows you to enter and pass People's Market.
It has gotten so bad that even People's Market regulars aren't coming in anymore, Campo explains.
"I think it's all convenience for students. We're not exactly in the most convenient place on campus," Campo said.
Management is also an issue. Fiore attributes the deep dip in profits to cash-out errors, ineffective pricing of products, failure to monitor inventory levels and track purchases, and increased competition: the Starbucks coffee served in the Integrated Science Building, the Procrastination Station, Roots Café, and soon-to-be Starbucks coffee in the Isenberg School of Management.
Campo explained that the Procrastination Station in the Dubois Library renamed its coffee as People's Organic, which contributes to brand confusion – another reason for the lack of customers.
"We frequently have people come into our café asking, 'Oh is this People's Organic?' cause it's People's Market," Campo said. "They think we branched out and that [People's Organic] is also People's Market. So they go there trying to support us but they're actually supporting our school." The Roots Café also recently created a logo very similar to People's Market, but was asked by People's Market to change it.
People's Market managers want to participate in YCMP meal swipes, but Claudia Brown, the Director of Finance for UMass Auxiliary Enterprises, says, "The YCMP is so you can get prepared meals and not [market] produce."
When People's Market first opened, co-manager Joanna Zhu said, it sold things like rice and beans. Now, on its shelves are foods like bagels and baked goods.
So what would the campus lose if People's Market goes out of business?
"The pure asset of [a co-operative] on campus," said Zhu, who has been working there since last fall.
Students would lose another option of alternative products and fair-trade coffee on campus. It offers vegan, vegetarian, and gluten—free products. Selling food made from socially and environmentally responsible companies, People's Market has the mission to "educate and inform the community about nutritional, political, and social issues in the realm of the food industry."
People's Market also benefits the local community, says Zhu.
"We are trying to support the local economy and the local areas," Zhu said. People's Market gets its products from local businesses; for example, it sells baked goods from Amherst's Henion Bakery and Dean's Beans coffee, which is located in Orange. One-half of the tips it earns go to organizations whose missions it supports.
Managers have taken some steps that could turn the market around. The business recently purchased an espresso machine, started accepting debit and credit cards, and raised its prices. Also, according to the UMass Design and Construction Management website, the planned completion for the New Academic Classroom Building is Spring 2014, which would make People's Market more accessible to students once again.
To build back up from its financial situation, People's Market created a Cash-flow Action Committee who will re-train Cash-out Committee Members, reduce payroll expense, reanalyze product pricing, and establish business protocol.
Although the payroll expense has been cut, Fiore is encouraging students to apply and use work-study. This also cuts down idle time, which is a big part of People's Market expenses.
Another measure to get People's Market's negative net income back to positive is limiting the time of committee meetings. Committee meetings can last about two hours and for those two hours the staff gets paid.
Despite the future of the business being uncertain, the co-managers are working hard to make necessary changes so People's Market can be in business for the next 40 years and beyond.
"Everyone has been really coming together," Fiore said. "I think it's brought the collective closer. There's more value to a business than just the finances."
Veronica Stracqualursi can be contacted at [email protected]