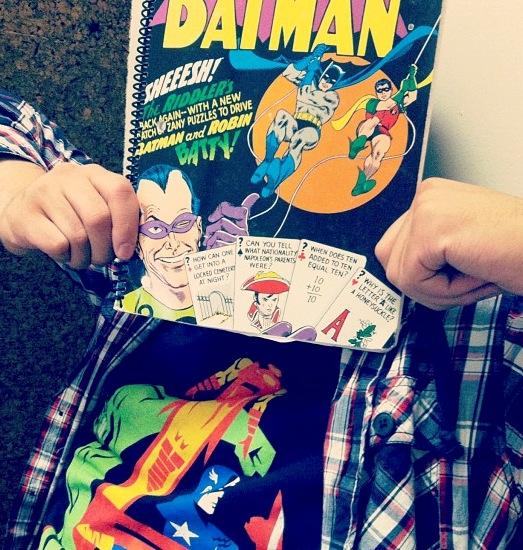 Based on the popularity of Humans Vs. Zombies, a game of tag, it's clear that the Five College area has its fair share of nerds. But now that "HVZ" is over and Halloween has past, where can nerds go to get their nerdy fixes?
Sometimes it's hard to find new people to game with, go to movies and conventions with, or simply chat with- Mos Eisley Cantina style. Whatever you are into, Western Massachusetts offers a variety of outlets to satisfy even the most hardcore geek. Gather your capes and swords and settle in for a quick journey through the best in geek culture here in the Pioneer Valley as you read about these four "nerd havens."
Worlds Apart Games
48 North Pleasant Street, Amherst
On the surface, Worlds Apart Games is a small shop that's often overlooked. On the inside, there is a tightly-bound community. Worlds Apart offers a well-stocked selection of gaming books, board games, card games and those famous 20-sided dice. This space was built for the community in the area to gather and enjoy their love for gaming.
Worlds Apart runs numerous events during the week including "Magic" tournaments, board game nights, and RPG gaming nights, most of which are free to attend. On Tuesday nights, Legacy is played, an adventure/role playing game. Friday nights are their Magic nights. On Saturdays, board games of all kinds are welcome in their shop. You can also participate in a demo of their board games which is also free. During these nights, they invite beginner gamers or anyone who wants to learn how to play a game. They accommodate these beginners by teaching them everything they need to know about a certain game.
Modern Myths Comics and Games
34 Bridge Street, Northampton
In the middle of what looks like a tiny strip mall, a true gem of Northampton awaits. Modern Myths has a large assortment of comics, graphic novels, board games, RPGs, and manga (Japanese comics). Pristine books fill the shelves as bowls of 20-sided dice line the register. Rows of superhero comics stretch the length of the small shop integrating favorites like Marvel and DC comics.
Upstairs, a secret society of gaming meets every week. Although it's not actually a secret, the experience is something unique, comparable to the first time you go to a secret back room to look at fake Coach bags in China town. In this room, tables wait for the regulars to pour in and set up their games like Dungeons and Dragons every Wednesday night. You can also find employees running the events to teach you how to play or get in on the action.
Newbury Comics
38 Pleasant Street, Northampton
Located in Downtown Northampton, Newbury Comics has become a main distributor for the latest graphic novel, video game, or nerd apparel. They also have a variety of vinyl, CDs, hats, and much more. However, there is no community here. Sure, they sell the things nerds might be interested in, but it all becomes lost amongst the wall of hats, graphic tees, and rave gear. With that being said, if all you're looking for is to pick up a new deck of Magic cards, a Walking Dead poster or a new beer mug, this is the place for you.
Conbust 2014
Smith College
ConBust is a sci-fi/fantasy/anime/gaming convention held at Smith College every spring. Conbust lasts three days and welcomes nerds from all over. Whether you're dressed as a famous Miyazaki cartoon character or Princess Leia, you will be surrounded by people who share your love and enthusiasm for this scene. The convention includes panels, workshops, and movie showings throughout the weekend. The tables and panels cater to the different interests for anime, comic, sci-fi, art, and video game lovers, and they always showcases a few special guests. What sets ConBust apart from most other fantasy or gaming conventions is its focus on the female members of this community. While many of these conventions remain stereotypically male-dominated, ConBust celebrates both men and women in the realm of nerd culture.
Colleen Jones is a junior Journalism major and can be reached at [email protected]