6 Ways to look trendy in your mom's old sweaters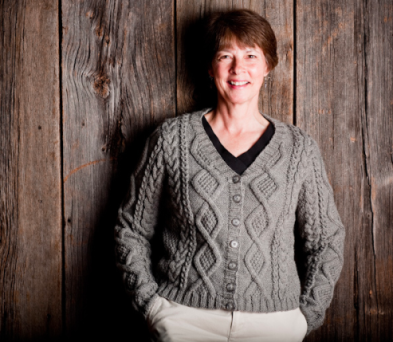 Hang on for a minute...we're trying to find some more stories you might like.
By Kerry O'Connor
Lets face it, winter is lingering and for those who have exhausted their same old sweater wardrobe over the past few months, it might be nice to change it up a bit. But before you go on your next hunt for "vintage" sweaters at Forever 21, check the back of your mom's closet. You'll save yourself a trip to the mall and you'll look pretty damn vintage doing it.
My mom pulled out a box of her sweaters from the 80's the other day and told me to take my pick.  Seeing as though my wardrobe this winter has consisted strictly of over-sized sweaters and leggings, you can only imagine how exciting this was. I'm sure many others can relate.
So I've worn a few of these "new" sweaters to class and around town and I'm happy to report that the comments I've been getting are…interesting. In a good way! It's like an "I-love-your-sweater-but-I'm-kind-of-surprised-I-do" compliment. Which is how most trends start, right?
With that, here are a few ways to look trendy in your favorite big ol' sweaters.
Your Boyfriend's Socks Or Leg Warmers
Junior psychology major, Ashley Page, dresses her sweaters up by wearing her boyfriend's cozy socks under her sneaker heels. Slinky leg warmers that are tall enough to show under boots are also a cute way to tie your outfit together.
Statement Necklaces
Katie Shute, a junior hospitality & tourism major, is a self-proclaimed "necklace fanatic." She puts them to good use this winter by wearing big, chunky necklaces with her over-sized sweaters.  These necklaces are a perfect way to add some life and color to your old sweaters.
Scarves
Paige Dendievel, Junior hospitality & tourism major, uses her scarf collection to stay cozy and mix things up.
Skirts
If your sweater is too short to wear with leggings, dress it up with a skirt. College Fashion article, "Easy Outfit Formulas: Cozy Sweater + A-Line Skirt" gives some trendy suggestions on how to pair your sweaters and skirts.
Layer It
Some sweaters are just meant to be worn together, College Fashion also encourages playing around with layers. Layers are a fun way to create unique looks and leave you feeling like a serious fashionista.
Funky Leggings
Crazy leggings are great for spicing up plain-colored sweaters, as seen a lot lately on the popular fashion blog, College Fashionista. I'm sure you'll get some enthusiastic compliments, too!
Whoever said comfy sweaters had to be ugly? Spice up your end-of-the-winter wardrobe with these easy tips. And let's be honest, as excited as you are to transition over to your spring wardrobe, you secretly loved how you looked at that ugly Christmas sweater party. If your mom wasn't much of a sweater person back in the day, you'll be able to find some hidden gems at Salvation Army, there's one on Route 9 in Hadley, or other consignment shops too.
Kerry O'Connor can be reached via email at [email protected]