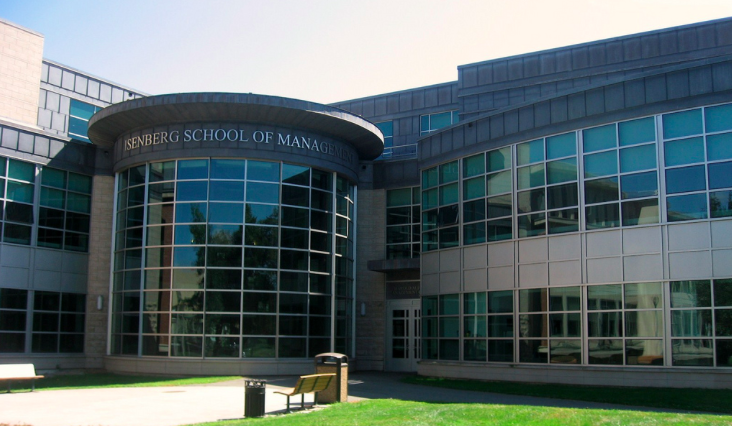 Business school undergraduates go dressed to impress in freshly dry-cleaned suits clasping portfolio binders. The others, like me, keep our arms pressed to our sides to hide the sweat stains while we accidentally crinkle our resumes in the only ratty folder we could find, all while feeling stupid in dress shoes. You see, I don't belong at the Isenberg School of Management Career Fair, so why do I go? I go because I need to practice talking to adult professionals, and, after all, the fair was open to all majors, wasn't it?
After a few years at the University of Massachusetts Amherst, there are many things to learn outside of the classroom. For example, there is amazing food in the basement of the Newman Center, Pita Pit also serves salads and there is a secret tunnel somewhere under this campus. However, among these things the most interesting of all is that the Isenberg administration and staff seem to believe that their roughly 3,500 students are above and beyond the rest of the undergraduate student body.
So, I went to this career fair with my head held high and my resume printed on that paper that costs $2 more than the generic kind, and my maybe-I'm-a-nerd-maybe-I'm-just-trendy glasses. Finally, after an hour of trying to market myself differently to each employer, I left with two interviews.
The next day, that familiar Apple message 'bing' rang out with an email. It urged me to apply online to the job listing for Macy's before I was able to interview on campus. I excitedly clicked the blue link and was driven to the equivalent of a cyber space noose. I could not log into the UMass Experience career center website. Why not? I had done it a hundred times over the past years. But after my fifth try I noticed the page looked a little different. There was a big advertisement for Macy's and, of course, a photograph of the Isenberg glass walls shining in the setting sun. Ugh.
I figured it was some stupid exclusive thing for just the business kids, so I went to my bookmarked page for the regular career center and logged in with no problem. I searched the company and position name and…no results. What? Where was the job listing? I called the number listed with a little bit of confusion and a lot of anxiety.
"UMass Career Services. How may I help you?" The friendly woman's voice that soothed me for just a moment.
"Hi! I'm trying to find a job listing for Macy's that I was sent an email to apply to, but now I can't find it on the website." I was speaking kind of fast, my eyes darting every direction.
"Macy's you said?"
"Yes."
"It sounds like that may be a question for the Chase Career Center. You're in Isenberg?"
I immediately hung up. I was shocked, annoyed and angry. So. Stinkin'. Angry. It was a full on rage blackout. (Side note: my friends do say I am the most dramatic person they've ever encountered, and I have to agree with that, so my reaction may have been over the top, but still.) What was this so-called "Chase Career Center"?
My fingers were typing at warp-speed trying to get through this Google search as soon as possible. The Chase Career Center was exactly what I thought it was going to be – a private center for career counseling available only to the Isenberg students (no affiliation with the Chase bank). Unfortunately, at the same time this revelation connected in my head, the clock struck 5:00 p.m. meaning that the offices were closed. I had to wait through the weekend and figure this out on Monday.
Believe it or not this was something that kept me angry for quite some time, but Monday eventually came and I was not just going to call, I needed to walk in and make my presence known. (Are you sensing the drama?)
The Chase
Prior to the late 90s, the business school wasn't the same as it is today. It was named the Eugene M. Isenberg School of Management in 1998 after Mr. Isenberg gave the school a $6 million dollar donation. Following that, the Chase family gave another "sizeable" donation, allowing the school to create its own career center. Since then, the school has undergone many changes and boosted itself to be a nationally ranked business school, with an even greater sports management program. However, instead of using this to help all students succeed, this recognition seems to be just boosting staff's ego, especially when it comes to career advice.
The new, mostly-glass building is showcased right on Massachusetts Avenue in the south part of campus. It is located directly across from the Visitor's Center, something that probably wasn't a coincidence, as it is one of UMass' proudest staples. Students are always pouring in and out of the front double doors, typically dressed in business attire whether it is for in-class presentations or job interviews. "Intimidating" would be a good word to describe the Isenberg School of Management, but I'd use "daunting".
Walking into the Isenberg building is something those not part of the college dread. The central lobby, known to the insiders as "the atrium", is always packed with students working on group case studies and discussing their latest test grades. "I walked into Isenberg the other day and felt like everyone was staring at me and knew I didn't belong there," said Danielle Laimo, a communications major.
There is a secret coven housed behind a single wooden door with a frosted glass middle window and a plaque that reads: "Irwin "Mike" '50 and Rona Chase Career Center"; just a single door identical to all the other classrooms that line the first floor of the Isenberg School of Management building. With a simple glance it is impossible to understand the magnitude of impact this tiny office has had on UMass undergrads – according to Bloomberg Businessweek, in 2012 76 percent of Isenberg students graduated with full-time jobs or had a job within three months of graduating. Yet, once inside, the fast-paced pressure of job seeking, networking and interviewing is palpable. Women in skirts, tights and blazers are running back and forth from the copy machine to their office and back again. The only sanity comes from the (also well-dressed) boy smiling at the front desk. "Welcome to Chase," he says. "Do you have an appointment?"
Frank Abad is a student assistant at the Chase Career Center. He usually spends his five-hour shifts signing people in for appointments, answering general questions and keeping company recruiters who are visiting happy. He got his current job with Chase, naturally, through Chase.
"I was here a lot last year so I started to get to know everyone here," said Abad. " Then I came in over the summer to get my resume in shape and they encouraged me to apply for an assistant job. It was a pretty easy process."
The smile on his face was encouraging, and it was the first time I didn't feel like an outsider in the exclusive Isenberg building. Dressed in a white collared button-down and khaki pants, Abad uncrossed his hands and explained the normal process to get advising. "You have to set up an appointment if you want to talk to anyone. It's supposed to be done online, but some students have trouble finding it and come in and make appointments," he said. "They are 20 minute slots and are usually always filled weeks ahead of time," he continued. "We only see Isenberg students. Sometimes, and only if it's a really special occasion, will we see someone outside of Isenberg, but that rarely happens." I couldn't tell if it was in my head that he dramatically lowered his voice when mentioning those "outside of Isenberg" students, or if that's common practice at Chase.
He handed me a yellow flyer titled "Recruiting Edge" that showed screenshots of the career center's website, and politely circled the spot to find where to make an appointment. "We try to make it really easy for students to come in and get job advice," said Abad.
The Rest of the Student Body
The majority of UMass Amherst students will go all four years without knowing the Chase Career Center even exists. You don't get the bulletins emailed out every week if you aren't in the college, and the constant posters and flyers aren't in your face if your classes aren't in the Isenberg building. It's a secret for just those seeking out degrees in marketing or management or finance or somewhere in between, and that is the way it is intended to stay.
Some Isenberg students themselves don't even know where the office is, they just know it exists purely because of the weekly email feed that is spit out at them.
When Nadia Waski, an anthropology major, was asked if she knew there was another career center on campus she said, "Oh, well I guess that's not surprising. Where is it though?" I told her it was in Isenberg. She chuckled a little to herself and shrugged, "Figures. It's almost like they're privatizing their own college within UMass." After a second or two of silence she continued, "It's really frustrating because anthropology majors have no direction towards jobs. We're kind of just thrown in the corner and need to survive on our own. I don't even know if SBS has our own advising. I literally have no help unless I go to the career center and that's just out of the way for me."
She's referring to Career Services, a center available to all undergraduates located in the Goodell building in the center of campus. "I understand they're there to help, but I wish it was somehow more integrated into the classroom from teachers. It's just hard to make an appointment for someone to simply look over my resume," Waski said.
However, Career Services is an excellent resource for many students on campus, it just takes some effort to get your foot in the door. "Many people put off coming to us until senior year," said Todd Butynski, assistant director of field experience at Career Services. "They think they don't need to be thinking about jobs early on, but we get students internships just as often as we do post-graduate jobs." Butynski was eager to speak about all the offerings Career Services gives in order to spread the word and get more students involved. His office door was open, which is how it will always be found, and his friendly smile was welcoming. We talked for a long time and his commitment to finding students job was noticeable from his first sentence, "How can I help you?"
With weekly internship info sessions, resume workshops and mock interviews among other events, the center provides great results to the students looking. "I have had a lot of help with Career Services," said environmental science major Chelsea Polevy. "They helped me get the internship I had last semester, with a local company in Amherst that protests fracking."
But there is a small problem with the UMass Career Services. "The main issue is we are small, but putting in a good effort to grow," Butysnki said. Career Services is so small, in fact, that there are only eight full time employees to help the 25,000 undergraduate and graduate students. "Chase is a lot more concentrated, with their 5 full timers for their 3,500 students. That's a ratio we will never get over here." The student peer advisors and graduate assistants that also work in the career center contribute to the tremendous workload, but their lack of experience in the industry cannot fill the entire void.
Other non-business majors have mixed feelings on the topic. "They probably have way nicer things," said journalism student Eric Bosco. "Actually I know they have way nicer things. It feels kind of exclusive…like the exclusive Isenberg club to me. But all my best friends are in Isenberg and I'm really happy for them that they get those resources."
Junior Eli Wiberg, an operations management major in the School of Management, understands why the private career center is there. He thinks that the administration is doing everything it needs to in order for their students to graduate with jobs – and isn't that the goal of college? "Most of the relationships that are established through Isenberg and the market are strong," he says. "I have better chances of getting jobs with them than going outside of the system to the general career center." But is that entirely true?
Butynski and his team are in constant communication with the same vendors that come to the business school fairs. "These big businesses that you see at the Isenberg career fair want students from many different backgrounds. If you read the job descriptions, they typically tend accept all majors. The only difference is they go exclusively to Chase first in the fall semester, but then come back in the spring for our Career Blast fair," he said.
"There is a certain way it works. Engineering companies want strictly engineering majors because it's not a trade you can just learn on the job. They recruit in September because they want to know who will be coming on the their a year in advance." Butynski continued, "Then Isenberg has their career fair technically open for all majors but they really push it on the business school kids. Finally, we have our huge fair with over 100 companies in February. It's that last big push for seniors to get jobs and the younger students to get internships. And, of course, it's open to everyone."
How Helpful?
Haley Lapomardo is in her first semester as a student at UMass and has already found huge benefits at the Chase Career Center. "I had questions about a summer internship and I went in and [asked], 'How do I approach this company to ask for an internship?' and they gave me all these pamphlets with step-by-step instructions and templates. The thing is, the people there aren't really friendly, but all these pamphlets are."
I got her to give me a little bit more insight into what the school preaches, as well. "We have our own everything," she said. "It's weird. I don't know if I can give you specific examples, but they literally tell us in class that we're in a more selective school than the rest of the undergrads so we have more resources. Our teachers literally tell us this."
Of course being on the inside, students are expected to enjoy the perks of being a business student. However, some do not feel the same way. I caught up with Jules McEachern, the general manager of WMUA, who also happens to be a management major. "I don't want a job through Chase because they cater towards corporations and big businesses," she said. "There are no non-profit, no NGO (non-governmental organization), no substantial companies with an actual mission, and I find that to be an absolute failure on their behalf. That is a huge disgrace on this fancy Isenberg School of Management. Give me some job opportunities with The Red Cross or people who have a mission to help others."
Even within the school, McEachern believes favorites are picked. "They cater towards accounting," she said. "They just want you to go work in New York City so they can keep their numbers up for however many people they need to have jobs for graduation." Other Isenberg students also argued that the center targets the accounting majors. "It's probably just because they are all basically automatically going to get jobs when they graduate. It's either you get a job in accounting or you don't. They are the easiest to direct towards companies," said junior Max Kamin.
Although the Chase Career Center is subject to only advising students in the Isenberg School of Management, it doesn't pose a threat to the rest of the students on campus. "If you're not in Isenberg you just don't deal with Isenberg. I don't care if they have better opportunities and career connections, I'll just feel that much better when I get a job…that I did it myself," said James Carstairs, a proud English major.
In the end, there is always going to be some exclusivity when you're in a college that represents only 16% of the undergraduates in its parent university. Also that $6 million donation doesn't hurt.
Rose Mirandi can be reached via email at [email protected]