Remembering Kurt Cobain 20 years later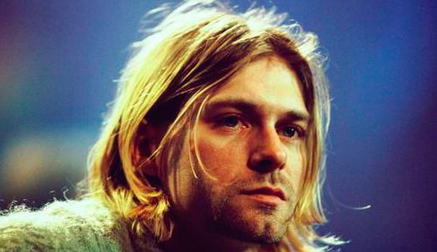 Kurt Cobain had it all. Three studio albums, one knocking Michael Jackson off the Billboard charts in 1991, successful world tours, hailed as the "voice of a generation" and revolutionized Rock music all by the age of 27. But on April 5, 1994, his voice was silenced forever when Cobain was found dead in a room above the garage of his Seattle home. This April marks the 20th anniversary of the Nirvana frontman's death.
Cobain was born on Feb. 20, 1967 to Wendy and Donald Cobain in a small logging town called Aberdeen, Wash. Cobain had a knack for art as a child and would constantly draw cartoons and create his own comic books. His aunt, Mari, played guitar and was in and out of bands. Cobain mentioned in interviews that his aunt encouraged him to use his talent. Cobain grew up listening to The Beatles, The Monkees, Led Zeppelin and The Ramones. His parents divorced when he was in grade school and it drastically changed him. He became more distant from family and friends. Later in his career, Cobain sings about his parents' divorce in "Serve the Servants."
In high school, he was in the drum line. He later fell in love with punk music and began to rebel. He met Krist Novoselic over a love of punk rock and the duo wanted to start a band together.
Cobain, Novoselic, Chad Channing and Jason Everman got together and formed, Nirvana. They recorded their first album through Sub Pop Records and in 1989, released Bleach. Channing and Everman left the band. Cobain and Novoselic became a trio when they met a drummer from a band called, Scream. His name is Dave Grohl. Cobain, Novoselic and Grohl became a power trio. They played a few shows together and headed to Los Angeles to record an album at Sound City Recording Studio. The album was Nevermind.
Cobain stated in multiple interviews that he wanted to create an album similar to the Pixies. He wanted to craft a record that had the "loud-quiet-loud" style the Pixies used in their albums. "Smells Like Teen Spirit" was the first single off Nevermind and hit airwaves. The song shook up the music world with its simple opening guitar riff, followed by the explosion of chaos. Nevermind tackles various musical realms from catchy, upbeat tracks like "In Bloom" and "Lithium," to the fast and heavy "Territorial Pissings" to the soft acoustic, "Polly" and the haunting "Something in the Way." The album catapulted Nirvana into stardom and even knocked Michael Jackson off the Billboard Charts. The band carried the flag for a new sound called grunge.
"Grunge saved the day," said Ramones drummer, Marky Ramone in a recent speech he gave at UMass. "It was real and it wasn't bullshit."
Nirvana continued touring and headlined festivals like Reading Festival in England. They released a compilation album and recorded their last studio album, In Utero in 1993. In Utero shied differed from Nevermind. In Utero was darker, and heavier with tracks like "Scentless Apprentice" and "Heart-Shaped Box" showcasing Cobain's vocal range from a pleasant rasp to screaming gurgles. Cobain seemed to have it all, but the rapid escalation of Nirvana's success frightened him and he struggled dealing with his newfound fame.
The accumulation of stress, depression, his parents' divorce and chronic stomach ailments led him to drug use. Nirvana played a final tour in Europe and made an appearance for MTV's Unplugged. This performance was one of Nirvana's best. It was raw and evoked emotion. The band played hits like "Come as You Are" and "All Apologies." The set closed with a cover of Ledbelly's "Where Did You Sleep Last Night?" Cobain put 100 percent into this song and toward the end of it, he stops, looks up from his guitar, and into the distance of the crowd. He sighed and wailed the last few notes of the song. He was hailed by critics as a legend and a voice of a generation. A poet. An artist. He was a tortured soul.
The news of Cobain's death shocked millions. Fans mourned across the globe and a candlelight vigil was held in Seattle, Wash. with 7,000 fans in attendance. Cobain left behind a family and his band.
"Nirvana was great," said Ramone. "A lot of the bands at that time were great. Kurt Cobain was one of the leaders of that movement. When you're a leader for something that big, you're going to get notoriety from it."
Cobain was the lyrical and musical mastermind behind Nirvana's music. Nirvana continues to influence fans and many artists like Weezer, Blink-182 and of course, Foo Fighters, fronted by former Nirvana drummer, Dave Grohl. As the anniversary of Cobain's death approaches, the Seattle Police Department recently re-examined his case when several rolls of film from the scene were discovered. The film has been developed and examined for new evidence. Detective Renee Witt issued a statement shutting down rumors of re-opening Cobain's case. On Thursday April 10, Nirvana will be inducted into the 2014 Rock and Roll Hall of Fame.
The biographical information in this piece comes from "Never Fade Away: The Kurt Cobain Story," by Dave Thompson.
Nathalie Sczublewski can be reached at: [email protected]