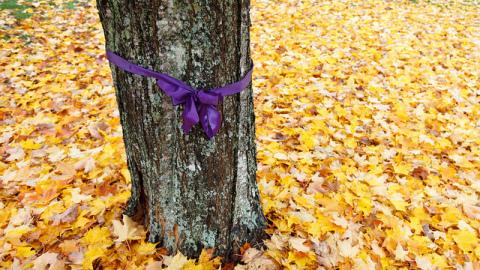 By Mitchell Scuzzarella
University of Massachusetts senior Chrismery Gonzalez wanted to do more than raise money this October for those affected by domestic violence and breast cancer. To show solidarity, Gonzalez is helping pass support and encouragement from UMass students to those who need it most, one letter at a time.
Inspired by a similar movement at another chapter of  her organization  Sigma Gamma Rho Sorority, Incorporated Gonzalez began collecting personal letters from students at UMass this October to share their kind words with area survivors of both breast cancer and domestic violence. Being a survivor of domestic violence herself, Gonzalez knows all too well how important it can be to feel connected to others in times of need.
"I want women specifically to be able to read these letters and feel some type of solidarity," said Gonzalez.
Gonzalez hosted an event Wednesday to get many of her letters written, inviting her sorority sisters and other students to the Student Organization Resource Center. There, attendees were handed a pre-made envelope and a sheet of paper with the direction to write from the heart. Attendees did not know exactly who they were writing for and many of the letters began with "dear survivor," or "dear anonymous." Some even ignored the traditional letter format, filling their sheets with poetry to reach out to survivors in their own way.
"Women that are in these positions often hear 'I'm sorry,'" said Gonzalez. "There are so many clichés, we wanted to give them something from the heart."
According to Gonzalez, her sorority played a huge role in helping her organize this movement. Her letter writing campaign comes as a part of Sigma Gamma Rho's "Hattie McDaniel Cancer Awareness and Health Program," which pushes sorority members to provide support and education on research and prevention of all types of cancer. According to Gonzalez, one of Sigma Gamma Rho's aims is to enhance the quality of life in the community, particularly  in the lives of women.
Gonzalez plans to deliver the letters at the end of the month to organizations that specifically serve survivors of breast cancer or domestic violence. Through a partnership with Northampton's Tapestry Health, some letters will make their way to Safe Passage, a Northampton-based shelter for domestic violence survivors and their families. The other letters will be delivered to the Baystate Medical Center in Springfield, Massachusetts.
While she plans on delivering the letters soon, Gonzalez is still accepting submissions from students or other interested parties who want to reach out to survivors.
"I don't want to dictate what cause they write to," said Gonzalez. "But, we are looking for words of encouragement and support for these women."
Anyone interested in writing a letter can contact Gonzalez at [email protected]
Mitchell Scuzzarella can be reached at [email protected]