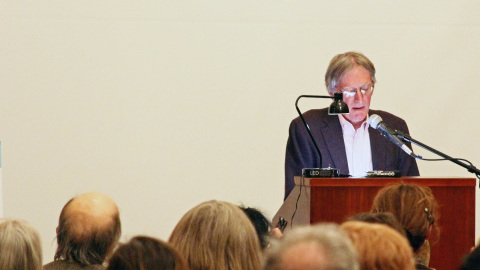 "All things in the end are bittersweet."
When Charles Wright reads this line aloud, quietly and with his slight Southern twang, it sounds neither sad nor happy, but true. Wright, a highly esteemed poet, has a knack for balancing the contradictory. He's a born-and-raised Tennessean enamored with all things Italian. He's soft-spoken and contemplative yet sharply witty. He's exceedingly humble, but has won nearly every award a poet can win.
The latest honor for Wright is Poet Laureate of the United States, an award given each year by the Librarian of Congress to a poet of high distinction. It's an illustrious title, and one he's turned down before, held by poetry greats like Rita Dove, Ted Kooser, and Billy Collins. It also comes with responsibility: "The Poet Laureate seeks to raise the national consciousness to a greater appreciation of the reading and writing of poetry," decrees the Library of Congress.
Wright made a stop at the University of Massachusetts Amherst in October as a part of the Visiting Writers Series. Rob Casper, an alum who currently serves as the Head of the Poetry and Literature Center of the Library of Congress, gave Wright a glowing introduction, saying it was "a dream come true" to travel with him to Massachusetts.
When Casper first read Wright's poems, he knew the author only as "the mysterious Southerner in mirror shades" from the book jacket photo. But as a graduate student at UMass, he got to see "the great Charles Wright" in person, finding him to be "holy, in a down-to-earth way," with a voice at once "world weary, but so sonorous it made the world seem almost too beautiful."
So who is the mysterious Southerner in mirror shades? A native of Pickwick Dam, Tennessee, Wright fell in love with the works of American poet Ezra Pound while stationed with the army in Italy. He went on to study at the University of Iowa's Writer's Workshop and later taught at the University of Virginia. His poems teeter between bitter and sweet, from frank reflections on mortality, "Time, like the dog it is, demands to be fed," to lovely imagery of nature, "Cloud-scarce Montana morning, July, with its blue cheeks puffed out."
In spite of covering diverse topics like death, God, language and nature, Wright maintains a "lazy, afternoon, Tennessee vibe" in his works, as UMass English major Katie McGovern pointed out. When he performs, he often punctuates the weighty silences between readings with his sharp humor, sometimes sneaking in a quick aside after announcing the title of a poem. "This next one's 'The Wrong End of the Rainbow'—that's the one without the gold," he quipped at an event. Sometimes, his humor lies in his restraint: "This poem is called 'Get a Job,'" was one pithy introduction he gave to a crowd.
"He's half profound, half wicked witty," observed UMass student Kaitlyn D'Angelo, an addictive combination. Charles Wright is a poet who has mastered the art of balance. Perhaps that's why his work is so resonant — because all things, in the end, are bittersweet.
Read more about poet Charles Wright.
Hannah Depin can be reached at [email protected] Follow her on Twitter @hannahdepin.