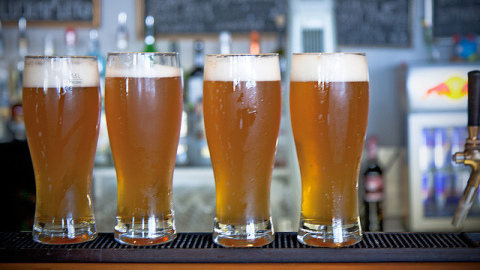 Fall in New England means football season, ripe apples, and a grand selection of seasonal beers to pick up as the leaves change colors. Give the Sam Adams Octoberfest a break and take a walk through the maze of stacked 12-packs in the local liquor stores to hand pick your fall harvest of brews.
No beer is complete without the ground up hop buds grown and harvested before the brewing process gets underway. The hops are boiled with the mashed up ingredients to add the flavor and bitterness that characterizes the beer – something the brewer's at Peak Organic have mastered with their excellently crafted beers.
The owners of Peak Organic, drawing from years of home brewing experience, planted the roots of the company out in Portland, Maine. From there, the company spread across New England acquiring more ingredients from farms like Valley Malts in Hadley to create a unique and satisfying selection of organic beers. In late August, Peak Organic released their newest  beer, Hop Harvest Oktoberfest.
Peak's Oktoberfest brew features a dark brown color with a strong earthy scent of hops that hits you as you pour the beer into a tall glass. The heavy carbonation creates a thick top layer of foam that settles after a short time. Casual beer consumers beware, because Peak's Oktoberfest unleashes a torrent of fresh hoppy flavor.
With its two basic ingredients of malt and hops, Hop Harvest comes on strong. The malt base combines excellently with the hops, riding the taste buds well into the aftertaste. The Oktoberfest is a bitter and refreshing beer that makes the best out of its two basic ingredients that complement the beer well in their simplicity.
The hops in Peak's Oktoberfest bites hard on the taste buds, while the malt smoothes over the bitterness. Although harsh in flavor, Hop Harvest has a comfortable 4.9 percent alcohol by volume, or ABV, compared to the Sam Adams Octoberfest with a slightly higher 5.3 percent ABV. A six-pack of Hop Harvest is available for $9.35, which is an excellent value for a micro-brewing company usually charging more than $10.00 when sold in Massachusetts.
On Aug. 5, Brewmaster Jack, a local microbrewer in Northampton, also released a new hop-ingrained beer called Jack's Hallertau Blanc. Since they opened in 2011, the craft brewers at Brewmaster Jack have been using local grains from the Pioneer Valley, and their newest addition is no exception.
The densely-carbonated Hallertau Blanc yields to a variety of different smells when poured. This American pale ale is very light in color but not nearly as hoppy as Peak's Oktoberfest. The scent of malt is strong with a small whiff of wheat, but it is the malt that takes up most of the flavor. The German hops mixes well with the wheat, and is a refreshing laid back ale that has some punch with an ABV of 6.0 percent. A pint of Hallertau Blanc costs $6.95, along with the other entries in hop essence series.
Rounding out the pack comes a surprise from Magic Hat's brewery in South Burlington, Vermont. A new pumpkin ale, Wilhelm Scream, was added to Magic Hat's seasonal roster in early August. This brewery has a reputation for making fantastic seasonal beers, even though their #9 ale is lackluster when compared to their delectable Cucumber Hibiscus.
Magic Hat's Wilhelm Scream pumpkin ale is a mildly carbonated beer that has an unsurprising scent of sugar and sweet cinnamon. These two flavors make their presence known when taking a sip but levels off with a pumpkin aftertaste. It's by far the darkest of the fall beers and makes a good edition that's worth a try, even though the sweet cinnamon is a little much.
Wilhelm Scream is just one step above Sam Adams Octoberfest with 5.4 percent ABV, yet falls short when compared with better tasting pumpkin ales like Lefty's Oktoberfest brewed in Greenfield, Massachusetts. It can be found in liquor stores like Four Seasons Wine for about $9.65 per six-pack.
And there you have it folks, a good set of fall beers to warm the bodies before the frost of winter sets in. As the leaves shift colors and the nights become cooler the selection of fall beers will grow, just in time to be harvested.
Paul Bagnall can be reached at [email protected] or follow him on Twitter @paulrus19