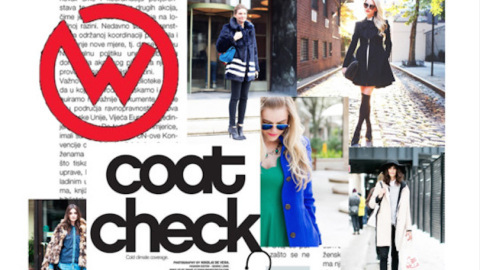 By Julie Shamgochian 
The winter months are approaching and the term "brisk"  to describe the air in Amherst is putting it lightly. But there's good news, there are plenty of  winter fashion trends to choose from. Dainty summer gladiator sandals are quickly replaced with leather riding boots, and the freezing wind in Amherst requires more than just that blazer you were wearing a month ago. Ensuring warmth, comfort, and style is simple to achieve with some inspiration. Check out the slideshow for piecing together a fashion forward wardrobe that can handle winter in Amherst with ease.
Coats
Long, body-hugging Parkas are well suited for walking around campus during the week, as they not only provide warmth, but also many styling options. Beanies fit perfectly under the big hood and add a more snug feeling. Trendy chunky, or plaid scarves also add a pop of detail and winter festive appeal. The standard knee-high length for most Parkas' compliment many different shoe or boot options and leave space for showing off patterned tights or cozy leg warmers.  Finish off your look with leather gloves or thick mittens. If you're looking for a quality coat, House of Fraser's  white parka can be found online.
Take on the cold in style this winter with faux fur pea coats or vests. Pea coat styled jackets can be found entirely made of fur or with furry embellishments on the hood, sleeves, or neckline. This edgy and sophisticated trend looks picturesque against a snowy winter wonderland. Fur vests are also a warm and wearable layer option. Vests are fashion forward and great for weekend nights out. The short, sleeveless, and textured fitting of fur pairs great with neutral winter colors or runway inspired gingham prints.
Cozy, comfy, and cute, Blanket Sweaters are the best thing to happen this winter because it provides the comfort of your pajamas without looking too casual.These sweaters are perfect for a quick outfit to run around on campus and throw on under a heavier jacket.
Leather jackets are a must-have wardrobe piece, as they can be dressed formal or casual, and paired with almost any winter accessory. This classic piece expresses style and versatility for any look transition from day to night. Check out Pull& Bear  for their classic leather jacket for under $50.
Boots 
Leather riding boots are practical for everyday walks to class or even casual weekend plans. There are a variety of lengths, heel size and style options to blend. Ankle booties, heel or no heel work well with chunky leg warmers or high socks. Heeled booties work well with faux fur or leather for a more formal and dramatic winter night out. Grab a decent pair of black booties just in time for the holiday festivities at Oasis. Larger stores like DSW Shoes offer a variety of  affordable options for quality leather and sturdier shoes to run around this winter.
Lace-up and fur rimmed snow boots in black hues are a guaranteed match with any jacket, outfit, or cold weather accessory. The fur lining on the inside provides warmth so that longer, thicker socks aren't a concern.
Try pops of color in the rain and snow with water proof, rubber soles. You can  also never go wrong with traditional Hunter rain boots and boot socks for added comfort.
Check out all of our style inspirations, but also download the polyvore  app or create an account to mix, match  and style your favorite items this winter.
[slideshow_deploy id='9328′]
Julie Shamgochian can be reached at [email protected] or follow her on Twitter @julie_sham.