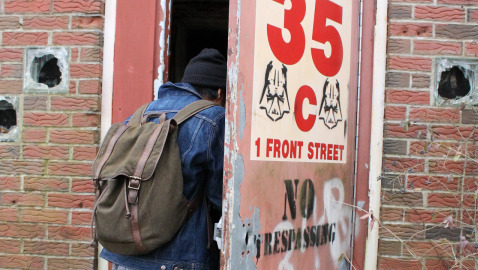 The Belchertown State School for the "Feeble-Minded" was established in 1922 in Belchertown, Mass. It was shut down in 1992 after a lawsuit exposed the prevalence of abuse and inhumane conditions. Rumors of hauntings and paranormal activity has made the asylum a local attraction.
The campus has since been abandoned and fallen into disrepair. The floors are scattered with documents from years past, stating the names, medications, and conditions of former patients. Trespassers have covered the walls with graffiti that only adds to the asylum's eerie aura.
In 1994, the Belchertown State School was added to the National Register of Historic Places. The campus sprawls across 155 acres and dozens of buildings stand beyond repair, but some have looked at the abandoned campus as an opportunity for renovation and development. Many people like to explore the school despite the Belchertown Police Station next door. In November 13, 2012 the town decided to sell the campus for $1.25 million to an owner who would demolish all the buildings that contained asbestos, a group of heat resistant minerals used for insulation that is harmful to breathe in when disturbed.
[slideshow_deploy id='9408′]
Maureen Meyer can be reached at [email protected] or follow her on Twitter @MMEYYERR
Sarah Robertson can be reached at [email protected] or follow her on Twitter @srobertson_