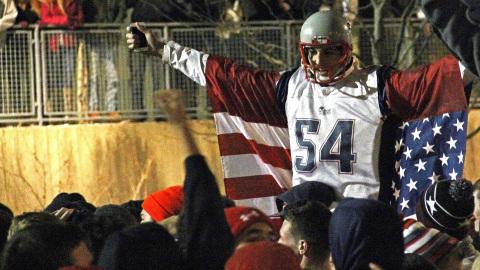 AMHERST- Students at UMass Amherst can give themselves a pat on the back for managing to disappoint when they gathered outside of Berkshire Dining Commons Sunday night in a relatively tame celebration. The event was in sharp contrast to expectations that students might "riot" after a Patriots win on Sunday. The new guest policy, which prohibited on-campus residents from visiting other dorms before, during and after the Super Bowl, threatened to dampen this past weekend's celebrations in order to keep students from repeating last year's mistakes. So did the new policy do the trick?
The first official e-mail regarding the policy was sent out by the manager of residential security, James Meade on Tuesday, Jan. 27. The email read, "Beginning Sunday, Feb. 1, 2015 at noon through Monday, Feb. 2, 2015 at noon, no guests are allowed in any UMass Amherst Residence Halls. UMass Amherst resident students are allowed access only to the hall in which they live."
The guest policy was mostly enforced in Southwest, where previous years' riots took place, and the residential area where most of the damage was done to buildings, as reported in The "Daily Collegian" and Masslive in 2013. My friends and I went to the dorm we planned to watch the game at before noon to avoid security. We soon found out that security in the North Apartments, Northeast, Orchard Hill, Sylvan, and the Commonwealth Honors residential communities would operate as it does every weeknight. As a student who lives in the quiet community of the North Apartments, I thought this policy was over the top, especially in residential areas other than Southwest.
My friends who came over from Southwest said they were on "lockdown," and that security officers were making rounds and checking identification of students to make sure they were not in buildings they did not live in.
Not only did UMass officials temporarily adjust the guest policy, but they also closed the dining halls in Southwest at 8:30 p.m. All the other dining halls across campus, including the Blue Wall, which is normally open until 9 p.m., were open for extended hours until midnight. This change in hours forced students in Southwest to go elsewhere for food after the game.
"I feel like it is unnecessary and that the university doesn't trust us," said Francesca Castrichini, a junior BDIC major, who felt the same way. "The students as a whole are paying for the previous wrongdoings of only a few students."
And I found it hard to disagree.
Most people were happy to share their opinions on the policy but some were not able to. When asked what their thoughts on the Super Bowl guest policy were, residential desk security monitors and residential security officials all said they have been instructed to reply with no comment.
Was the university being too strict? A junior hospitality and tourism management student said that he felt the riots were a part of UMass tradition.
"My cousin lived in Southwest in 2004 and it sounded like fun from his stories. I've always wanted to be a part of it."
This tradition is the root of the problem as UMass continuously tries to distance itself from its rowdy "zoo mass" stereotype.
After the game was over, I wondered how many students had gathered outside to "riot" in Southwest. Pictures on social media and a live feed of post-Super Bowl happenings on The Collegian website showed large, slightly rowdy crowds gathered in front of Berkshire Dining Commons.
The Daily Collegian live feed included updates. "Update: 11:08 p.m. Police officers and students exchange fist bumps as students leave the concourse." "Update: 11:25 p.m. Police tell students to 'have a good night' and encouraged them to leave the area." It seemed as though the policy worked after all. The newspaper also compiled a storify that pieced together Sunday night's events that ended peacefully.
The stricter policies seem to have kept everything under control after this year's Super Bowl, but I think a large part of them were unnecessary. The university could again prohibit non-UMass residents from entering dorms at the next riot-worthy event. They can even disallow UMass students from entering other students' dorms, but setting the cutoff time to noon for a game at six p.m. is a little ridiculous. And what's even more bothersome is the dining halls closing hours before usual, forcing hungry students to walk to other dining halls for food outside of their residential area. 
UMass officials should acknowledge that students celebrated peacefully this year and that we are capable of behaving without the inconvenient restrictions. Students should be able to enjoy a big day with their friends, and then go get ice cream cones from Berk.
Check out a video by editor, Alex Lindsay on how the celebration went below!
Kaitlin Corbett can be reached at [email protected]