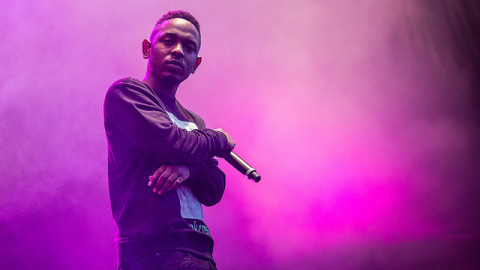 A Review of Kendrick Lamar's New Album, To Pimp A Butterfly
April 2, 2015
Compton native, successor to Tupac and rap legend in the making. What do all of these things have in common? They are all synonymous with rapper, Kendrick Lamar. After dropping one of the most influential LPs of the new decade with his sophomore effort, "good kid, m.A.A.d city" (GKMC) released in 2012, Kendrick has become a household name in the hip-hop community.
After the critical and commercial success (selling over one million copies) of "GKMC," the hip-hop world anxiously waited for a follow up album. After a year and no word of a follow up, the hype kept growing. But it wasn't until September 2014 that the world got a taste of what was to come. Lamar released "i" and listeners noticed the jazzy influence that wasn't there in past projects. Then last month, Lamar released a surprise track, "The Blacker the Berry." Both songs differ in style and the hip-hop community was anxious to see how the next album would turn out.
The follow up titled "To Pimp a Butterfly," (TPAB) which is a play on the novel "To Kill a Mockingbird," was released a week early to the surprise of both the hip-hop community and Lamar's record label.
The new album focuses on current themes, such as police brutality, racism, government influence, and black empowerment. What sets Lamar apart from other  rappers is not just his lyricism, but his social awareness.
Not only does Lamar relate current events to himself and his experiences, but he also delivers these experiences to his fans without any personal bias.
He utilizes poetry as a central theme to the album. At the end of each song, he includes a part of a poem that segues into the next song, which shows that "TPAB" is much more than just an album, but has similarities to a theatrical performance.
In its entirety, this album is not for the faint of heart. "To Pimp a Butterfly" is reciprocal of modern ideas in mainstream hip-hop. There are no "turn up" tracks or upbeat, dance tempos that resemble a radio hit. The album is not filled with production from big time producers like MikeWillMadeIt or DJ Mustard, nor does it indulge itself in topics like "money, cars and women."
In that sense, the appeal of the album will fall for those who are not interested in genuine hip-hop. But those who are will regard it as a masterpiece that is lyrically mindful and sonically beautiful. The album samples funk and jazz instrumentals while Lamar uses themes in modern black culture layered with poetry to give the album a strong story-telling feel.
And Lamar isn't afraid to speak his mind. From his thoughts on money and fame on "Wesley's Theory" to his emotional and depressing tale on "u," he strings together another level of realism to the lyrical content.
Yet one of the most encapsulating parts of this album is the end. On the track, "Mortal Man," Lamar does a mock interview with his idol, Tupac Shakur. Not only is it astonishing that Lamar was able to make the interview relate to modern day times, but the conversation between the two strengthens the conscious hip-hop cannon.
Lamar concludes with a poem his friend wrote about his life that sums up the concept of the entire album.
Within the poem, Lamar makes a note of two very important symbols: caterpillars and butterflies. A caterpillar's only job in life is to consume everything around it to protect itself from "the mad city," whereas the butterfly is praised by the world around the caterpillar. The caterpillar, jealous of the success and beauty of the butterfly, determines a way to "pimp" or exploit the butterfly for its own selfish desires. Ultimately surrounded by its demons, the caterpillar cocoons itself and transforms into a butterfly himself.
Lamar represents both the caterpillar and the butterfly. At first, he was lost in Compton, wishing for the life of celebrities while embracing the sins of his environment.  This mindset transformed Lamar into a butterfly where his new way of thinking shed light on a talent he could share and embrace with the world.
Lamar embraces his butterfly persona while understanding that he is being "pimped" by caterpillars of the music industry and the people who don't believe in his dream.
If "GKMC" hadn't proclaimed Lamar as a rap legend, "TPAB" without a doubt has. Delivery, lyrics, production, the storytelling effect and theatric interpretations were the key factors to his sensational follow up.
Andrew Kratochwil can be reached [email protected] or you can follow him on Twitter @AMKratochwil