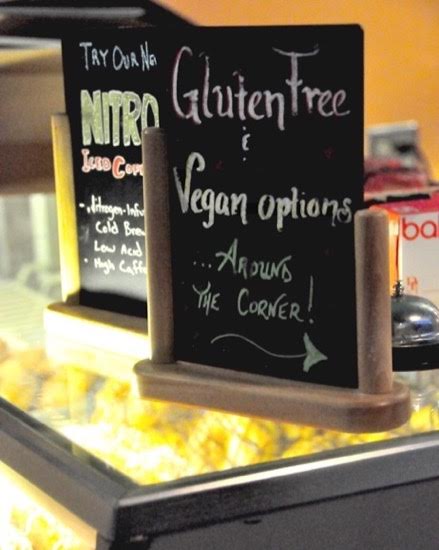 Twenty-four hours of vegan eating in Amherst
Caitlin Cooke's complete guide to eating free of animal products, from breakfast to late-night munchies.
If food with no meat, milk, eggs or cheese is for you, Amherst is the place to eat. This small college town features a number of locally-owned shops and restaurants with unique vegan offerings.
Here's my guide to a day of vegan eating. 
9:00 a.m. — Cranberry-almond orange muffin, paired with an almond milk latte
Share Coffee, 17 Kellogg Ave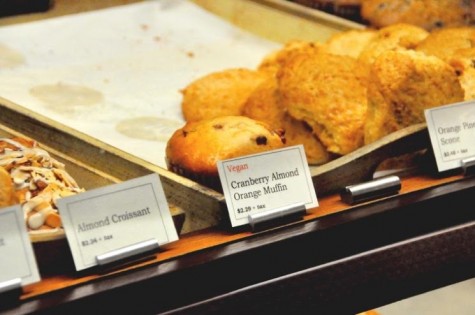 Once known as Rao's Café, Share is the ideal place to start your day; coffee is vegan, and caffeine is everyone's best friend in the morning. And owner Ken Majka was sure to keep vegan options on the menu when the name of the cafe changed.
The base of this golden brown, cranberry-almond orange muffin includes flour, sugar, baking powder, salt, coconut milk and orange juice. Craisins, slivered almonds and orange zest are infused in the batter to give the muffin a sweet, fruity taste and extra crunch. Get one before they're all gone through — this muffin flies off the shelves (whether customers are vegan or not).
1:00 p.m. — 'East Meets West' sandwich, followed by a chocolate-raspberry cookie  
The Black Sheep Deli, 79 Main Street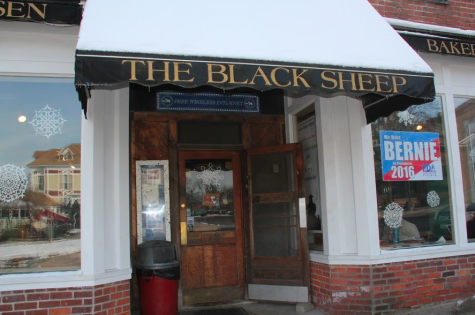 When lunch time rolls around, this deli offers a selection of vegan specialty sandwiches and salads. Theres also the option to build your own sandwich with daily baked bread and an array of fresh veggies.
Gina Shaw, 22, said she is constantly hunting down vegan treats in Amherst. She always checks the menu before eating anywhere, and said she swears by the Black Sheep. She loves the 'East Meets West' sandwich. Served on a warm baguette and piled with red onions, lettuce, carrots and tofu, all drizzled with peanut hoisin and garlic sauce, this sandwich is bright, colorful and bursting with Thai flavors.
Shaw said she also loves that the deli offers sweet vegan dessert options to eat after a sandwich.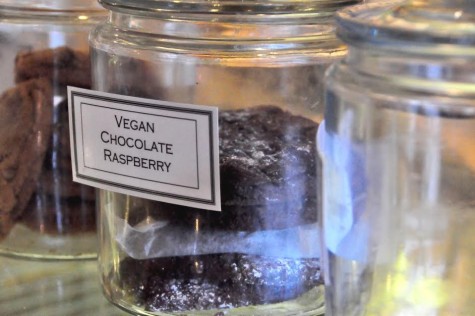 "They have vegan cupcakes and this delicious chocolate-raspberry vegan cookie."
The cookies and cupcakes smell like dark chocolate, and come topped off with sprinkled powdered sugar. Both are perfect for plant-based indulgence.
6:00 p.m. — Edamame, followed by a veggie Maki roll
Panda East, 103 North Pleasant Street
To start, order the edamame for it is simple and healthy, yet fresh and filling. The bright green pods come steamed and warm, sprinkled with sea salt.
Another option: the avocado salad, complete with an entire half of avocado, sliced thin and spread on top of a bed of shredded lettuce and carrots. Topped with crunchy sesame seeds and a sesame-ginger dressing, this salad is a close tie with the seaweed salad.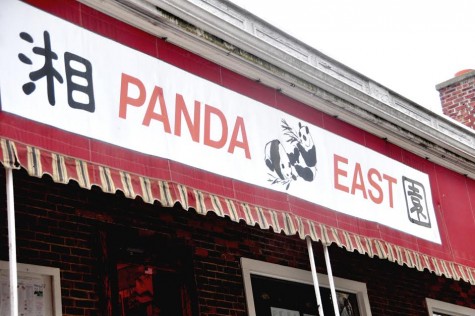 For dinner, sushi never fails. The veggie maki, made with cucumber, carrot and avocado, rolled in seaweed, coated with brown rice and sprinkled with sesame seeds is also a simple, yet filling, choice. For something more unique, try the Green River maki, stuffed with cucumber, avocado and asparagus. The watery crunch of the cucumber pairs perfectly with the soft avocado and the pungent taste of asparagus.
Despite the unappealing chaos of green, yellow and red parrot-adorned bowls filled with mixed alcoholic beverages that are rushed from table to table, this Japanese and Chinese restaurant offers many animal product-free dishes.
10:00 p.m. — Gin and tonic (or three)  
Hit the bars if you're of age, but stick to a simple drink. Some alcohol is processed with casein, a protein derived from milk or gelatin that is made from bones and the connective tissues of cows and pigs. The brands Absolut, Skyy, Grey Goose, Bacardi, Coors, Yuengling and Bombay Sapphire are safe bets, though!
1:00 a.m. — Grilled veggie pizza
Antonio's, 31 North Pleasant Street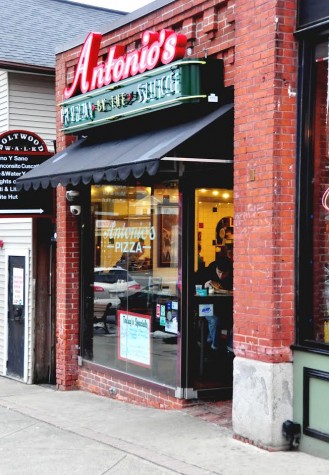 After the bars close, packs of college students head inside this narrow pizza parlor. Offering exotic pizza flavors by the slice, this shop is the hot spot for those late-night, drunk munchies. Antonio's also offers a make-your-own option, or a grilled veggie pizza for lazy health nuts.
This pie is made with fresh pizza dough, drizzled with marinara sauce and topped with the works: artichoke hearts, olives, carrot shreds, broccoli, mushroom, onion, zucchini and eggplant.
An explosion of flavors hits your mouth after the first bite.
1:30 a.m. — Non-dairy ice-cream and maple-glazed vegan doughnut
Glazed Doughnut Shop, 19 North Pleasant Street
The ice cream, made with those who are lactose intolerant and vegan in mind, has an almond milk base and does not include eggs.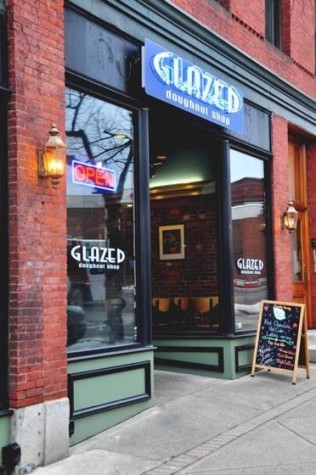 The doughnuts come baked — not fried — with rice and tapioca flour, and are then glazed with maple, raspberry, vanilla or chocolate. These vegan and gluten-free sweets are the perfect palate cleansers after gorging on salty pizza slices.
"They were introduced about a year ago, when the old Glazed down the street was closed and this place was opened," said Lucy Lyon, the night employee at Glazed.
A change in location inspired these vegan-friendly additions to the menu, as the doughnut shop received more foot traffic from Antonio's patrons.
"These doughnuts are very popular here, we often sell out," said Lyon.
Email Caitlin at [email protected].