Divest UMass holds rally and sit-in
Students urge the UMass Foundation to #DivestTheRest.
April 12, 2016
At 8 a.m. on Monday, April 11, an estimated 30 students at the University of Massachusetts Amherst lined the halls of the Chancellor's Office in the Whitmore Administration Building, silently protesting the university's investment in fossil fuels.
Though the UMass Foundation announced in December that they would divest from coal companies, the UMass Fossil Fuel Divestment Campaign (Divest UMass) wants the university to "#DivestTheRest," meaning the top 200 publicly-traded fossil fuel companies. 
According to senior BDIC major Kristie Herman, the campaign asks that UMass commit to creating a formal divestment plan by Wednesday, April 13. The plan, she said, must then be completed by June 1.
At 12 p.m., a group of students braved the rain and joined Divest UMass outside of the Student Union to support students at the sit-in. 
Senior Filipe Carvalho, an economics and finance major, led the rally, introducing the seven speakers. First was Varshini Prakash, a UMass alumna who graduated last spring.
"We have no choice left but to demand [UMass] #DivestTheRest by putting our bodies on the line," said Prakash. "We are not stopping… until we get full fossil fuel divestment."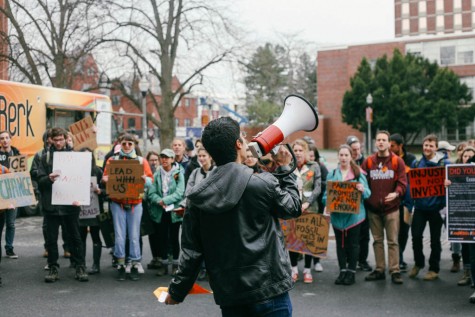 Sophomore natural resource conservation major Rebecca Holdowsky followed, explaining that though most people see climate change as an environmental issue, it's much more than that. 
"This is a social justice issue… [we are fighting] for the hundreds of millions of people suffering from climate change," she said, "and for the sake of the generation of people who will inherit this earth from us."
As she passed the megaphone to Carvalho, onlookers cheered and clapped.
"We do not invite the neglecting of other people," he said, before introducing the next speaker. "Our Board of Trustees seems to be caught up with some individuals who feel like it's more important to make money than it is to actually take care of people."
Senior Emily O'Neil, current student trustee, and junior Josh Odam, incoming trustee, were the next to speak.
O'Neil said that some of the top climate scientists work at UMass and affirm that fossil fuels are harming people everywhere, yet the university still invests.
"How can UMass fund both sides, both scientists and companies?" she asked.

"It's time [to divest]," O'Neil continued. "Those people in Whitmore are risking themselves and we need to back them up today."
Odam then took a quick survey of the crowd, asking participants to raise their hands after each question.
"How many of you think… that we as students have a right to full disclosure and transparency regarding our fees and where they go?" he asked. "How many of you think that we should hold our leaders to a moral standard? How many of you think that our leaders should not hold corporate interest? How many of you think it's time to divest?"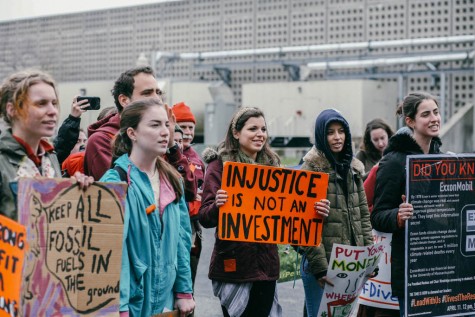 The cheers grew louder with each question, orange banners shaking as students jumped up and down.
"We need to remind ourselves that environmental justice, socioeconomic justice, and racial justice are inexplicably linked," Odam continued. "It's unacceptable that we are complacent in letting our university contribute to this violence."
After a quick chant, Gabe Shapiro, a member of Hampshire College's Climate Justice, spoke about Kinder Morgan's proposed pipeline through Massachusetts. The pipeline, he explained, only furthers U.S. capitalism and globalization; it doesn't benefit people in New England, he said. 
Shapiro called for supporters to partner with other social justice movements, like Black Lives Matter, because, he said, climate change and oppression won't stop until people unite.
Prakash again entered the circle, this time leading a song,"Eyes on the Prize," from the Civil Rights movement.
"People have fought before us and people are fighting now for injustice," Prakash said. "We are standing on their shoulders."
When she finished, sophomore Mica Reel, a journalism and anthropology major, shared her personal experiences.
Reel explained her "divided" upbringing; she lived with her dad in Western Mass. while her mom worked in Japan. When her dad struggled to find a job, he became depressed, discouraged that he couldn't provide for the family. As Reel grew up, she couldn't understand why money fueled "detrimental decisions that affected [us] that deeply."
"I'm driven by the vision of living in a world that first and foremost values taking care of the most vulnerable people and communities," said Reel. "I'm tired of people in power treating bodies and lives as disposable."
In order to bring about change and focus on people as human beings, Reel said, students must stick together and take power into their own hands.
Shawn Provost, a civil engineering student, took the megaphone and thanked students for their dedication.
"It's time that we as a student body demand that our administration put the value of our futures and the value of our lives above the values of their portfolios," he said. "If [the university] does not take our demands seriously, if they do not grant us what we need," continued Provost, "we will shut them down."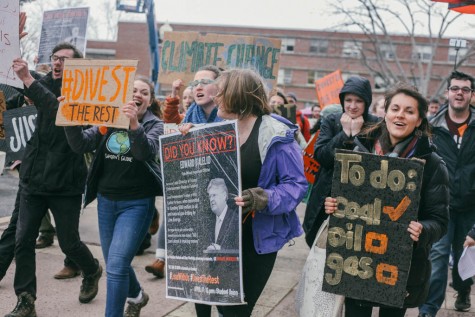 As he finished, students started chanting, "If we don't get it, shut it down," and marched through campus. They gathered at the front of Whitmore as members of Divest UMass brought food inside.
Prakash led the crowd in another song, one that she sang at a Board of Trustees meeting last year. The lyrics targeted Chairman Victor Woolridge and UMass President Marty Meehan, asking which side they're on, the students' or corporations'.
According to Herman, anyone who wanted to join the sit-in was welcome, as long as they had completed the non-violent direct action training before. If students didn't feel comfortable doing that, Herman asked that they stand outside for as long as they could.
"Climate change is happening now, you can get a little wet!" she joked. "We want to show a presence. We want people to see that we are disrupting their day. We want people to hear us. We want people to see us and see what we're doing."
Email Katie at [email protected] or follow her on Twitter @bowler_kathryn.