Will Mill 180 Park be the park of the future?
"It feels a little sci-fi, like being inside a spaceship."
October 13, 2016
A park from the future has arrived in Easthampton.
Mill 180 Park is the first of its kind indoor park that features hydroponic gardens, lawn games, a cafe that serves coffee, food and beer and spaces for people to socialize and relax.
Built inside of an old mill, soft artificial turf lines the floors and an audio system provides natural background ambiance and. Free Wi-Fi coupled with plenty of chairs and tables makes for a relaxing environment to hang out in.
The park's creator, Michael Sundel, took inspiration for the idea from big city parks such as Hyde Park in London and Central Park in New York City, where Sundel grew up. He believes it is important to have a place where members of the community can get together and socialize.
"Mill 180 Park is an attempt to recreate the benefits of the large city parks, using technology and making it inside, so it can be used regardless of the weather or time of day," Sundel said.
Sundel explained that Central Park was built as a part of the urban park reform movement in the mid-1800's.
"Cities were facing a lot of the problems that they're facing now, with a lot of poor communities who didn't have anywhere nice to go, and the different classes were not mixing," Sundel said. "The big urban parks were an answer to that."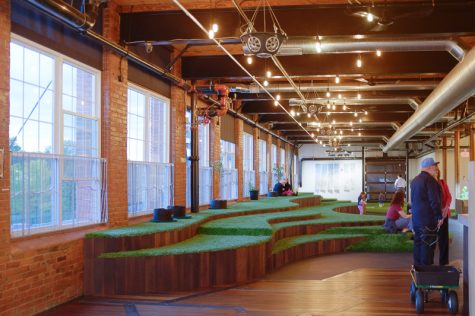 Sundel said he knew nothing about hydroponics before designing Mill 180 Park. But coming from a background in computer software, he always had a fondness for technology. He was excited to be able to combine this fondness with his love of parks, he said.
"The good thing about hydroponics is that it's not that complicated. Plants have evolved to need light, nutrients, water and oxygen, and as long as you give them that, they're happy," Sundel said. "In reality, it's probably easier than regular gardening because you don't have to deal with pests, temperature problems or draughts."
The hydroponic gardens scattered throughout the park grow plants in gravel instead of soil. Nametags identify the various plants, which range from cabbage and herbs to sunflowers.
The park also has a large room dedicated to growing vegetables for the on-site cafe.
"What is unique about Mill 180 Park is that we are using hydroponics aesthetically," Sundel said. "Not just to grow food, but to grow plants to give people the sense that they are in the middle of nature. There are a lot studies that say there are psychological benefits to being around nature and plants."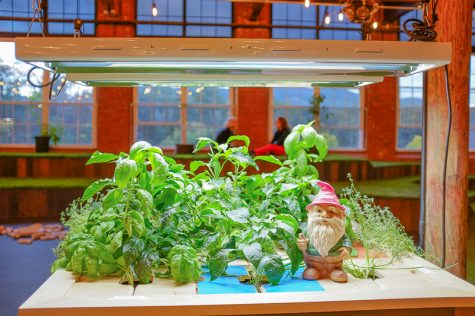 Niko Guardia, of Northampton, visited Mill 180 Park with some friends during the park's first monthly "POUR" event Oct. 4 where Oktoberfest beer and German food were served. He said he decided to check out the park because of its novelty and was impressed with the idea.
"How do you make something so blatantly artificial not seem contrived? I think they've done an okay job with this," Guardia said.
"It feels a little sci-fi, like being inside a spaceship," added Anders Wallace, a friend of Guardia visiting from New York.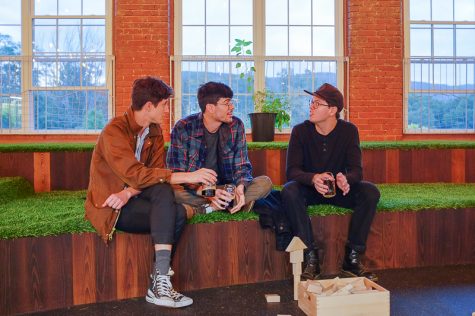 That same night, a number of co-workers were holding a going-away party for Sabrina Blanchard, who is transitioning after seven years as an event coordinator at Easthampton High School to her new job as superintendent of the Gill-Montague Regional School District.
"I'd heard lots of things about [the park], and I thought it would be really cool place to hold an event," Blanchard said.
Her co-workers brought a cake and the group gathered around one of the park's large tables. They all agreed that the park makes for a great place to hold events.
"Everyone who came is like, 'Oh my God! This place is so cool. Good choice,'" Blanchard said.
The atmosphere of the park also seems to encourage visitors to interact with people they don't know. Sundel said this is very intentional.
"I think you could contrast it with a mall. In a mall, people tend to stay in groups. Here, people tend to mix together," Sundel said. "There are quiet places, but it's easy for people to mingle. If you look at Central Park, it was really designed with a lot of care so that the circulation patterns, the public meeting areas were designed to bring people together, and we've tried to do that too."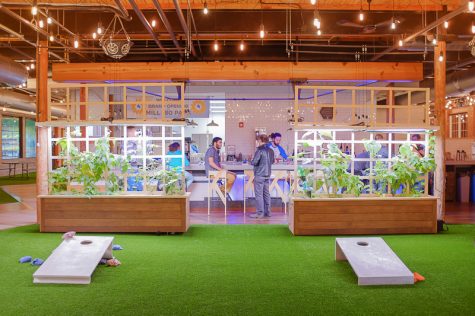 The park is planning a variety of monthly events, such as spoken word karaoke, beer pours and movie nights. Sundel said he hopes the park will become an attractive spot for families and college students to hang out, study and play lawn games during the winter.
For more information, visit the Mill 180 Park website.
Email Joshua at [email protected] or follow him on Twitter @SinisterSeagull.