An iPhone lost at sea: Three months without a phone in a foreign place
"Rid of a phone, nothing came in the way of the new world around me."
October 13, 2016
Three months without texting, Snapchat, Facebook or Instagram — unlike most social media and technology cleanse attempts, this was not by choice.
I had just arrived in Greece and felt the urge to fully immerse myself in the culture. I was living in a small port town known as Rafina, about 45 minutes outside of Athens. The town is a tight-knit community centered around a small square filled with mom and pop shops and cafes. It is an ideal place for a well-rounded cultural experience.
During a night out around the port, my one-month-old iPhone fell into the Mediterranean Sea and subsequently suffered a corroded logic board. Apple products are significantly more expensive abroad and I had three months until my upgrade in August. 
To say I was discouraged would be an understatement. I rely on apps like Outlook and Wunderlist to organize my life. I use the Notepad app as a diary of my experiences and I was frequently studying words on a Greek language app.
I guess you could say it was like going back to the Stone Age.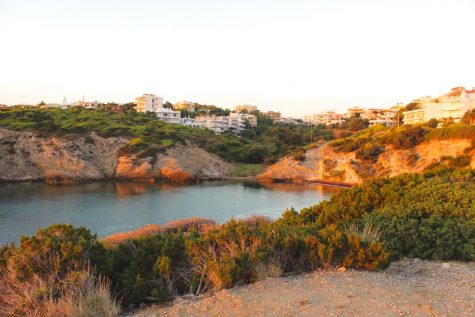 As I learned to live without my phone, I had a revelation. We spend hours scrolling through newsfeeds, recording our lives on Snapchat and uploading the perfect 'gram. We plug our headphones in and stare down at the screen while we walk down the street. Our interpersonal conversations are interrupted by important phone calls and emails.
It's safe to say that without a phone, one develops greater analytical and reasoning skills. I was forced to ask strangers questions when I was lost, instead of Googling them. I discovered how useful a paper map can be and no longer consider myself inept when navigating public transportation. I became more aware of my surroundings, knowing I could no longer rely on Google Maps to guide me home.
Rid of a phone, nothing came in the way of the new world around me. There would be no more staring at my screen to avoid awkward silence. Instead, I learned to appreciate it. The moments I shared with my new friends became more intimate once I could no longer simultaneously communicate with other friends online. A book filled the empty space in my purse and beach bag. Without my apps, reading became my only source of portable entertainment.
One night, I found myself at a popular lounge called Pathos on the island of Ios, Greece. The ambiance and architecture were impressive enough for a solid Instagram.
But it was the sunset that was unlike anything I had ever seen.
Without a phone to capture the moment, I let my eyes stalk the sun's journey through pink, orange and yellow hues until it disappeared below the sea line. That sunset was a gift that could never be replicated. As much as I wanted to be Snapchatting and Instagramming, my memory of that moment would be vague if I had a cellphone in front of my face.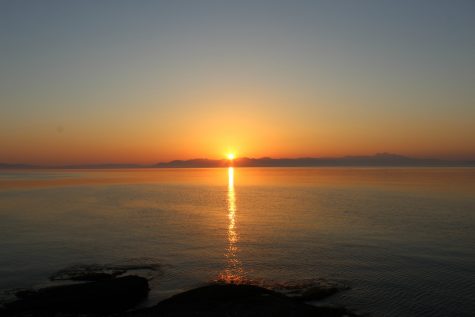 In all honesty, I was slightly disappointed that I could not record some of the best experiences of my life. We seek validation through the feedback we receive on Instagram, Snapchat and Facebook posts. More often than not, I felt my friends and family were missing out on my life and the exciting things happening around me.
More often than not, I felt my friends and family were missing out on my life and the exciting things happening around me.
Social media is a storage unit. But instead of housing physical belongings, we store photos and cherished memories. We take comfort in knowing there is a collection of our favorite moments to look back on.
Before my trip to Greece, I considered myself independent from technology. During my three months without a phone, I realized my use was excessive. I now better understand how some apps can improve your life while others are solely distractions.
Now that I am home, I am balancing my life between reasonable cell phone use — and no use at all. 
Email Sarah at [email protected] or follow her on Twitter @sarahstrangie.