New buildings on campus reflect changing academic styles
November 1, 2016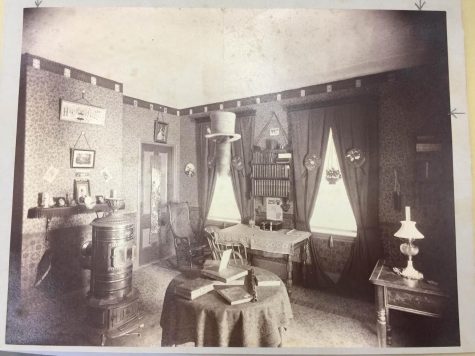 The photo, taken in 1880, captures a student room in South College at what was then known as Mass Aggie.
Flowered wallpaper encloses the boxy shape of a study room with three small antique tables, two wooden rocking chairs and a gas stove. White shades and draped curtains cover the light from the two windows bordering a three-tier bookshelf. Neatly ordered books line each tier while a cluster of six closed paperbacks spread along the circular center table.
Fast-forward to 2016. Crisp white paint lines the walls of spacious Leadership in Energy and Environmental Design (LEED) Certified classrooms, which echo with the beeps of the latest iPhone. Overhead screens reflect the work of student teams collaborating at round tables with built-in laptops. Computer and phone charging stations fill classroom corners while virtual reality software paints architectural images and sensations for design students. Media rooms broadcast a video and audio of what's happening in any given classroom.
Eight major buildings are going up on campus at UMass, adding a total of 317,500 square feet of classroom, lab and common space to the campus. The Design Building, South College, Physical Sciences Building and Isenberg Business Innovation Hub are different from past structures on campus because they will introduce new education approaches, research labs and career development programs. These focuses incorporate technology tools, collaboration and open spaces and the ability to cross disciplines under one roof.
Video technology is specifically important for business students, and its just part of the new repertoire of learning tools being built into the buildings that are sprouting up on campus.
"These rooms will have the technology to allow us to blur the lines between online and live classrooms," said Thomas Moliterno, vice dean and associate dean of research and engagement at the Isenberg School of Management. Students in live spaces will be able to benefit from online instruction while online students will have the opportunity to experience a classroom setting.
UMass is experiencing the largest building boom since the 1970s when UMass Amherst added six million square feet of space to fit a new total of 15,000 students. The W. E. B. Du Bois Library, Lederle Graduate Research Center, Isenberg School of Management, Fine Arts Center and Bartlett Hall were all built back then.
"We have simply outgrown our facilities," said Moliterno. "We are attracting an incredible caliber of students who require a certain level of facilities to ensure their education is on par with competitors."
***
The Design Building will break new ground on campus by crossing colleges, combining the architecture department, landscape architecture and regional planning and the building construction and technology program.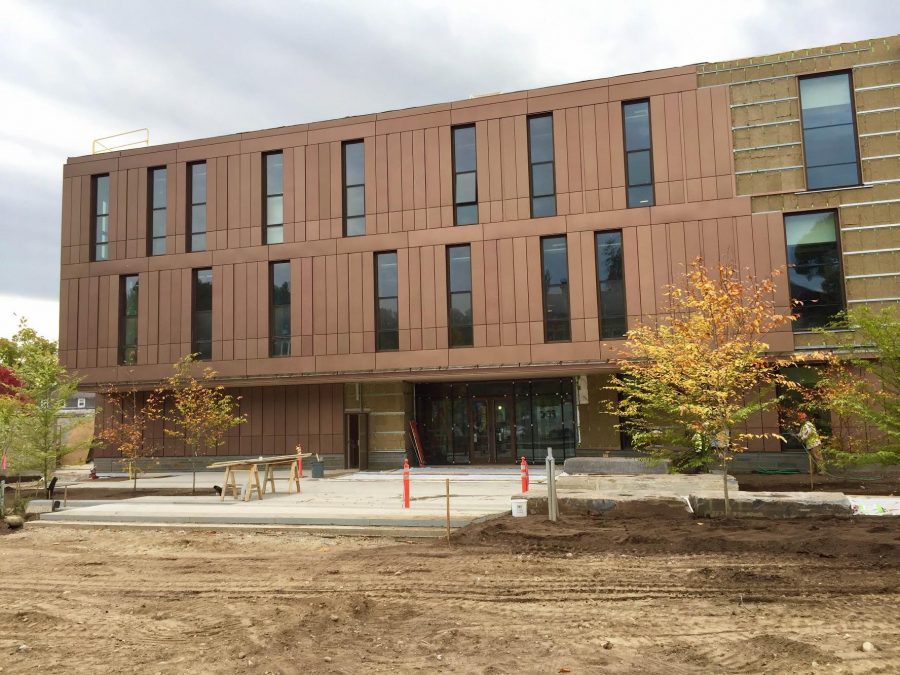 "The goal of this is to create a giant mixing bowl so students from other departments will meet and converse with each other," said Stephen Schreiber, chair of the Department of Architecture.
The new building will sustain the studio environment and small teaching instruction, but the design and tools will change.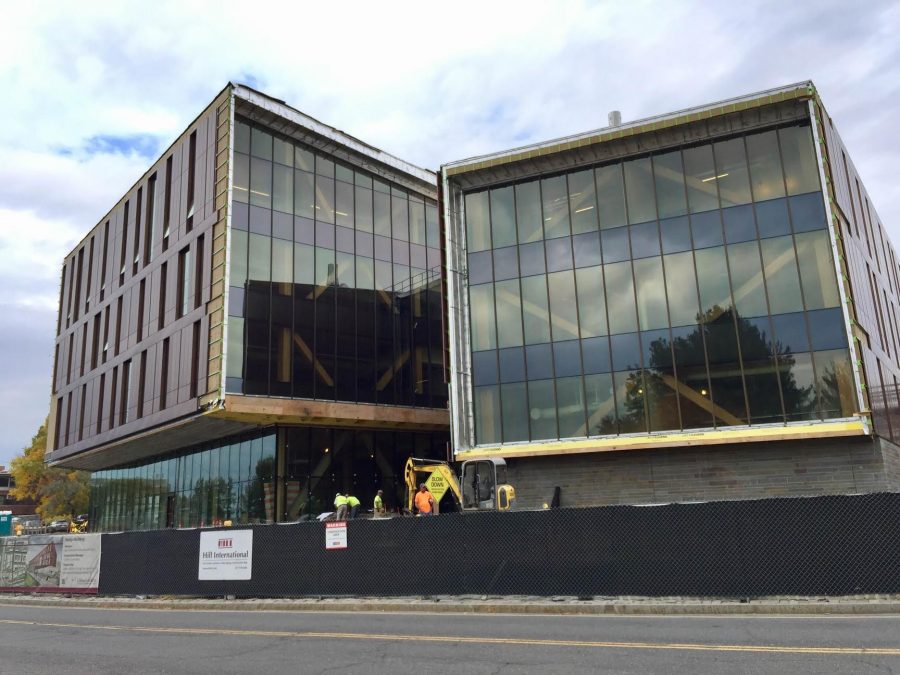 "Someone from The Bauhaus in Germany could drop in today and recognize what we are doing," said Schreiber. "But, now that the architect's role has expanded, 3D model making is something our ancestors would hardly recognize."
The exterior is the first in New England to use a highly engineered cross-laminated timber (CLT) wood, said Mohammed Abdelaal, campus and facilities planner. The CLT structure is a sustainable design that aims at reducing the facilities carbon footprint. The building is also LEED Gold certified, which means it was built to be environmentally friendly.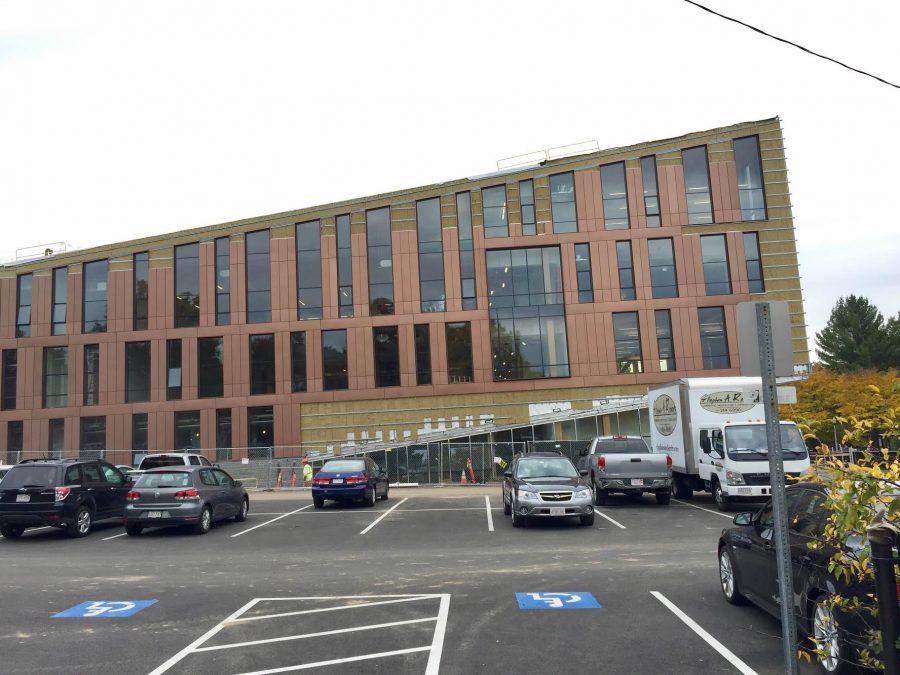 "This locally sourced material…shows students how the wood works, which is an important part of [design] education," said Abdelaal.
On the inside, two of the four floors will be studio space, resembling the shape of an L. "The presentation of design is very key here," said Abdelaal. "More visibility [means] more interaction. For class presentations, visibility will make students feel like they have an audience…which is a success story." Large common room spaces and a top-level garden will be included to maximize creativity, natural lighting and open space for critiques.
Large common room spaces and a top-level garden will be included to maximize creativity, natural lighting and open space for critiques.
***
Originally constructed as a women's dorm, South College bridges UMass history with modern design. The building was studied by architects, contractors and planners from Facilities and Campus Services for years to develop ways on how to use the old structure to meet the needs of new education approaches. The traditional brick façade, which was preserved from its original condition, contradicts the contemporary goals of the building's interior.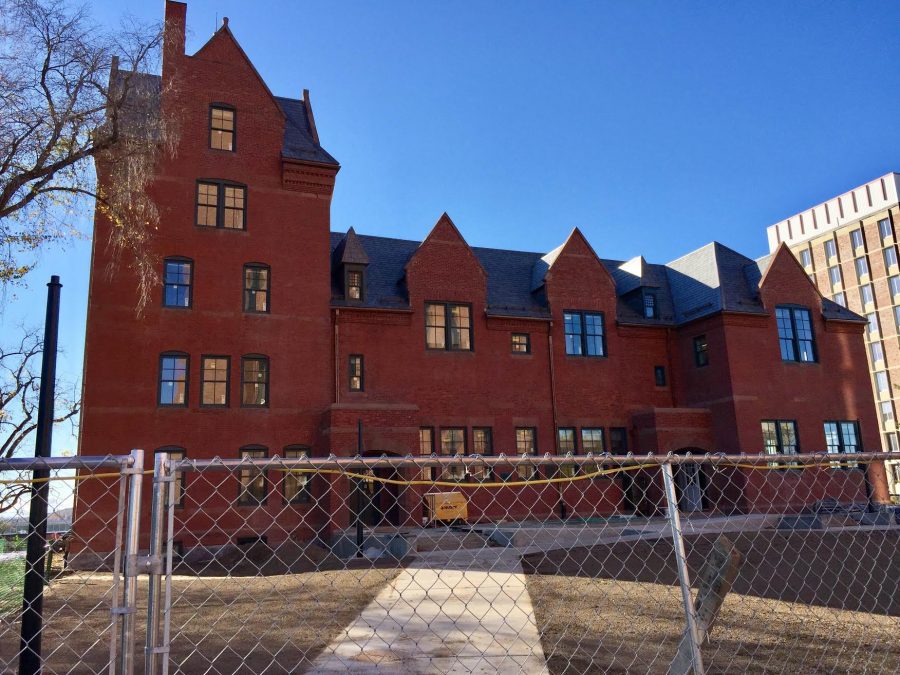 "It's a very useful repurpose," said Henry Merriman, UMass design and construction management capital project manager.
South College will house some of the College of Humanities and Fine Arts majors, including, English, philosophy, art history and women gender sexuality studies. Students across these disciplines will be able to converse in bright yellow and blue-colored common spaces as well as a Parisian street-inspired lobby. This space will expose the red brick in the interior, shedding light from the skylight ceiling and its multiple sets of black hooded windows.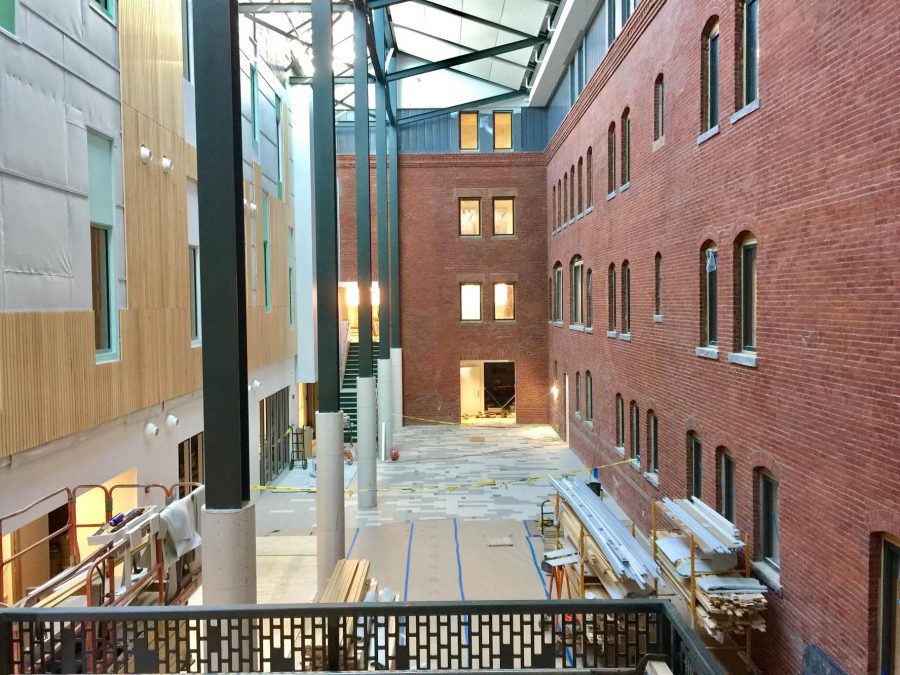 "The common spaces are so dramatic, they are eye-popping," said Merriman.
Natural lighting, open floor plans and extended ceilings are key elements in the buildings design.
Nana walls, a flexible and minimally designed wall system, will be used to enclose large flex classrooms and also open up to create function space and visibility. Each classroom will use wall talker, a plastic panel that displays written notes on any surface of the room.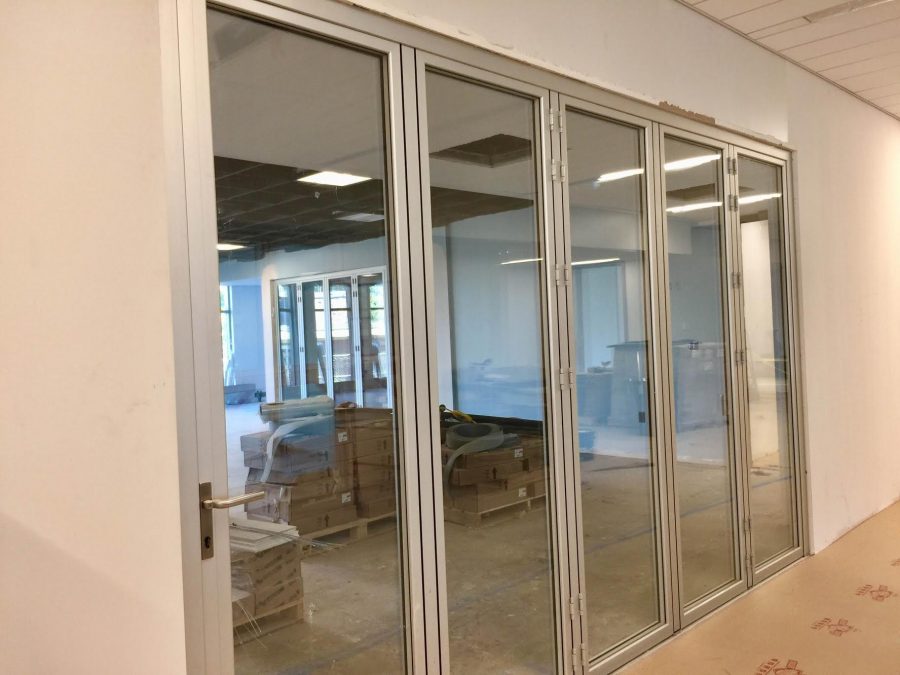 Art history classrooms will have special image projectors and will no longer have to fight sun glare.
"They have always had a need for a classroom without windows to display their image collection," said Merriman. "So we built a classroom suitable for the way they need to teach. We were able to change the university standard for projection."
In 1986 when Rory Miskimen, department chair and professor of physics, began his teaching career the physics laboratories contained a few benches and metal cabinets. Tangles of power cords draped dangerously across the floors to reach the few, inconveniently placed outlets. Accessing fume hoods, a ventilation machine protecting from toxic liquids, was requested in a different room.
"They showed me the laboratories and said, 'This is it. This is it,'" said Miskimen.
The new Physical Sciences Building will include custom-built laboratories tailored for 21st century research methods.
"The designers have achieved a flexible way of how to reconfigure labs in the next ten years," said Abdelaal.
If a wall needs to be moved, or even a detail as small as an outlet must be rethought, that can be done with this modern design.
"You can step into a lab space designed for you," said Miskimen.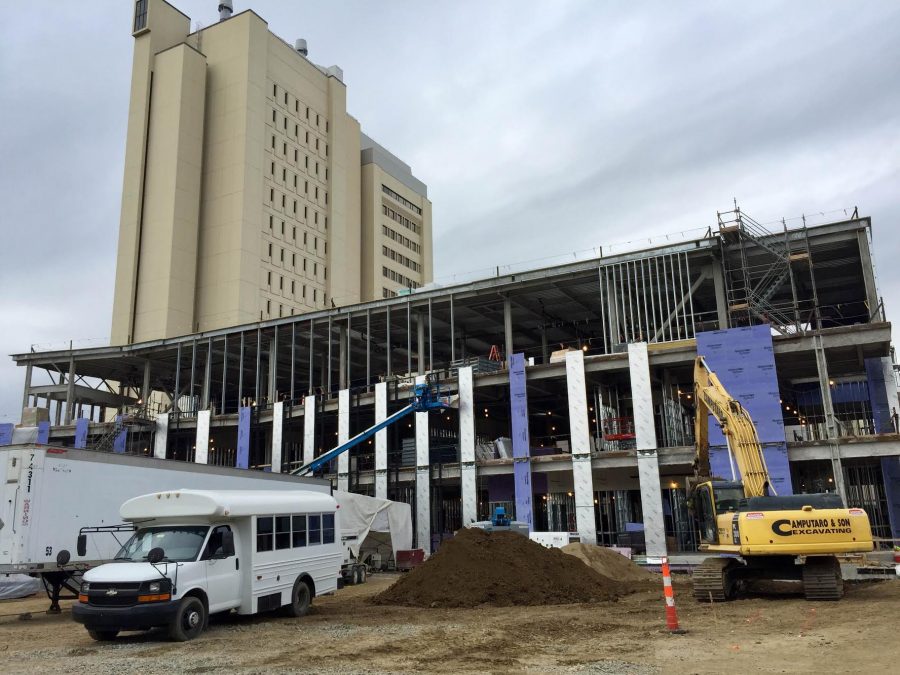 Two different styles of labs, low and high bay, will be used on the physics floor. Both labs will extend the ten feet ceiling height and include anti-vibration slabs. "Imagine a big old pit, six feet deep, and then someone pouring a whole bunch of sand in it, covering it with a concrete slab. This dampens the vibrations during experiments," said Miskimen.
Helium reclamation facilities will be installed to capture helium boiled off from experiments. Helium is expensive and these installations will allow experimenters to save the helium.
The high bay labs will be designed to carry x-y cranes, a tool with rails attached to the ceiling and a beam to carry heavy materials back and forth. "If someone wants to use cold liquid helium as a detector for nuclear reactions, he needs to use a neutron source, which needs to be shielded with large tanks of water. The x-y crane will serve this purpose," said Miskimen.
***
The Isenberg Business Innovation Hub will dedicate half of the second floor to career development facilities. A career advising staff will be responsible for recruiter outreach who will then be able "to come here and literally set up shop in rooms designed for interviews," said Moliterno. There will be 19 interview rooms and "At our peak in October, we will be able to have 23 recruiters visiting full-time by reconfiguring space in breakout rooms," said Moliterno.
The ground floor will accommodate a 5,000 square feet atrium to encourage student interaction and collision space. There will be food service, an executive in residence room and a grand staircase with built-in seating.
"It's like a living room for students," said Moliterno.
A data analytics lab with access to softwares such as Bloomberg Terminal will also allow finance majors to experience the feeling of a real stock trading shop.
The furniture in 60 person classrooms will be easy to configure for a small or large breakout sessions. "The chairs in a sense will swivel and move," said Jeffrey Dalzell, project planner and manager. "This will allow for a hybrid between a tiered classroom and a group-focused classroom," said Dalzell.
"We are taking circulation and gathering space and making it geometrically very dynamic. The creative use of geometry is a surprising yet deliberate collision of students and design," said Dalzell.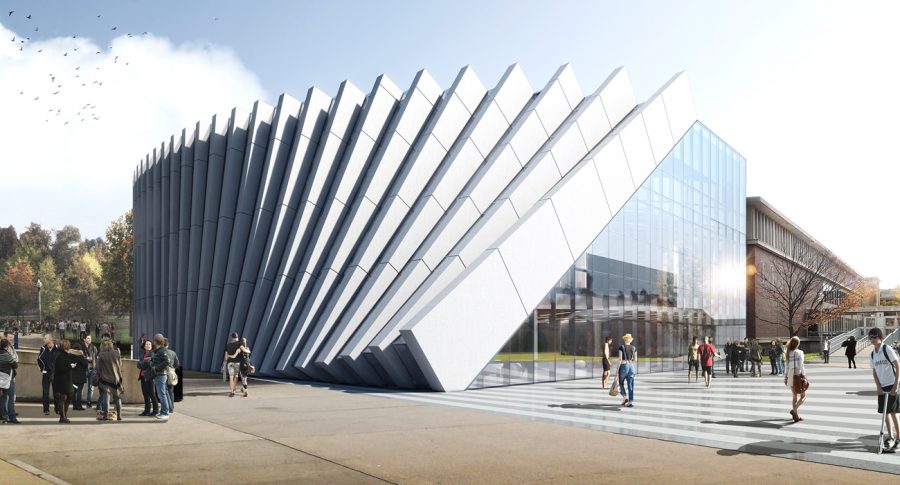 Geometry was also a heavy consideration in the design of the exterior. A partnership between Goodie Clancy, an architectural firm with education experience, and BIG, a cutting edge innovation firm, created the state-of-the-art design. The building is clean and sleek, observed from its glass façade and the geometric domino effect.
"This partnership became a fascinating combination," said Moliterno.
"They wanted the building to go beyond expectations so they took wall surfaces and merged them with ideas for the ground," said Dalzell. Standard rules of building techniques were rethought to construct a statement that complements the growing campus.
The cast concrete material will enclose a round structure that promotes a sense of flow and connection. An outdoor courtyard will fill the center of the space, in the hopes that it will become another hub for conversation and creativity.
"Modern business is not run by people sitting in offices from 9 a.m. – 5 p.m. doing work and not talking to people," said Moliterno. "It is about collaboration, teamwork and innovating through diverse ideas … we must begin this preparation in the classroom."
Email Julie at [email protected] or follow her on Twitter @julie_sham.