WATCH: High school students stage walkout to address Trump's impact
"Just because we're kids and we can't vote, that doesn't mean our voices aren't going to be heard"
November 15, 2016
Solidarity March Amherst from Michaela Chesin on Vimeo.
AMHERST — The Monday after the presidential election brought a lot of unusual absence notes to the Amherst-Pelham Regional High School (ARHS) principal's office.
Students from ARHS staged a walkout Monday — with permission from their principal and parents — to stand in solidarity with those who felt the repercussions a Donald Trump presidency could bring.
Abigail Morris, event coordinator and Amherst-Pelham High School Junior, made clear through the Facebook page for the event that the walk-out was neither an anti-Trump protest nor a protest against their school.
"It's to show the community, the world and anyone that will listen that just because we're kids and we can't vote, that doesn't mean our voices aren't going to be heard," said Morris.
"We're the future," she added. "The next presidential election, four years down the line, we are still going to be here and we are still going to be fighting."
Principal Mark Jackson sent out a letter to parents of students at ARHS Sunday recognizing the walkout. He stated his two interests: providing students with the opportunity to express themselves politically and maintaining order within the school. If a student wished to participate in the walkout, their parent had to sign the letter for the student to hand into the main office.
Right after their lunch break at 12:20 p.m., students signed designated poster boards in the lobby and marched out of the building towards the Amherst Town Common. Other local students and community members joined them along the way.
Students formed a circle in the center of Amherst Town Common and shared the pains and concerns they feel with Donald Trump's future presidency.
"The administration, our principal Mr. Jackson and our vice-principal Ms. Gromacki have been super, super supportive in realizing we want to do this and that they can't stop us," said Morris.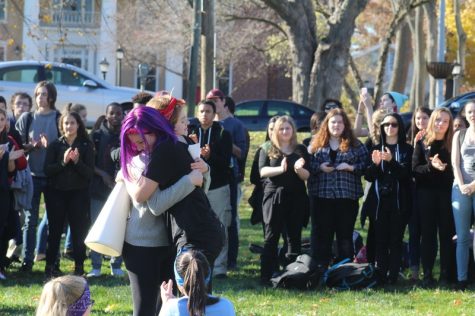 Marchers chanted "the people united, will never be defeated," as they proceeded downtown. They were joined by their parents, members of the community and college students.
"I marched with the high school today because this is a problem that affects all ages and all demographics," said Bela Schultz, a freshman at the University of Massachusetts Amherst. "I thought the walkout was a really effective, exciting and amazing show of solidarity with each other."
Isaac Kupferschmid, ARHS junior, said he walked out to support his family.
"I'm protesting because my sister is gay and I want to make sure she has the right to be who she is without being discriminated against," said Kupferschmid.
Abelíz Lebron Cdón, a junior at ARHS, expressed concerns for her and her family being of color.
"This election has affected my family. It has completely split my family apart. People from my family want to leave the country," said Cdón.
Despite this, Cdón shared a message for her peers. They should stick to their beliefs, she said, even if they are told otherwise.
"Do not conform. We know better. We know to be different. We know to be ourselves. We know not to get kicked around because of our color, our gender or our sexuality," she said.
Other students spoke out about how important it is to be engaged and involved with national affairs.
"We're 16, 17, 18, but it doesn't matter. We're the next country. We are going to be the next people living out there. We're going to have to clean up their mess," said ARHS sophomore Myra Anderson. "So why don't we fix it before they completely destroy it. Don't let them bring you down. Stay together. We're stronger as one."
Many parents stood by their children in support of the walkout.
"This is the right thing to do. Anyone and everyone who is able to need to get out in the streets immediately and strategize " said Shavahn Best, mother of a 15-year-old at the high school. "I totally commend their motivation and I think this is fantastic."
Father and recording artist Tem Blessed sang inside the huddle formed in the common.
"We are the Americans we have been waiting for," sang Blessed. "We don't want more war. We want peace, love, universal law and universal health care."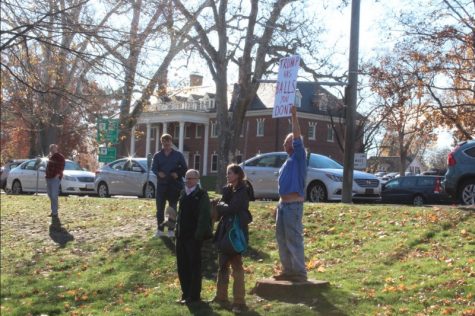 The march did come with some backlash. An Amherst man, who declined to give his name, showed up to the common with various signs reading "Drama Queens," "Trump Has Balls and You Don't," and "Spoiled Privileged Brats."
Parents and members of the community stood in front of the man wherever he went. Frustrated, the man went as far to push a few of the people who stood in front of him.
"I'm going to quote Michelle Obama and say, 'when they go low, we go high,'" said ARHS senior Ben Gilsdorf after the altercation.
The event was also assisted by ARHS school clubs, including the Sexuality and Gender Alliance, Black Lives Matter, Women's Rights Club and People of Colored United.
The high school walkout was the fourth post-election affair to occur in Amherst. Since Trump's election, the town has seen two UMass Amherst protests, a vigil for peace, love and unity on the Town Common, and a march from the UMass campus to downtown Amherst.
Email Caeli at [email protected] or follow her on Twitter at @Caeli_Chesin.