Sue Dreyer: the UMass 'squirrel lady'
December 1, 2016
AMHERST — As students rush to and from class, a woman sits calmly by the campus pond surrounded by squirrels. One squirrel approaches and takes something directly from her hands, almost as if they knew each other.
Known around campus as the "squirrel lady," Sue Dreyer can be seen year-round feeding, talking to and protecting the squirrels of the University of Massachusetts Amherst campus.
Dreyer works at UMass as a secretary and receptionist in the communication department. She has been a UMass employee and adamant squirrel-feeder since 1997.
Over the years, Dreyer has developed a unique relationship with the squirrels. She can identify and name many of the different squirrels as they scurry right up to eat peanuts from her fingers.
"
Everybody is unique, squirrels included.
— Sue Dreyer
"Their colorings, their attitudes and their personalities all combined tell me which squirrel it is," Dreyer said. "There are some that are very unique."
Dreyer had names for over 30 squirrels and 15 chipmunks on campus. Sunshine, Boomerang and Chippy-Chip are distinct in Dreyer's memory for embodying different characteristics, like a certain movement it made, a spot it sat, or an attitude it encompassed.
Dreyer looks at animals and people and understands that they all hold something beyond what we see. There is something unique there that makes each one an individual. No one is just mere exterior; there is substance behind the initial image.
"People look and they see one thing and it's all stereotypes. There is no stereotype because everybody is unique, squirrels included," said Dreyer.
"I treat people and animals equal. I treat everybody with respect," she added.    
It all started one day when Dreyer was passing by Stockbridge Hall and noticed a squirrel stuck between the steps, going back and forth trying to get down. She spoke calmly to the squirrel and moved it to the side where the critter was then let free.
"She came to the stairs and just stood there looking at me," Dreyer said. "I just started talking. That's how it started."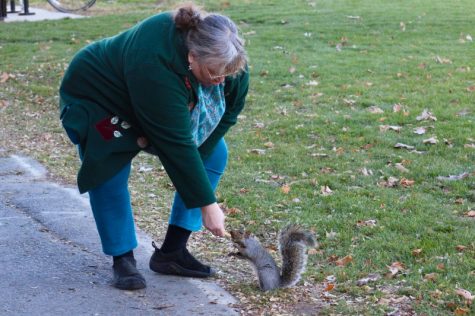 Her favorite squirrel at the moment is named Boomerang, a gray squirrel with a distinctively darker face and beady eyes. Dreyer explains that Boomerang's personality is almost human because she gets very jealous. When she feeds another squirrel, Boomerang will pout and turn her back on her.
"People think that it's just a squirrel, but no. They all have unique personalities," Dreyer said.
She has become very knowledgeable about the squirrels. She knows what their nests look like, their mating habits and what they tend to do in the winter.
"Most of my knowledge on the squirrels is just watching them and seeing how they are everyday," said Dreyer. "It's just watching and learning."
Dreyer worries about hawks, her squirrels' primary predators. She has even worked to save squirrels from one hawk she calls Queenie.
According to Dreyer's account, once a massive red-tailed hawk sat in a tree waiting for something to eat. Dreyer watched the bird eye the ground where squirrels busily buried peanuts they had just received. Dreyer promptly chased the squirrels up a nearby tree to keep them out of the hawk's sight.
Once again, Dreyer was a lunch break hero to her squirrels.
"I know the hawk has to eat, but it's like go and eat a squirrel I don't know," she said with a wince.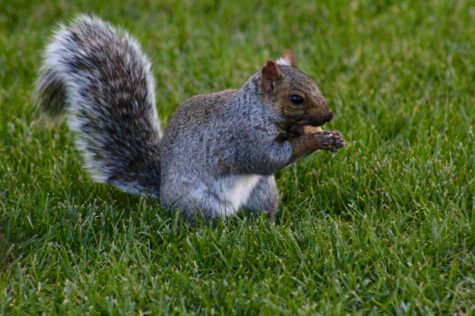 Dreyer sees her animals as more than just rodents or another facet of a natural system. She cherishes them and builds real relationships with the animals she encounters. She misses them when they disappear during the winter. She fondly recalls particular moments with the animals.
"The very first squirrel that came and took a peanut out of my hand was named Sunshine," Dreyer said. "She would sit at my feet, and she would get her fill of peanuts before I could feed anybody else."
With a smile on her face and deep emotion coming from her voice, Dreyer conveys how much the moments with these animals have contributed to her life.
"Since I've been feeding the squirrels, I've talked to more people on campus than I ever have in my entire life," she said.
All human interactions aside, what drives Dreyer to wander around campus in wet or freezing weather is quite simple to her.
"I just do it because I love animals," she stated.  
Besides the squirrels, Dreyer has also fed chipmunks, song sparrows, chickadees, cardinals, ducks, chipmunks, blue jays, cardinals, crows, woodpeckers and geese. She believes that there is a relationship past the food she gives the animals. A connection is formed between the squirrels and Dreyer.
"It's not just food that they're looking for. They really want that connection between the person and them. They want to feel special, so I always remember that," said Dreyer.  
Email Caeli at [email protected] or follow her on Twitter at caeli_chesin.