Yookeroo: The new jam band of Amherst
December 8, 2016
To listen to Yookeroo is to feel the effects of a psychedelic drug, a drug that comes in waves. Unlike actual drugs, Yookeroo has no side effects. Their songs have style and soul, filled with riffs and waves, fast-paced at some points, slow and soothing at others. Once the drummer sets the pace, the rest of the band sets the sound. Indeed, to understand Yookeroo is to understand a mystery, and that mystery was on full display at the Iron Horse in Northampton Friday night, where as many as 120 people packed the esteemed local venue.
The band is comprised of four members, all UMass students in their early 20s. Desmond Cornetta, Yookeroo's lead guitarist and a senior psychology major, started the band with bass guitar player Michael Agnello, a senior communication and English major when the two of them were in high school.
"Desmond and I were the only people that were there, we were rifling through a Dr. Seuss book and we stumbled upon 'Yookeroo'. It kind of stuck," said Agnello. 
Agnello has historically been influenced by Phish, the Red Hot Chili Peppers and progressive jazz acts like Return to Forever. Cornetta is heavily influenced by artists such as Stevie Ray Vaughan, Umphrey's McGee and Led Zeppelin. Such influences have become clearer when taking in Cornetta's guitar solos, many of which are heavily improvised in a very professional way.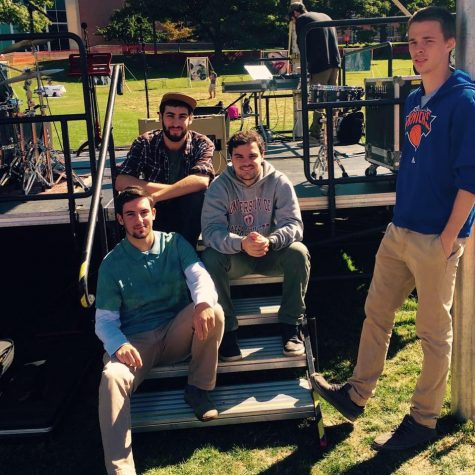 Although they started in high school, Yookeroo was solidified in 2014 with the emergence of their drummer Sam Pinkowitz, sophomore political science major, along with keyboardist and junior economics major Gabriel Rudd. Pinkowitz is influenced by both Phish and Umphrey's McGee, whereas Rudd cites the Stokes, Sublime and piano player Herbie Hancock as prime influences.
Yookeroo played for an hour Friday night and acted as the opener for Swimmer, a band based out of Burlington, Vt. Yookeroo's fan base is largely comprised of UMass students along with residents of the Amherst area, but their music goes well beyond the standard college sound. Venues like Iron Horse are historically home to older artists with well-established careers. Yookeroo's first performance solidified their ability to hold their own, controlling the crowd and giving to them the journey each fan paid for.
"We have the ability to appeal to a wide demographic of listeners and only play covers that we want to play," said Agnello. "Part of the process is being able to go until you can't go anymore."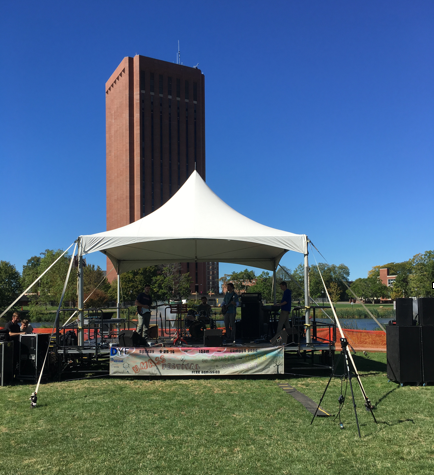 Although Yookeroo has become known for their Thursday and Friday shows, the best day to listen to their music is on Sunday. It is mellow and melodic. A cool jazz vibe, a 21st century Steely Dan, high at times and low at others. Their songs start off slow and easy, as if to ease you into the week ahead, but include deep drops as if to act as a microcosm for what's to come. Whether it be their fast and sharp riffs, either on drums, lead guitar or keyboard, or the syncopation, every one of the band members is speaking the language they are creating.
"In a way, you're constructing these narratives that people can interpret and make significant. All language is, is something that has meaning," Agnello said.
That meaning was felt Friday night.
There are reasons for Yookeroo's success and the band goes through a process for every song that they write. But as Agnello rightfully acknowledges, both the mindset and process are key.
"It's all about confidence. We needed a repertoire of original songs. Desmond writes the majority of the songs and is really good at writing riffs. Gabe and I have a big role in refining those songs," Agnello said.
Yookeroo is persistent, practicing multiple times a week in the hopes of harnessing their craft. 
"Bands like Steely Dan and others who work with pauses gives off a good sign of instrumentation," says Agnello.
Fortunately, Steely Dan is not Yookeroo and chemistry between two artists is different than managing creative chemistry among four. Differences aside, striving to become the best while understanding the process seems to be what's most important to Yookeroo.
As for the being labeled a 'jam band,' Agnello finds it fitting.
"Jam band means improvisation and that is something we pride ourselves on doing," Agnello said. "At every show we've played, I've been able to identify and connect with the people in the crowd. I think connecting with the crowd is a big part of the music that we play. You need to know what type of energy the crowd has. Eye contact with fans is really important."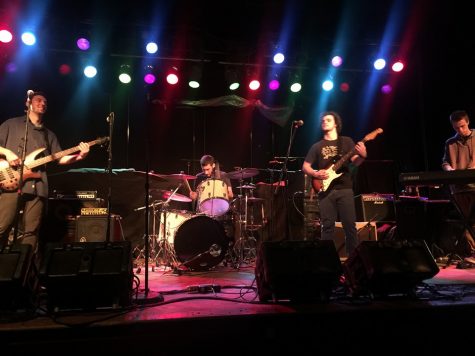 As for the future, Yookeroo plans to play more shows. The band was shocked at the amount of people in attendance Friday and hopes to keep the momentum going.
"It's ultimate entertainment and to have the opportunity to play live music is something we find unique and feel fortunate people continue to listen," said Agnello.
"We're all trying to make the best kind of music possible and since we're all on the same page with our approach it makes it much easier to play," Cornetta said. "It is important that we don't take ourselves too seriously, we're just having fun and hoping the crowd will have fun with us."
Stay up-to-date on all things Yookeroo through their Facebook page.
Email Isaac at [email protected] or follow him on Twitter @simonisaac47.