'Not Ready For Bedtime Players' reinvents health class on campus
December 21, 2016
AMHERST — College isn't full of butterflies and rainbows, but it does include a lot more from the birds and the bees. From coming to terms with your identity to alternate forms of contraception, improv troupe Not Ready For Bedtime Players is committed to reinventing what we think as traditional health class topics.
Tommy Thompson, director of the Not Ready for Bedtime Players and health promotion specialist for Center of Health Promotion at the University of Massachusetts Amherst, says the group uses theater and performance as a mechanism to talk about touchy topics.
"The mission of the show is to deliver factual, accurate information about comprehensive sexual health topics such as relationships, self-empowerment and things that all intersect with what would create more opportunities for health in a social justice context," Thompson said.
In their shows, the troupe addresses issues related to healthy sexual and non-sexual relationships in a series of engaging skit performances to the UMass Amherst community.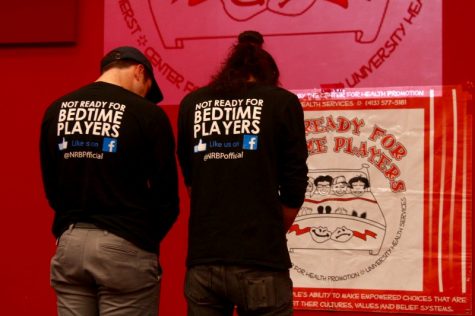 The troupe members, who come from a variety of backgrounds, stand in front of the room with their arms linked. Looking into the crowd, their voices bounce off of each other in their opening skit.
"Opening up to you," said Santoshi, a junior environmental science major, as she introduced the skit.
"Some of us think of sex as anything else, practice makes perfect," said Gabrielle Farulla-Bastian, a freshman biochemistry major.
"Some of us are in serious, loving relationships or some of us have recently come out to friends or family," said Akira Rose, a freshman psychology major.
"So we hope you can take this information," said Santoshi.
"Or one of us," interrupts sophomore political science and psychology major Henry Dowd, with a cheeky smile.
"Home with you," finishes Manan Vakta, a senior computer science major.
The troupe focuses on teaching their peers to think critically about sexual interactions with a variety of comedic and serious skits that have been accumulated over the years.
The tone shifts throughout the skits, sometimes generating a level of discomfort for some. At one point, senior political science and women and gender studies double major Madeline Lenahan, speaks into a dildo in the skit, "Sex Feud." She facilitates conversation between players acting as Beyonce, Drake, Nicki Minaj and other members of popular culture. Laughter ricochets throughout the room.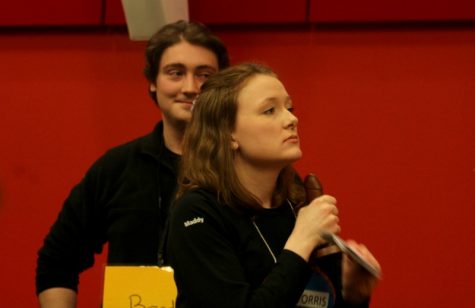 "I think attention is caught when you are right on the edge of uncomfortable, so if you give it a chance it's a great time," said troupe member Santoshi.
The Not Ready for Bedtime Players, formerly called "The AIDS Follies" started in the 1980s with a partnership between UMass Center for Health Promotion and the theatre department in order to bring awareness to the growing AIDS epidemic.
The AIDS Follies changed its name to Not Ready for Bedtime Players based off of the 1975 Saturday Night Live skit series, "The Not Ready For Prime Time Players."
"Somewhere in there the theatre department dropped out, but the Center for Health Promotion held on to The Not Ready for Bedtime Players," said Thompson.
Auditions are open to anyone on campus, but only some 12 members are picked to be in the shows each year.
"There's a lot of moving pieces because we don't require acting experience. We want to bring people in who are interested in the material, who want to be involved on campus, who have maybe never done acting but want to support them in becoming performers," said Thompson.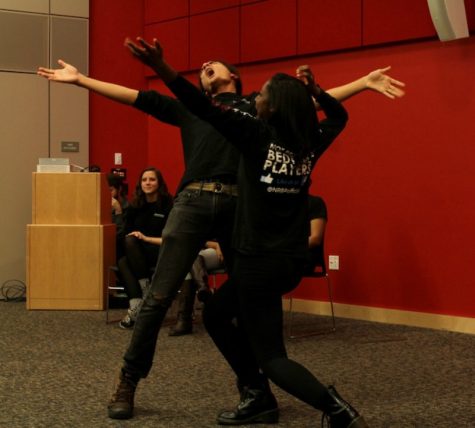 Santoshi, junior environmental science major and Not Ready for Bedtime Players troupe student worker and member, recalls her own audition process with a smile.
Sitting in her dorm room, eyes stinging from working on her endless amount of online "OWL" homework, Santoshi gets an email from the Not Ready for Bedtime Players about auditions happening in just 30 minutes.
Reflecting on the group she had laughed at hysterically earlier in the semester, Santoshi debates whether or not she should give it a shot or instead just try to finish her homework.
With only 15 minutes to spare, she throws on a coat and quickly walks across campus just in time to audition.
"I was then like fuck it, I'm going," said Santoshi, who had never done theatre before. "It was just so great. I had such a great time. I had so much fun performing, and I was like, 'Wow, this is dope. I love this,'" she said.
Her sentiment of the group as family is shared almost across the board.
"We all work really fantastically as a team," said Farulla-Bastian. "Everyone is so supportive. Everyone is very willing to learn from each other and listen to each other which is great."
The sexual health troupe makes it a priority that the members feel bonded for show time by working on team-building activities. 
In the beginning of the semester, the troupe even did a high ropes course together.
"That day was very vulnerable because you're doing a ropes course and I'm not very athletically apt, so I was a little afraid that that was going to be embarrassing," said Farulla-Bastian. "But, everyone was so absolutely supportive. "That's my favorite memory because that's the moment I knew that I was with a really great group of people and I was in a very good place."
Senior political science and women and gender studies double major Madeline Lenahan holds the same sentiment.
"We're all from different grades, majors and backgrounds and I love every single person in that group," said Lenahan. "They're all so funny in their own different ways, and they have provided me with a support system that I never really had before at school."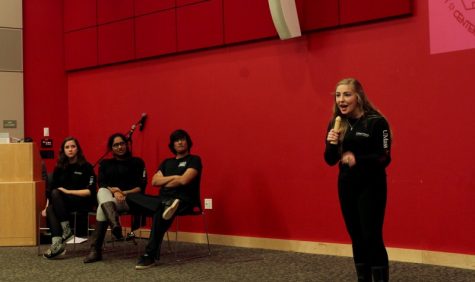 The members of the troupe willingly speak openly about topics regarding sex, identity and college culture. Yet before joining, many admit that this wasn't always the case.
"I feel like the performances really made me more comfortable talking about sex, because before the troupe I didn't talk about sex as much, even to my friends," said Emma Sander, junior sociology major. "Now I feel comfortable talking about it to anyone."
Freshman Farulla-Bastian already feels similarly to Sanders, claiming she's learning a lot through being involved with the troupe.
"I thought I was so comfortable with myself and confident, and then when you get on stage and have to talk about things like this, you realize there is a whole new level of confidence you have to bring through," says Farulla-Bastian.
The troupe will head into the spring 2017 semester at full-speed, introducing a whole new show as well as some collaborations with other improv and residential life troupes on campus.

"People can expect an even closer, crazier troupe, so our skits will just get more fun, and people should really look forward to watching a crazy group of people who really love each other," said Lenahan.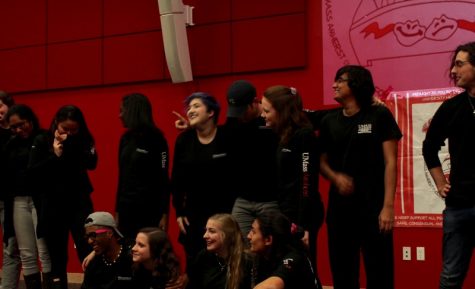 Email Caeli at [email protected] or follow her on Twitter at caeli_chesin.