Loss, heritage and the artist's life of Alvilda Sophia Anaya-Alegría
"I'm not doing anything in my life except for art."
March 29, 2017
SPRINGFIELD  — The dining room of Alvilda Sophia Anaya-Alegría's home is littered with stacks of milk crates filled with over 500 books on Latin American, Japanese, German and Russian art, on artists such as Vincent van Gogh and Claude Monet, on the poetry of Pablo Neruda, on music and literature and on macro and micro economics.
Her eclectic book collection, her personal artwork, which also lies in the dining room, her potted plants lining the entirety of her living room wall — the walls of which are painted bright shades of yellow, green and red — reflect Anaya-Alegría's personal history as a native of Guayama, Puerto Rico, and her career at community development corporations and the Housing and Urban Development Department of the United States.
Now she lives the life of an unapologetic artist.  
Anaya-Alegría is a retired professor of economics and fine art, she taught at Springfield College and now lives in that city. She holds an associate degree in business administration from the Interamerican University of Puerto Rico, a bachelor of science degree in human service and a master's degree in economics from the Southern New Hampshire University.
Although Anaya-Alegría is retired, she still plays an active role in the arts community of Western Massachusetts, frequently holding artistic workshops and festivals as well as creating murals, watercolors and paintings.
Anaya-Alegría started painting when she was 9 years old after moving from Southbridge to southern Puerto Rico, taking painting classes until age 15. As the eldest child of seven, Anaya-Alegría would take the bus to get groceries. These seemingly adult experiences enabled her to see a "different world" than that of her brothers and sisters, she said. She was exposed to her community and culture, as well as the art museums and open studios of the artists in her area.  
Anaya-Alegría's mother was a major artistic influence in her life as well, painting murals regularly on the walls of their house. She noted how she would constantly observe her mother's art. "I was always in her face," said Anaya-Alegría.
"When you look at Puerto Rican art, you can tell it's Puerto Rican art because of the swirls and the color, because the sun hits us directly from above," said Anaya-Alegría.
"We as Latinos tend to paint the colors that represent not who we are, but where we live," she added.
Much of the artwork created by Anaya-Alegría is composed of these same swirls and vibrant colors. A statement on Anaya-Alegría's website notes her work is influenced by "the philosophy of the people, the history never told of our nation, in communion with the earth, the waters and the spirit, with life itself, with the shine of Puerto Rican being and feeling."
Alvilda Sophia Anaya-Alegría holds up and describes one of her paintings on Feb. 17.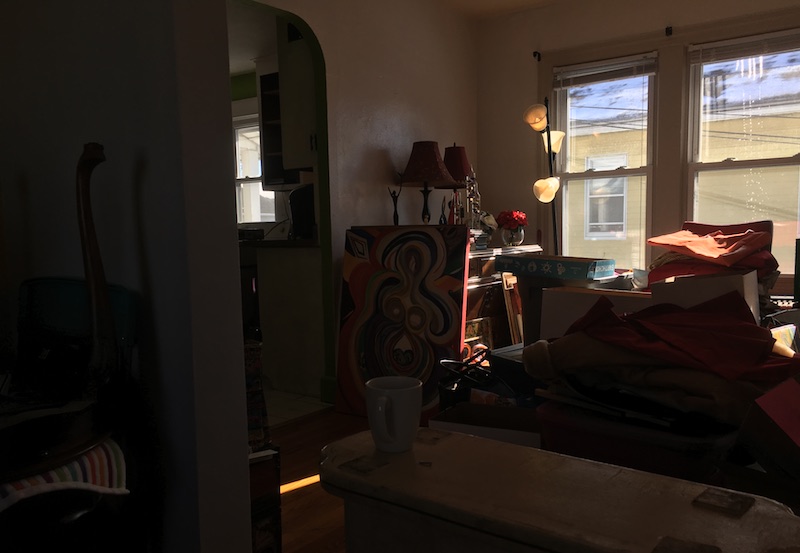 "As I was driving here, I kept thinking, 'Art makes me happy. Art is happiness,'" said Anaya-Alegría at a recent art gala, held by the University of Massachusetts Amherst Fine Arts Department, to which she donated one of her paintings for auction. The proceeds were put toward the department's "Arts/Access" program that gives children in the Pioneer Valley more access to performing arts, allowing them to see theatrical shows held on the UMass campus.
"
Art makes me happy. Art is happiness.
— Alvilda Sophia Anaya-Alegría
This practice of donating artwork is recent for Anaya-Alegría. She does it in honor of her late professor Richard Yarde, a faculty member in the Fine Arts Department at UMass, who died in 2012.
"Every year he used to donate work here," she said. "Of course, his work was worth $10,000 or more," she added, comparing it to her painting which was going for $3,000.
Anaya-Alegría came to UMass shortly after the abrupt death of her husband Julio Cezar, who she found dead in her home after suffering a heart attack. Cezar was a fellow artist, a guitarist and a singer, who she described as "serene," "humble" and "sort of like a priest." Anaya-Alegría lost some of her memory due to the trauma of the incident. His death served as a wake-up call for her.
"What is it that you want to do when life is so short? And he was only 33," said Anaya-Alegría. "This could be me tomorrow."
So, Anaya-Alegría decided to abandon her prior career to pursue one in art. "I'm not doing anything in my life except for art," she said.
"
This is me. I have to do it. Otherwise, I'm going to die without being a painter.
— Alvilda Sophia Anaya-Alegría
She then decided to move to Northampton in 1995, from Lawrence where she had lived for 20 years. Anaya-Alegría had always been intimidated by painting until then.
"I started to say 'This is me. I have to do it.' Otherwise, I'm going to die without being a painter," she said.
But she did not pursue art immediately. She taught in the English Department at UMass to ESL (English as a Second Language) students at first. She noted she came to UMass with other interests too, though, specifically a yearning to learn how to paint people of color and Caribbean people.
"I go to my first class, and I'm going, 'I don't want to paint onions and fruits and fine shadows,'" said Anaya-Alegría in her home a few weeks after the Fine Arts Department's gala.
After asking around in the fine arts department, Anaya-Alegría was referred to Yarde, who expressed interest in working one-on-one with her. She attended his watercolor and oil portrait classes and stayed after class for an hour as she worked on her pieces and Yarde taught her individually. Over the course of the four years she spent at UMass, she developed a deep friendship with him.
"I miss him," she said.
According to Anaya-Alegría, Yarde was a great colorist. He taught her how to "paint with movement," "how pigments work" and how to handle the mixing of colors. "Use the white of the paper. That was a constant of his," said Anaya-Alegría. She still uses Yarde's advice, looking for white space to use in her paintings, sometimes creating symbolic shapes with the blank area.
As far as learning how to paint black people, Anaya-Alegría found Yarde's advice and artistic practices both helpful and unusual, mentioning his peculiar habit of painting his black subjects with blue. Anaya-Alegría said many people in the United States paint black people with the color black. Yarde's work reminded her of the art she used to see in Puerto Rico and the Caribbean where using bright, primary colors, like blue, is more common.
"He brought in a lot of blue turquoise, and that is a color we use a lot in the Caribbean, and I used to say to him all the time, 'But teacher, you've got to have some Puerto Rican in you," said Anaya-Alegría.
She was excited when she heard his response: "He used to smile, and one day he told me he was from Bermuda."
Yarde's teaching had the unintended consequence of helping her return to her roots. She was initially nervous to start and paint the "right way," but Anaya-Alegría found confidence in learning how to paint in accordance with her Puerto Rican ancestry.
"Letting me paint all that history, that kept me strong," said Anaya-Alegría.
Editor's note: This story previously misstated the college from which Anaya-Alegría retired. Though the artist did work as a professor at Cambridge College in Springfield, her most recent professorial position was at Springfield College.
Email Jackson at [email protected], or follow him on Twitter @Jackson_K_Cote.