Undergraduates build Hydrofarm for sustainable agriculture
Local agriculture can happen any time, anywhere.
September 14, 2017
Editor's note: This story was initially published May 1, 2017. 
AMHERST — At the crossroads of nutrition, food systems and climate change, the University of Massachusetts Amherst Hydrofarm is a small greenhouse adjacent to Clark Hall in the Central Residential Area that is taking action to provide a more sustainable future.
"If UMass is saying they are sustainable, we are the direct answer to that sustainability," said Dana Lucas, a junior sustainable food and farming major, as she explained the workings of the UMass Hydrofarm.
With the university pushing towards sustainability, the world bracing for the impacts of climate change and the current presidential administration's lack of concern for climate science, students like Lucas and her partner Evan Chakrin, a sophomore in sustainable horticulture, are acting to revolutionize the food system and reduce its impact on the environment.
"Reducing the food system's carbon footprint comes in the form of hydroponics as an addition to sustainable urban farming practices," said Lucas. "Hydroponics is an ancient practice. We are not doing anything new here. We are just creating something where people can actually eat local food."
Water tables with LED lights above them provide the plants an environment that can be controlled by Lucas and Chakrin and allow for multiple harvesting cycles. This system allows water to flow directly under and in contact with the plant's roots without soil or pesticides. The facility uses sustainable practices to produce food all-year-round, with less water and less pollutants than traditional field agriculture.  
This desire to transform the food system began with Lucas, and was then complimented by the addition of Chakrin. They applied for a grant last fall at the suggestion of UMass faculty member Stephen Herbert.
After receiving a $5,000 grant from the Stockbridge School of Agriculture and an additional $4,000 grant from the Sustainable Initiative Endowment Fund, the pair will use these funds to operate and market their produce to businesses and dining halls across campus by setting up sourcing accounts.
Additionally, the pair is setting up a practicum course with the Stockbridge School of Agriculture next fall to allow students to learn and work at the facility.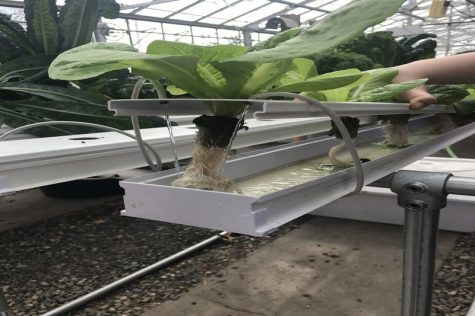 Lucas has always been an active learner, especially in the field of sustainability. Before UMass, she worked in a permaculture garden at Bard College in her first years attending the school. Since then, she's been active in her studies of sustainable food and farming. To her, classroom learning just isn't enough.
"I wanted to be doing more than sitting in a class reading about philosophers," she said. She wanted to merge her passion for science and agriculture and make something at UMass that suits her interests.
Chakrin came to UMass after working in controlled environment agricultural operations since 2010. He describes himself as "basically self-taught." His goals include formalizing his education and to be better qualified to handle capital investments in operations like this on a much larger scale.
"
Local perpetual agriculture will actually save the world."
— Dana Lucas
"Local perpetual agriculture will actually save the world," said Lucas.
Lucas and Chakrin underlined their mission to implement a more sustainable food system. To get to the goal of local perpetual agriculture, Chakrin explains the importance of embracing the decentralization of the food system.
To get to decentralization, he emphasizes that the Hydrofarm's sustainable practices breed an efficiency that conventional farms lack. This efficiency along with absences of large logistical networks, the kinds that move produce from Mexico to Massachusetts, creates a more decentralized food system. He goes on to note that sustainable local agriculture can happen anywhere, any time.
"Any open space, essentially, we can grow plants, no matter the season, [and] market them hyper-locally within communities," Chakrin said.
Chakrin's vision for a more decentralized food system is combated by the overwhelming sense of disconnection between the food people eat and the process behind putting it on a plate.
"It's really scary because I believe that we know less about our food than any other time in history," Lucas said. "It's really weird that we're so disconnected from what we put into our bodies, to have something less regulated than makeup that we put on our face, that's actually supposed to nourish us, is I think a major problem."
Along with the disconnect between the production and consumption of food, another major hurdle for the pair's vision comes from the White House. Lucas expressed frustration with the way the administration is handling the threat of global climate change. Instead of complaining, Lucas decided to take action.
"Rather than fighting that belief and getting angry politically, we are taking action to change it," Lucas said.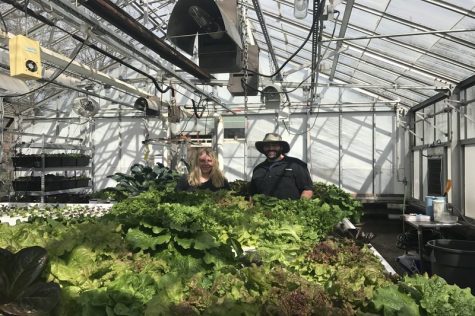 To anyone who is interested in changing the food system, Lucas said it is important to look outside of widely used and accepted practices. She underlined the importance of bringing all sides of the food system to the table.
"From an investor's side and from a food hippie side, we have to merge those two communities together so we can actually create change," said Lucas. "I worry a lot that we're all too close-minded. How can we join together as forces to create a difference?"
For students interested in sustainability, additional resources can be found on the UMass website. Those interested in working at UMass' Hydrofarm can reach out to the group's Facebook page and sign up at the farm itself. They welcome volunteers.
Email Jack at [email protected], or follow him on Twitter @Jack_Danberg.
Email Charlotte at [email protected]