Free Keys project brings painted pianos to campus
October 23, 2017
AMHERST  — With three painted pianos placed across campus, the Free Keys project is bringing music and visual art to the University of Massachusetts.
The pianos will remain in Hampshire Dining Commons, the Campus Center and the Student Union indefinitely. This is something the organizer, UMass student Owen Henry, hopes will inspire his peers. Henry, 22, is a pre-med student with a minor in music.
"The Free Keys project is an entirely student-driven public art project here at UMass that's placing three painted pianos in three high-traffic campus locations across campus in October, this month," Henry said.
Henry drew influence from similar piano projects which have placed over 50o pianos in cities from New York to Paris. The University of North Carolina's "Piano Art," and "Play Me I'm Yours," by British artist Luke Jerram are two such projects. 
Henry is no stranger to transforming ideas into big projects. He's had success in founding student organizations, such as the UMass Surf Club. Free Keys is a concept driven by his own passion and reflects his love of piano.
"It's really beneficial for the community to be able to experience for themselves and see others experience a public, personal expression," said Henry. "That shared artistic experience. Student driven public art and projects like this have the power to just heighten the mutual respect of everybody and the human dignity of everybody and I think that's something we really need right now."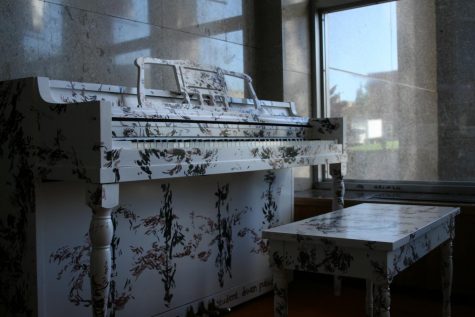 The idea is simple. By placing the pianos in high-traffic parts of campus, the Free Keys project is meant to inspire students to engage with art, visually and musically. Experienced pianists are free to leave the confines of the Fine Arts Center and engage an audience they were formerly unable to. Students in the vicinity of the pianos can connect with the music, which might add an artistic vibrancy to their daily routine.
The pianos were painted by student artists and donated by alumni and staff. The piano in the Hampshire Dining Commons was donated by Henry, who received it from the UMass music department his junior year, and decorated by Madeleine Conover, 22, a UMass student who majors in studio art and sustainable farming. Her piece is titled "In the Garden."
"My design is based off of a café I went to in Costa Rica," said Conover. "There were so many new plants I had never seen before. The colors I chose are all supposed to indicate warmth and growth, two things that I think our campus needs more of."
Conover spent the summer working on her piano in the Fine Arts Center after returning from Costa Rica.
The other two pianos, "Yours and Minor Thirds" by Matthew Turcotte, a sustainable food and farming major, located in the Campus Center, and "Untitled" by Charlotte Young, a recent UMass alumni, in the Student Union, are now free to play for any and all students and staff. The pianos are here to stay, so students can divulge in their creative side for as long as they want.
Free Keys will hold an official kick-off event to celebrate the launch of the project Oct. 24 at 8 p.m. in the Student Union lobby. 
Email Jordan at [email protected] or follow her on Twitter @jordan_alllen.