XXXTentacion leaves no one questioning his versatility on "?"
XXXTentacion's rise accelerates on "?" with sheer variety. We're still drawn to his painful ballads and relationship struggles, but the forms are diversifying
April 3, 2018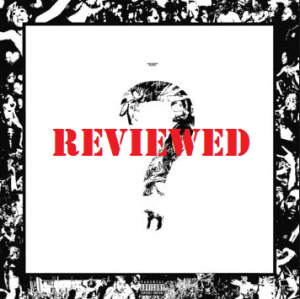 XXXTENTACION's meteoric ascent atop the hip-hop world resulted in a No. 1 spot for X's sophomore album "?" on the Billboard top 200 album rank on March 26th.
Even in the age of the internet, this acceleration to the top is extraordinary, especially for a musician battling for airtime with megastars like Lil Yachty, whose "Lil Boat 2" topped out at No. 2 on the charts, and Logic's "Bobby Tarantino II", that "?" will replace as the No. 1 spot.
XXXTENTACION made his name in part through wide genre exploration and is especially known for his punk, emo aesthetic that he highlights with his inner destabilized persona. X's extensive genre diversity from his debut album "17" only expands on "?" as he outshines his generation's hip-hop contemporaries.
X shares his Pompano Beach, Florida hometown with rap contemporary Kodak Black, drawing comparisons between two artists that contrast stylistically. He shares trends with rappers in the wild hair movement — X currently sports blue-tipped dreadlocks, like Brooklyn's 6ix9ine. However, that's really the only quality XXXTENTACION shares with the rainbow-haired New York City oddity.  
XXXTENTACION deserves more artistic credit than he's received thus far, but that may have all too much to do with his tender age of 20 and the light bag of material he's released. Then again, his multitude of conflicts with other artists and his domestic violence charges stemming from a 2016 incident with his then-girlfriend portray him in a troublesome light, to begin with. But he's certainly not just a rapper.
"?" begins with an explanation of the album, a method he rehashed from his first album "17," released in 2017. The intro acts as a project statement, as a set of guidelines to follow while listening to his freshest collection of sometimes dark and brooding and sometimes hopeful thematic elements.
As we "enter (his) mind," we're told to observe the versatility and self-appreciation X puts into this 18-song, 37-minute album of lost love, mental instability and rare hope.
X's diversity shines first in the transition from "ALONE, PART 3" to "Moonlight," the second and third tracks on "?," seamlessly switching from acoustic, alternative emo rock to bubbly trap production. In the former, X broods over loneliness through soft, acoustic guitar riffs, while "Moonlight" has almost playful synthesized chimes bouncing off staccato snare taps.
Needless to say, we don't know what to expect after the polarizing styles of the first two songs.
We arrive at "Floor 555" to an apocalyptic recording studio closer to the stereotypical XXXTENTACION abrasive, lo-fi music. X's mind takes a violent turn here after the melodic depression expressed in the previous tracks.
What's really telling about "?" is that Travis Barker on "Pain = BESTFRIEND" flies in as the most fitting feature of this album. XXXTENTACION's angst couples seamlessly with the Blink 182 megastar drummer baiting the question of whether X would make more sense as a rapping rocker versus a rocking rapper.
X takes on the impossible in making punk-rock-like angst rap relevant over today's mega-million trap scene, and with Barker's veteran assistance he succeeds effortlessly. If there's any question whether it's a one-time experiment, "NUMB" backs up X's talent as a legitimate punk rockstar.
Lil Wayne tried out the rap-rock fusion on "Rebirth" in 2010 but XXXTENTACION one-ups the New Orleans superstar's rock collection with a more palpable sincerity behind the music. X's depressing loneliness and mental swings connect deeply to a Nirvana-esque sentiment that Weezy just didn't naturally have.
X's sphere of influence widens with tracks like "infinity (888)" complemented by Joey Bada$$. The smooth East Flatbush drum kit and horns pay more homage to Bada$$'s music than X. It's this willingness to adapt to his feature's brand of music that allows X to develop this expanding versatility as a musician.
Florida's neighboring proximity to the Caribbean influences artists like DJ Khaled and Enrique Iglesias by instilling some Latin blood into their music. I guess we have to add XXXTENTACION to this list with "I don't even speak Spanish lol." There is literally no other solid reason this song should be on this album except for the fact that X is Floridian in origin.
The Latin off-beats and dirty dancing send calls and responses to promiscuous partners meeting in the middle for a steamy night on the dance floor. I'm as confused as you are as to why that last sentence is in an XXXTENTACION review, but it's just as fitting here as "I don't even speak Spanish lol" is on this album. But somehow he managed to pull off the improbable again — are we sensing a theme here? — because this song absolutely slaps. X takes Justin Bieber off his "Despacito" high horse with a pumping reggaeton beat resounding from Pompano Beach to the sandy beaches of Havana.
X's musical subject throughout "?" tends to be himself or a close personal relationship he grapples with. "Hope" deviates from this norm as X makes a special dedication to a community in torment close to home. X dedicates "Hope" to the victims of the Parkland, Florida school shooting that happened in February. Only a 20-minute drive separates Parkland and X's Pompano Beach origin, making his impact that much more palpable. Wishing "a better life for the rest of us," X's frustration resonates to students nationwide struggling with an asinine gun violence epidemic in need of addressing. Kudos to X for his dedication to the children.
Verdict: 8/10
XXXTentacion's rise accelerates on "?" with sheer variety. We're still drawn to his painful ballads and relationship struggles, but the forms are diversifying. X's growth as an artist and more importantly as a person shines through feature experimentation and project message. Until we're blessed again, we wait patiently for the next installation of this misunderstood, eclectic artist to shake up what rap is and can be.
Notable Tracks
"SAD!"

"Pain = BESTFRIEND"

"infinity (888)"

"I don't even speak Spanish lol"

"Moonlight"

"Floor 555"
Email Jack at [email protected] or follow him on Twitter @96Jackhamm.